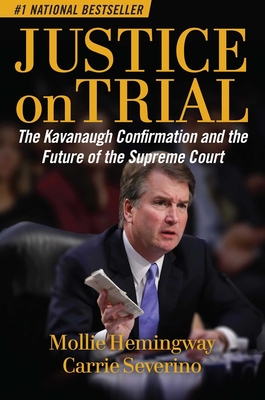 Justice on Trial
The Kavanaugh Confirmation and the Future of the Supreme Court
Hardcover

* Individual store prices may vary.
Other Editions of This Title:
Paperback (10/13/2020)
Description
#1 NATIONAL BESTSELLER!

Justice Anthony Kennedy slipped out of the Supreme Court building on June 27, 2018, and traveled incognito to the White House to inform President Donald Trump that he was retiring, setting in motion a political process that his successor, Brett Kavanaugh, would denounce three months later as a "national disgrace" and a "circus."

Justice on Trial, the definitive insider's account of Kavanaugh's appointment to the Supreme Court, is based on extraordinary access to more than one hundred key figures—including the president, justices, and senators—in that ferocious political drama.

The Trump presidency opened with the appointment of Neil Gorsuch to succeed the late Antonin Scalia on the Supreme Court. But the following year, when Trump drew from the same list of candidates for his nomination of Brett Kavanaugh, the justice being replaced was the swing vote on abortion, and all hell broke loose.

The judicial confirmation process, on the point of breakdown for thirty years, now proved utterly dysfunctional. Unverified accusations of sexual assault became weapons in a ruthless campaign of personal destruction, culminating in the melodramatic hearings in which Kavanaugh's impassioned defense resuscitated a nomination that seemed beyond saving.

The Supreme Court has become the arbiter of our nation's most vexing and divisive disputes. With the stakes of each vacancy incalculably high, the incentive to destroy a nominee is nearly irresistible. The next time a nomination promises to change the balance of the Court, Hemingway and Severino warn, the confirmation fight will be even uglier than Kavanaugh's.

A good person might accept that nomination in the naïve belief that what happened to Kavanaugh won't happen to him because he is a good person. But it can happen, it does happen, and it just happened. The question is whether America will let it happen again.
Praise For Justice on Trial: The Kavanaugh Confirmation and the Future of the Supreme Court…
#1 Publisher's Weekly, Hardcover Nonfiction

#1 Amazon Best-Sellers, Nonfiction

#1 WSJ Nonfiction eBooks

#2 WSJ Nonfiction combined print and ebooks

#2 Wall Street Journal Best-Sellers, Hardcover Nonfiction

#2 Barnes and Noble, Hardcover Nonfiction

#2 Apple Books, Nonfiction

#3 USA Today, Overall Books



"It is to be hoped that this fine, even-handed book will help to bring an end to the political savagery that has characterized all too many Supreme Court confirmation hearings."
— MARY ANN GLENDON, Learned Hand Professor of Law, Harvard University

"Justice on Trial reads like a John Grisham novel, filled with intrigue and well-paced plot development that's a roller-coaster ride even if we know how it ends. This is destined to become the definitive account of a crucial episode in American life."
— ILYA SHAPIRO, Cato Institute

"A riveting inside look at the nasty politics of character assassination that have plagued the confirmation process going back to my father, Robert H. Bork."
— ROBERT H. BORK JR., president, Bork Communication Group

"Even if you closely followed the confirmation hearings, you will learn a lot from this real-life legal thriller."
— JOSH BLACKMAN, South Texas College of Law, author of Unraveled

"An amazingly well-sourced, behind-the-scenes chronicle of a Supreme Court nomination process that became a national circus. Everyone concerned with how broken the judicial confirmation process has become needs to read this riveting blow-by-blow account."
— RANDY E. BARNETT, Georgetown Law School, author of Our Republican Constitution

"The authors' deep knowledge of the players and the constitutional stakes shines throughout the book and makes for a thrilling and revealing read."
— EDWIN MEESE III, 75th U.S. Attorney General

"[A] brand new smash book with enormous amounts of actual real reporting, interviews, behind-the-scenes fact-digging and analysis… You won't get it anywhere else unless you get this book."
— Laura Ingraham, Fox News
Regnery Publishing, 9781621579830, 375pp.
Publication Date: July 9, 2019
About the Author
Mollie Hemingway, one of America's most respected journalists, is a senior editor at The Federalist, a contributor to Fox News, and the co-author of the #1 national bestseller Justice on Trial: The Kavanaugh Confirmation and the Future of the Supreme Court. Her work has appeared in the Wall Street Journal, USA Today, the Washington Post, and many other outlets.
or
Not Currently Available for Direct Purchase