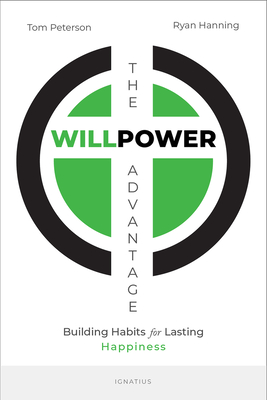 The Willpower Advantage
Building Habits for Lasting Happiness
Paperback

* Individual store prices may vary.
Description
Christians, as well as all men and women, are called to holiness and happiness, but everyone struggles to take the practical steps necessary to overcome the vices that rob us of our peace and steal our joy. The WillPower Advantage shows that we need to renew our minds with the truth about ourselves in order to develop the good habits we need to handle the challenges we face. We are not called to be passive; we are called to use our will and our strength to receive God's grace and transform the world, beginning with ourselves
The WillPower Advantage helps people to build the virtues they need by providing practical wisdom from ancient and contemporary sources. The book includes a Spiritual Audit, which identifies a person's temperament along with its strengths and weaknesses. The virtues each temperament needs to work on are then presented systematically with practical tips for strengthening them.
Ignatius Press, 9781621644224, 275pp.
Publication Date: October 6, 2020
About the Author
Ryan Hanning, Ph.D has taught undergraduates, graduates, and business men and women classical philosophy and historical theology for the past fifteen years. He has worked with numerous international apostolates and ministries as well as universities to develop programs that form both the heart and the mind. He currently teaches for the University of Mary and assists the Catechetical Institute at Franciscan University of Steubenville.
Tom Peterson hosts the popular EWTN television series Catholics Come Home. A former advertising executive, he began VirtueMedia.org, which creates and airs television commercials that encourage abortion-vulnerable women to choose life. His newest apostolate, Amen Alleluia, is being launched with this book in order to help people to grow in virtue. He is the author of four other books, including Catholics, Come Home.