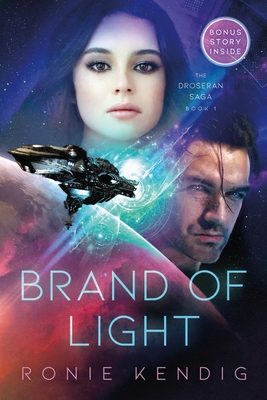 Brand of Light (Book 1)
Paperback

* Individual store prices may vary.
Other Editions of This Title:
Hardcover (12/3/2019)
Description
***2020 Carol Award Winner, Speculative***
***2020 Realm Award Winner, Science Fiction***
***2020 Alliance Award Winner, Reader's Choice***
There's a price on her head, and it has everything to do with the brand on her arm. Tertian Space Coalition has blessed every planet in the quadrants with high technology, save one: Drosero. But in spite of their tenuous treaty with the ruling clans, TSC has plans for the backward planet. And they're not alone. After a catastrophic explosion, Kersei Dragoumis awakens in a derelict shuttle, alone, injured, and ignorant of the forbidden technology that has swept her into a nightmare. The brand she's borne since childhood burns mysteriously, but the pain is nothing to that when she learns her family is dead and she is accused of their murders. Across the quadrants, Marco Dusan responds to the call of a holy order-not to join them, but to seek a bounty. Gifted-or cursed-with abilities that mark him a Kynigos, a tracker sworn to bring interplanetary fugitives to justice, Marco discovers this particular bounty has nothing to do with justice and everything to do with prophecy. One that involves the hunter as much as the hunted.
Enclave Publishing, 9781621840954, 416pp.
Publication Date: September 15, 2020
About the Author
Ronie Kendig is an award-winning, bestselling author who grew up an Army brat. She married a veteran, and together their lives are never dull with four children and two dogs--a Maltese Menace and a retired military working dog. Ronie's degree in psychology has helped her pen novels of intense, raw characters.