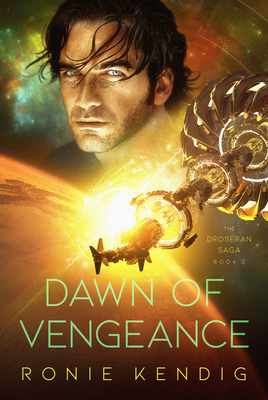 Dawn of Vengeance (Book Two)
Hardcover

* Individual store prices may vary.
Description
A haunting prophecy upended his identity. Now it demands his life. Once a formidable bounty hunter, Marco Dusan is plagued by insecurity as he tours the realm he now rules. This quiet, backwater planet is not as untouched as he'd once thought. Evidence of collusion between Droseran factions and the powerful Symmachians with their forbidden technology litters his encounters. Worse, all signs indicate Xisya, the alien who tortured him, is still snatching Kynigos Brethren--but to what end? Lance Corporal Eija Zacdari works hard to win a coveted place on the Symmachian hyperjump program, but instinct tells her their intel is flawed. Despite nearly failing the tests, she is assigned to the team-and lands in the middle of a bewildering conspiracy. Haunted by a prophecy that promises pain and war, Marco forges alliances to protect the primitive world against Symmachia's devastating influence. But one truth becomes painfully clear: the biggest threat to their world may be much, much closer to home.
Enclave Publishing, 9781621841456, 416pp.
Publication Date: December 8, 2020
About the Author
Ronie Kendig is an award-winning, bestselling author who grew up an Army brat. She married a veteran, and together their lives are never dull with four children and two dogs--a Maltese Menace and a retired military working dog. Ronie's degree in psychology has helped her pen novels of intense, raw characters.
or
Not Currently Available for Direct Purchase