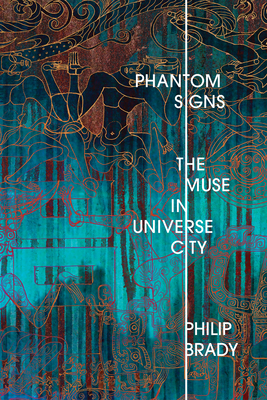 Phantom Signs
The Muse in Universe City
Paperback

* Individual store prices may vary.
Description
What are the paradoxes of the writing life, especially for a writer who represents the work of other writers? Philip Brady, poet at Youngstown State University and publisher at Etruscan Press, begins Phantom Signs pondering this question from his dual perspective as a professional writer and small-press publisher. This book emerges from the tension between these modes of being in the world: the writer's dark; the editor's light.
 
With humor, grace, and intelligence, this collection of personal essays comprises a reflective memoir, offering insights into the way that art affirms and resists identity. Rather than recounting events chronologically, Brady lets the "muse" meander through discourses on childhood poems, heart surgery, basketball, Homer, and po-biz, featuring a cast of characters that range from the Sea Nymph to The Three Stooges. Throughout, Brady plays on the creative tension between poetry's dual means of apprehension: sound and text. Fixed yet ephemeral, poems make "phantom signs." From this viewpoint, poetry is not merely a canon or even a literary genre, but a way to reshape mind and world—and what a world: bars, hospitals, swimming pools, bandstands, publishing offices, hoops courts, prisons, mythic love trysts, and descents into the underworld, as well as classrooms from four decades on three continents.
 
Brady's experiences will ring true not only for those who would peer behind the curtain into the writers' life but also for those who wrestle with the implications of their own aging. Readers who fear that poetry is bound by anthologies, cliques, and textbooks, will be heartened. Shimmering with lyrical prose, clever wordplay, and a lifetime's immersion in literature, Brady's reflections on the power of the muse are essential reading.
 

 
Praise For Phantom Signs: The Muse in Universe City…
"Part high-spirited flash memoir, part nuanced cultural poetics, Philip Brady's Phantom Signs sparkles with wit and insight. Writing as both esteemed poet and publisher of Etruscan Press, Brady offers incisive meditations on matters grave (the profound joy of playing basketball post-heart attack) and groovy (the poetry scene as it seemed to a shy young poet in the 70s) in prose so luminous it lifts off the page.  Moments of memoir punctuate discussions of poetry, which are, in their postmodern perspective on art and life, brilliant and wise. Phantom Signs is a dazzling read."—Cynthia Hogue, Scheming Women

"Broadly and deeply learned, Brady's pages shimmer with ideas. His prose bangs and jumps with the exuberance of a latter-day Thomas Carlyle. Philip Brady is the real thing."—Sam Pickering, All My Days Are Saturdays
                                                                                                  
 "A beautiful, fluid, graceful exploration. Original thinking in an original voice. I adore Brady's lyricism, voice, style, syntax. All of it."—Gary McDowell, Caesura: Essays


"Maybe because he was a changeling at birth or maybe because he died [briefly], or because of other lives as poet, editor, publisher, musician, basketballer, Philip Brady writes like no one else. His is a mind that is restless, extensive, resourceful, and unafraid. He believes equally in the Muse and in the mammal brain, the utterance and the sign, poetry and its undoing. He is able to channel voices from Africa and Ireland and antiquity as well as Kobe Bryant and the childhood hi-fi in Queens. Phantom Signs is a remarkable document that is also skeptical of the document, using the techniques of memoir and novel and song to disrupt the conventions of the essay.  He builds his own counter-testimony. Exacting of the word and generous of spirit, this book is a beautiful breaking of silence."—Bruce Smith, Devotions



                                                                                             


                                                                                       

"Phantom Signs skitters playfully between memoir and criticism, impelled forward by the inspired imaginary chirography of luminary figures—real and fictitious, heroic and infamous—beginning with Chinua Achebe, Achilles, and Aeneas, and ending with Zarathustra, Robert Allen Zimmerman, and Louis Zukovsky. Brady recounts love affairs, travel, aging, a late marriage, recollections from early childhood, the innerworkings of a small poetry press, the insights gleaned from a life wed to great literature.  Along the way there are notable observations, such as: "Poems are so enigmatic. Each emerges from some private darkness which publication does not entirely dispel. No one wants to be taken in by a false poem. An accidental verse." Here, as everywhere else in Phantom Signs, Brady emphasizes the mysterious, the atomized substance of words charged with the ambition of enduring. In an essay that served as a commencement speech for the Wilkes University MFA Class of 2016, Brady writes: "When I say that writing begins with failure, I mean only that it begins there—what happens next is what counts. Most people give up. I think that those who make writing a life's vocation aren't necessarily the most talented; they are merely the most willing to experience profound and continuous defeat." For those of us who love poetry, it is lucky that Philip Brady is one of those who haven't given up."—Dante Di Stephano,  in Best American Poetry Blog

"A blurb on the back cover of professor-publisher-poet Philip Brady's new book, Phantom Signs, describes it as a "high-spirited flash memoir." This phrase could lead innocent readers to anticipate juicy tales of the author's life as an American variety of Kingsley Amis's Lucky Jim, a farouche academic who will take us on a frisky ride through the postmodern cultural landscape where we'll encounter eccentric editors and nasty provosts (Brady's particular bogeymen), attend poetry readings, ponder manuscripts and blurbs, get tutored in small press publication, pedagogical conundrums, and literary politics, all of this reamed with apercus about the miseries of social media and technology, remembrances of youthful erotic escapades, and punctuated by mildly astringent appraisals of poets past and present— Homer, Yeats, and H. L. Hix are the book's tutelary spirits—as well as comical portraits of fellow litterateurs and beloved family members, the whole shebang battened together by droll wit and admirable forbearance. Brady's dazzling new memoir (he wrote an earlier, more conventional one, To Prove My Blood, 2004), is all of these things, but it is the dream-like manner that he employs for the majority of the volume's essays that transforms the volume into something rich and strange."—J. Michael Lennon, in Hippocampus

 
Univ Tennessee Press, 9781621904694
Publication Date: April 15, 2019
About the Author
PHILIP BRADY is Distinguished Professor of English at Youngstown State University and the executive director of Etruscan Press. He is the author, most recently, of To Banquet with the Ethiopians: A Memoir of Life before the Alphabet and By Heart: Reflections of a Rust Belt Bard.
or
Not Currently Available for Direct Purchase