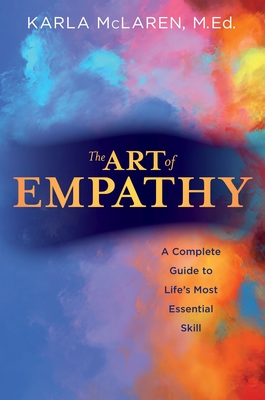 The Art of Empathy (Paperback)
A Complete Guide to Life's Most Essential Skill
Sounds True, 9781622030613, 328pp.
Publication Date: October 1, 2013
Other Editions of This Title:
Compact Disc (10/1/2013)
* Individual store prices may vary.
Description
What if there were a single skill that could directly and radically improve your relationships and your emotional life? Empathy, teaches Karla McLaren, is that skill. With The Art of Empathy, she teaches us how to perceive and feel the experiences of others with clarity and authenticity—to connect with them more deeply and effectively.
Informed by current insights from neuroscience, social psychology, and healing traditions, this book explores:
Why empathy is not a mystical phenomenon but a natural, innate ability that we can strengthen and develop
• How to identify and regulate our emotions and boundaries
• The process of shifting into the perspective of others
• How to provide support in a sensitive and healthy way
• Insights for navigating our hyper-connected social landscape
• Targeted chapters for improving family, workplace, and intimate relationships
• Ways to expand our empathy to our community, global levels of society, and the natural world
Empathy, reflects Karla McLaren, is the skill that builds bridges— a skill that not only creates connection, but that helps us to be more effective in all areas of our lives.
About the Author
Empath Karla McLaren is an award-winning author, social science researcher, and pioneering educator whose empathic approach to emotions has taken her through the healing of her own childhood trauma, into a healing career, and now into the study of sociology, anthropology, neurology, cognitive psychology, and education. She is the author of The Language of Emotions: What Your Feelings Are Trying to Tell You (Sounds True, 2010), the online course Emotional Flow: Becoming Fluent in the Language of Emotions (Sounds True, 2012) and The Art of Empathy: A Complete Guide to Life's Most Essential Skill (October, 2013).
Karla has taught at such venues as the University of San Francisco, Omega Institute, Naropa University, Kripalu, and the Association for Humanistic Psychology. Additionally, as a prison arts educator with the William James Foundation, she has utilized singing, drumming, and drama to help men in maximum security prisons explore and heal long-held emotional traumas. She is currently developing new forms of Empathy and Social Interaction curricula for neurologically diverse populations.
Karla lives in California with her husband, Tino Plank, a Master's level nurse educator who works in hospice and end-of-life care.