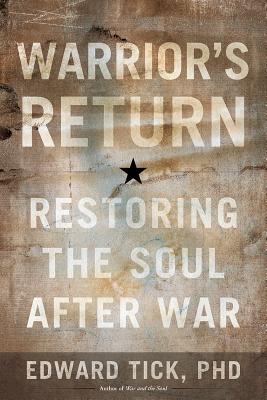 Warrior's Return
Restoring the Soul After War
Paperback

* Individual store prices may vary.
Description
War touches us all—leaving visible and invisible wounds on the warriors who fight, disrupting their families and communities, and leaving lasting imprints on our national psyche. In spite of billions spent on psychological care and reintegration programs, we face an epidemic of combat-related conditions such as PTSD (Post-Traumatic Stress Disorder). With Warrior's Return, Dr. Edward Tick presents a powerful case for changing the way we welcome our veterans back from service—a vision and a path for transforming the wounds of war into sources of wisdom, honor, and growth.

After more than 35 years of working with veterans, Dr. Tick has learned that our conventional ways of addressing the trauma and woundings of war fall far short, usually focusing only on symptoms and temporary relief. Drawing on lessons from cross-cultural wisdom, mythical archetypes, and proven methods from psychology, he offers this book as a valuable resource to help families, caregivers, and returning veterans understand and cope with the life-changing effects of combat, including:


Re-examining PTSD—why we must expand our understanding of the full psychological and spiritual impact of war's invisible woundsArchetype of the warrior—service in combat as a "journey to the underworld," and why the return home is the most crucial stageThe warrior's path—timeless wisdom from tradition, classical philosophy, great leaders, and religious and mythological sourcesHow cultures around the world have welcomed home their returning warriors for centuries—and what we can learn from themThe warrior's initiation—how the old self dies on the battlefield and a new, more mature self evolves in its placeRestoration—methods for overcoming disillusionment and soul-fatigue to restore the warrior's sense of purpose, motivation, and connectionComing home—specific steps for reintegrating our warriors back into our families and communities Honor—how a warrior can retain personal integrity and self-respect even when they have participated in a war they don't believe inForgiveness, reconciliation, and atonement—ways for warriors to close the circle and begin healing what was destroyed"This is not a hopeless situation," states Dr. Tick. "Lifelong suffering after war is not inevitable if we understand war's impact on the heart and soul, both for ourselves and our culture." For veterans and those who wish to support them, Warrior's Return offers step-by-step guidance for initiating our transformed warriors into valued members of our community—with an essential map for the hero's journey home.

A portion of the proceeds will be donated to Soldier's Heart. Visit soldiersheart.net.
Praise For Warrior's Return: Restoring the Soul After War…
"Dr. Tick proposes a groundbreaking new approach to combat-trauma treatment that transcends mere assimilation back into functional civilian status. He presents a truly holistic understanding of PTSD and explains why society must acknowledge and embrace warriors' wounds as our own. A must-read for veterans, their families, counselors, and all healers." —Larry Malerba, DO, author of Green Medicine: Challenging the Assumptions of Conventional Health Care

"Dr. Tick's approach to healing eclipses today's world of symptom management. Warrior's Return goes beyond living on the 'life raft' and addresses the deeper level of healing that firmly plants veterans back into the fertile ground of life, living, and making a difference." —Robert Csandl, MHS, Vietnam veteran and executive director of Treatment Trends, Inc./Veterans Sanctuary

"So much attention is given to the symptoms of returning soldiers with little for the wounding of their hearts. Dr. Ed Tick, author of War and the Soul and director of Soldier's Heart, has worked for more than three decades to develop and apply a model for not just treating post-traumatic stress disorder (PTSD), but for actually healing the condition at the origin of the wound. In his first book he mapped out the inner world of the combat survivor with a portrait of the soul at war and now, with his newest writing, Warrior's Return, he provides a detailed holistic, cultural, and spiritual understanding of PTSD and the way home through the restoration of the spiritual warrior. As a combat veteran myself, Dr. Tick's work has been invaluable in my return home and for a new life after war. Modern diagnostic procedures have not offered much for a problem that historically has existed through many millennia. However, now veterans from all wars, past and present, have the information needed with this amazing approach." —John Wesley Fisher, Vietnam veteran, Doctor of Chiropractic, and author of Angels in Vietnam, Not Welcome Home, and The War After the War

"Ed Tick has counseled thousands of wounded warriors. He has studied the warrior in history. He knows the ancient archetypes of warriors and war. No politician should send soldiers to war without reading this book. All of us who care about our warriors should read this book. Warrior's Return is a unique contribution. It will change your understanding of the warriors who protect and defend us." —Michael Lerner, president of Commonweal and author of Choices in Healing: Integrating the Best of Conventional and Complementary Approaches to Cancer

"A poignant and beautiful masterpiece that I could not put down. Warrior's Return goes to the heart and soul of the warrior's experience—and how the individual, community, and country can transform inwardly shattered protectors into valued and healed contributors in society. A must read for Service members, their families, helpers, and the nation's citizens—all of whom share responsibility for sending our sons and daughters off to war and bringing them all the way home again." —Glenn R. Schiraldi, PhD, LTC (USAR, Ret.), founder of Resilience Training International and author of The Post-Traumatic Stress Disorder Sourcebook, The Complete Guide to Resilience, and The Resilient Warrior

"As a field battalion surgeon in Vietnam, I returned with PTSD, a term which then did not exist. Neither did the methods of healing in this brilliant book. Had they existed, my journey might have been smoothed, along with the suffering of thousands of war veterans since then. The brutal truth is that war often devastates the victors as well as the defeated. Physical wounds may heal, but psycho-spiritual wounds can fester for a lifetime. Dr. Edward Tick understands the causes and cure of these problems as clearly as anyone I know. Warrior's Return is a masterful follow-up to his groundbreaking War and the Soul. These books constitute the Bible for understanding and treating war trauma. We owe it to our returning warriors to master the wisdom in these two volumes." —Larry Dossey, MD, battalion surgeon, Vietnam, and author of One Mind: How Our Individual Mind Is Part of a Greater Consciousness and Why It Matters

"Warrior's Return is an engaging and healing journey into the great soul-suffering that our returning veterans face. Ed Tick wisely and compassionately reveals the invisible horrors of PTSD and calls to the heart that our concept of war as a means of settling differences has never worked and will never work. Warrior's Return is a must-read for any legislator or military officer involved in making a decision to place soldiers into the battlefield." —Steve Robertson, founder/CEO of ProjectPeaceOnEarth.org, and author of The Power of Choice: Success and Your Life Purpose

"This is a beautifully written and profound book. This provocative work has the type of universality and breadth one finds in the works of Joseph Campbell and Carl Jung. It probes the wisdom of the ancient Greeks, the teachings and rituals of our Native American heritage, the assessments of leaders such as President Lincoln and General Sherman, and the reflections of our modern-day warriors. Not only will the reader acquire a deeper understanding of what it means to be a warrior, what it means to be in war and how the war experience transforms a warrior, but it also provides compelling approaches to help heal the warrior's soul, spirit, and mind when she/he returns from war. This is an important work. It should be read not only by all professionals tasked with treating the returned warrior, but by the family and friends of warriors, by the politicians who make policies affecting warriors and decisions on whether to send our warriors into combat, by those given the responsibility to prepare our men and women for combat, and by anyone who believes they should have a voice in determining whether we send troops into combat or how we care for and treat our warriors when they return from war." —Marnie Lo Baugh, PhD, clinical and neuropsychologist, and Les Lo Baugh, Esq., attorney, Vietnam veteran, and advisory board member for SupportVetsNow.org, Hiawatha Institute for Indigenous Knowledge, and ProjectPeaceOnEarth.org

"Dr. Ed Tick never tries to be something he is not—he is an authentic soul. Like some medicine men from other cultures, he stands apart from those he serves. He has mastered the art of sitting quietly in the dark with warriors and has found ways to honor their words, experiences, and pain. Warrior's Return is an anecdotal road map that does not point the way
Sounds True, 9781622032006, 316pp.
Publication Date: November 1, 2014
About the Author
Edward Tick, PhD, cofounded the nonprofit Soldier's Heart, Inc. with his partner Kate Dahlstedt and serves as executive director in Troy, New York. He has been honored for his groundbreaking work in the spiritual, holistic, and community-based healing of veterans and Post-Traumatic Stress Disorder (PTSD). A psychotherapist for 40 years, he has specialized in working with veterans since the 1970s. He is the author of Sacred Mountain, The Practice of Dream Healing, The Golden Tortoise, Wild Beasts and Wandering Souls and the award-winning War and the Soul.

Dr. Tick is an internationally recognized educator and expert on veterans, PTSD, and the psychology of military-related issues. He has conducted trainings, retreats, and workshops across the country and overseas. He has lectured, trained staff, and worked with wounded warriors at West Point, Walter Reed National Military Medical Center, Fort Hood, Fort Bragg, Fort Knox, Altus Air Force Base, and other Department of Defense facilities. The Department of Defense and VA facilities now use his pioneering work and he was the US Army's 2012 PTSD Expert Trainer for its annual Chaplain Sustainment Training.

For more information, visit soldiersheart.net.