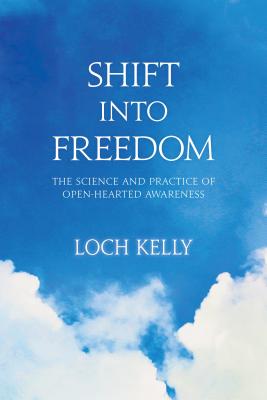 Shift into Freedom
The Science and Practice of Open-Hearted Awareness
Paperback

* Individual store prices may vary.
Other Editions of This Title:
CD-Audio (9/1/2015)
Description
It is possible to access the same sense of well-being, clarity, inner freedom, and loving connection realized by the world's meditation masters. We can do this by shifting our awareness in the midst of our daily lives. Shift into Freedom presents innovative teacher Loch Kelly's training manual for actively participating in the evolution of your own consciousness.

Synthesizing insights from neuroscience and psychology with wisdom from the world's contemplative traditions, Shift into Freedom offers an accessible and remarkably powerful series of meditations that lead us to a little-known natural capacity called "awake awareness." Through an unfolding process of "small glimpses, many times," these exercises shift us from a thought-based knowing to an awareness-based way of operating in the world. With continued practice, we learn to "unhook" from our customary home in our ego-based identity—and then sustain an embodied presence and relatedness known as "open-hearted awareness." Loch Kelly teaches that this is "the meeting place of awakening and growing up, where we have the capacity to handle a fully emotional, intimate life and act with authenticity and compassion."

Learn more about:

• How to separate awareness from thinking to realize that thoughts and emotions are not the center of who we are

• How insights from neuroscience can help us learn how to embody awakening

• Ego-identification, a pattern of thought that co-opts the body's boundary program and creates a mistaken identity

• The paradox of "being home while returning home"

• Finding the off-switch for the chattering mind

• How to intentionally and immediately shift into peace of mind any time of your day

• Awakening as a natural process of human development, which unfolds as waking up, waking in, and waking out

• Meditation practices for all phases of the journey of awakening and embodiment

• Four stages of spiritual growth: recognition, realization, stabilization, and expression

• Untying the "knots" in our mindbody system to liberate us from our deepest doubts and fears

• How to move from deliberate mindfulness to effortless mindfulness and heart mindfulness

• How to effortlessly focus without using attention

• Discovering your innate happiness that is not dependent on circumstances

• How to welcome and liberate sub-personalities after initial awakening

• A user's manual for your consciousness to help you free yourself from the limits of ego-identification and live from open-hearted awareness
Praise For Shift into Freedom: The Science and Practice of Open-Hearted Awareness…
"Kelly's guide to finer spiritual living maintains a non-psychological, nondenominational, and contemporary focus, drawing on wisdom from a diverse selection of traditional teachings, including Mahamudra practice, Taoist teaching, the works of William James, and modern neuroscience. Kelly articulates his structured, unified worldview with coherent language. He stresses a move away from ego-identification in our everyday lives and believes that access to awakening experiences is universally available: 'awake awareness' is not reserved for full time spiritual seekers, but is in fact the next developmental step for humankind's new normal. Practices that Kelly calls 'glimpses' take readers through the basics of mindful meditation and then through techniques some other teachers reserve for advanced study, including the process of unhooking local awareness from thought, waking up to transcendence, waking in to embodiment, and waking out to interconnectedness. Those who feel that other mindfulness texts are esoteric, foreign, or flaky will find Kelly's exercises easy to understand, his research easy to respect, and his methods blissfully lacking in both the aggressiveness common in the self-improvement genre and the focus on the author's personal experience common in new age takes." —Publishers Weekly

"This book should be digested word-for-word and used alongside a daily practice of awareness. It is a practical tool for experiencing life from a more wholehearted place." —Somatic Psychotherapy Today

"This is an amazing book. I recommend you read it, digest it, and make it your own." —Christian * New Age Quarterly

"Shift into Freedom is a gift to us all. I wholeheartedly recommend this inspiring and profound book. This is one of the finest contemporary meditation manuals that takes mindfulness to the next level. In Loch Kelly you've found a wonderful guide for the journey of awakening, which our endangered world is so hungry for." —Lama Surya Das, author of Make Me One with Everything and Awakening the Buddha Within

"I am so happy that Loch Kelly's groundbreaking teachings are finally available to the general public. This wonderful book translates and updates what used to be only available to a select few who were willing to spend years in a monastery. Whether you are new to meditation or are a seasoned practitioner, Shift into Freedom will change you. It will revolutionize your life, giving you immediate access to the freeing awareness that makes it possible to go beyond our small self." —Adam Bucko, co-author of Occupy Spirituality and The New Monasticism

"Practicing under Loch Kelly's guidance is mind-blowing. You shift out of your chattering mind, and awareness emerges—clear, fearless, unconditionally accepting. This is the 'shift' Loch is writing about, having found the words that point to the wordless. I'm keeping his book close." —Amy Gross, former editor-in-chief O, The Oprah Magazine

"Loch shares his practice experience freely, links it to the similar experiences of many other traditions, and clarifies how these practices work with the science of the day. Shift into Freedom will be a great help to many people." —Sharon Salzberg, author of Real Happiness

"Awakening begins with a shift of identity. It's moving your inner center of gravity from your protective parts to your magnificent essence. Loch has condensed his decades of personal and teaching experience into this wonderful book, which not only makes you realize that such a shift is possible, it also provides exercises to help it happen." —Richard C. Schwartz, PhD, developer of the Internal Family Systems model of psychotherapy

"In this personal and practical call to awaken, Loch Kelly has synthesized decades of Eastern and Western studies and practice into a path that can change your life." —Michael Katz, PhD, editor of Dream Yoga and the Practice of Natural Light by Chogyal Namkhai Norbu

"Shift into Freedom is a clear and articulate map that combines the finest wisdom of nondual practice with modern psychology and neuroscience on meditation. It is a deep inquiry and wellspring of excellent and most helpful tools that guide us on our path of awakening. It provides us with a practical step-by-step process of deep openhearted awakening. It will warm your heart, touch your soul, and may deliver you to a lasting, embodied freedom." —Ronald A. Alexander, PhD, author of Wise Mind Open Mind

"Shift into Freedom offers the heart-essence of Loch's deep integration of simple yet advanced meditation practices, neuroscience, and psychology. Loch Kelly is one of the very few people who are authorized teachers of mindfulness, Sutra Mahamudra, and nondual traditions. Loch presents simple methods for awakening to and living from openhearted awareness in the midst of your daily life. I highly recommend this wonderfully clear book." —Peter Fenner, PhD, author of Natural Awakening

"Shift into Freedom is a clear, potent, and liberating guide for our journey from ego centeredness to openhearted awareness. Drawing from wisdom teachings, neuroscience, and contemporary psychology, Loch Kelly offers a finely detailed, sophisticated set of maps and practices for waking up, waking in, and waking out—all so that we may fully actualize who we really are in our daily lives. Highly recommended!" —John J. Prendergast, PhD, author of In Touch: How to Tune in to the Inner Guidance of Your Body and Trust Yourself

"Many assume that genuine spiritual realization is either out of reach—'I'm too wounded . . . life's too stressful'—or way down the road. Shift into Freedom is a rare and invaluable book that awakens trust in what is possible in this very life, right now. With wisdom, clarity, and care, Loch Kelly offers teachings and practices that directly evolve consciousness and liberate the heart." —Tara Brach, PhD, author of Radical Acceptance and True Refuge

"Shift into Freedom offers the reader a remarkable synthesis of practical wisdom from across contemporary meditation, psychology, and neuroscience disciplines. Loch Kelly provides us with a direct and accessible taste of more profound and subtle experiences of effortless mindfulness and heart mindfulness." —David Vago, PhD, meditation researcher, Harvard Medical School

"Shift into Freedom is a well-written and important contribution. An essential read for anyone interested in learning about this great meditation program of openhearted awareness." —Andrew Newberg, MD, author of How God Changes Your Brain

"This is one of best contemporary books on the integration of meditation and nonduality. Personally, I'm thankful to Loch for offering this gift to humanity at this crucial time when so many people are looking for living spirituality free from outdated paradigms. Read this if you want to wake up to the beautiful mystery of life." —Anam Thubten, author of No Self, No Problem and The Magic of Awareness

"Shift into Freedom is both a practical and inspirational guide for understanding and accessing what Loch calls 'openhearted awareness.' The book's power comes from decades of experiences accumulated by its author, one of America's most beloved teachers. By reading his words, one's awareness seems to quietly soften and expand into much larger space." —Catherine Ingram, author of Passionate Presence and In the Footsteps of Gandhi

"Loch is the best, or among the best, 'pointing-within' teachers in the world right now. By 'pointing-within,' I mean someone who can experientially introduce—and then continue to mentor—folks into authentic higher consciousness and heart. Since his book is about sustaining and maturing this process, it's likely that it will be a major 'threshold' book, just like Eckhart Tolle's Power of Now was at the time it was published." —Kurt Johnson, PhD, author of The Coming Interspiritual Age and Nabokov's Blues
Sounds True, 9781622033508, 288pp.
Publication Date: September 1, 2015
About the Author
Loch Kelly, MDiv, LCSW,
is a leader in the field of meditation and psychotherapy. He is author of the award-winning
Shift into Freedom
and founder of the Open-Hearted Awareness Institute. Loch is an emerging voice in modernizing meditation, social engagement, and collaborating with neuroscientists. For more, visit lochkelly.org.
Adyashanti is an American-born spiritual teacher devoted to serving the awakening of all beings. His teachings are an open invitation to stop, inquire, and recognize what is true and liberating at the core of all existence. His books include Emptiness Dancing, The End of Your World, True Meditation, The Way of Liberation, and Falling into Grace.

Asked to teach in 1996 by his Zen teacher of 14 years, Adyashanti offers teachings that are free of any tradition or ideology. "The Truth I point to is not confined within any religious point of view, belief system, or doctrine, but is open to all and found within all." For more information, please visit adyashanti.org.