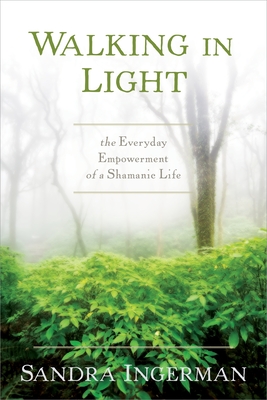 Walking in Light
The Everyday Empowerment of a Shamanic Life
Paperback

* Individual store prices may vary.
Description
A shaman can serve as a healer, storyteller, and a keeper of wisdom—but most of all, teaches Sandra Ingerman, "Shamans radiate a light that uplifts everybody. In our culture, we tend to focus on methods and forget that the greatest way we can offer healing to the world is to become a vessel of love." With Walking in Light, this renowned teacher offers a complete guide for living in a shamanic way—empowered by purpose, focus, and a deep connection to the spiritual dimensions.

"Shamanism remains so relevant because it continues to evolve to meet the needs of the times and culture," teaches Sandra. Here you are invited to participate in the modern evolution of this ancient and powerful form of spirituality, featuring:

• Foundational practices—lucid instruction on the shamanic journey, ceremonies, and other techniques for accessing the hidden realms of spirit
• Compassionate spirits, allies, and ancestors—how to contact and build a relationship with your power animals and spiritual helpers
• Healing from a shamanic perspective—practices that can integrate with and enhance any healing modality
• Guidance for deepening your connection with the environment and the rhythms of the natural world
• Ways to cultivate a rich inner landscape that empowers your intentions and actions in every aspect of your life, and much more


Walking in Light is a comprehensive resource filled with practical techniques, indigenous wisdom, and invaluable guidance for both new and experienced shamanic practitioners. Most importantly, Sandra Ingerman illuminates the meaning behind the practices—revealing our universe as a place where spirit is the ultimate reality, where our intentions shape our world, and where unseen allies support us on every step of our journey.
Praise For Walking in Light: The Everyday Empowerment of a Shamanic Life…
"In her wonderful new book, Sandra Ingerman, one of the great shamanic teachers of our time, offers us ways to become shamans of our own souls and healers of our own lives. She incites us to come to our senses in the animated, spirited universe. Open this book on almost any page, and you will find a door to the Otherworld. Walking in Light stirs us to wake up inside the dream of this life, and change the dream if it does not suit our soul's purpose. This book is highly recommended for both neophytes and advanced practitioners. It calls us to make and live our own creation stories and walk in tenderness and joy on this good earth as stars who came down because we wanted a juicier life." —Robert Moss, author of Conscious Dreaming, Dreaming the Soul Back Home, and The Boy Who Died and Came Back

"It's your birthright to live an inspired and purposeful life—illuminated by the radiance of your soul. In these pages, Sandra Ingerman lovingly guides you into the profound, ongoing ceremony that is shamanic living. Allow her to inspire you to transform the mundane into the sacred and open your heart to the enduring beauty that unites all that is. The journey to awaken the marvelous change-maker you were born to be starts now!" —Evelyn C. Rysdyk, author of Spirit Walking: A Course in Shamanic Power and A Spirit Walker's Guide to Shamanic Tools

"The practices, journeys, and insights in Walking in Light offer a step-by-step guide that will help you refine your soul's journey, deepen your relationship with spirit and nature, and consciously participate with the creative force of life. Sandra shares brilliantly, in a down-to-earth and detailed manner, how we can nurture our heartfelt longings and support positive planetary change during these evolving times. This is a master guidebook!" —Llyn Roberts, MA, award-winning author of Shapeshifting into Higher Consciousness and Shamanic Reiki(with Robert Levy)

"In Walking in Light, Sandra Ingerman, calling herself a spiritual explorer, leads us to explore our own inner worlds to seek our spiritual identities. From her own life experiences and shamanic practice, she tells us she has 'fine-tuned' her work and teaching as she continues to share the solid advice and instruction that her students have come to expect. Her message to all of us, whether seasoned shamanic practitioners or newcomers, is to fine-tune our own spiritual paths, to not put our shamanic practice 'in a box,' but to experiment in order to keep it alive, relevant, and vital." —Tom Cowan, author of Fire in the Head, Shamanism As a Spiritual Practice for Daily Life and Yearning for the Wind

"Once again Sandra Ingerman has written a superb, highly practical, and comprehensive book about practicing the shamanic way of life—and the best part of all, with simplicity and kindness. Here Sandra demonstrates the wisdom gained from many years of dedicated hard work walking her own sometimes very challenging shamanic path. What I most appreciated is that throughout the book she takes a non-rigid, flexible approach, emphasizing creativity and living from the heart. It is as if she is taking you by the hand and guiding you personally through each step and consideration in the process. If there were ever an excellent basic manual to shamanic practice, this would be it." —José Luis Stevens, PhD, author of Awaken the Inner Shaman, The Power Path, and Secrets of Shamanism.

"Sandra Ingerman is a modern medicine woman whose book Walking in Light has brought together more than 30 years of her teaching and practice in an ancient yet curiously immediate spiritual tradition called shamanism. Among the indigenous peoples, it was always understood that each new generation had the responsibility to perpetuate and refresh a continuously recreated body of wisdom and technique, even adding to and changing the accumulating treasure of the shamanic tradition across time . . . for it was always in this way that it remained vital and meaningful to those who walked the shaman's path. Sandra Ingerman has done just this, and she is to be commended for creating very good medicine indeed. I love this book!" —Hank Wesselman, PhD, anthropologist and author of eight books on shamanism including The Bowl of Light, the award-winning Awakening to the Spirit World (with Sandra Ingerman), and the Spiritwalker trilogy

"Walking in Light by Sandra Ingerman is more than just a deeper understanding of the work of a shaman. It's an everyday guide to help you tap into your inner wisdom, integrate the shamanic practices, and activate the power of love within. This book will not only help beginners of the shamanic way but also people who have been working with these practices for a while." —Gary Quinn, intuitive life coach and bestselling author of May the Angels Be With You and The Yes Frequency

"Awaken with Sandra Ingerman's new book and walk into the light of your destiny. Sandra will take you by the hand and help reveal your inner self in order to find and achieve your true call and vision for the future. See how following the shamanic life leads you to a sense of inner peace, and triggers the creation of your mind to put into action all of these deep thoughts buried within. We all need to become Peace in Action in order to complete the sentence 'I think, therefore I am' with 'therefore I do!' It's in the doing that our being finds the true meaning of its existence. Walking in Light will indeed empower you and reveal the path to your inner and outer world." —Emmanuel Itier, director/producer of the award-winning documentary Femme and CEO of Wonderland Entertainment
Sounds True, 9781622034284, 272pp.
Publication Date: February 1, 2015
About the Author
Sandra Ingerman, MA, is an award-winning author of 12 books, including Soul Retrieval: Mending the Fragmented Self, Medicine for the Earth: How to Transform Personal and Environmental Toxins, Walking in Light: The Everyday Empowerment of a Shamanic Life, and The Book of Ceremony: Shamanic Wisdom for Invoking the Sacred in Everyday Life. She is the presenter of eight audio programs produced by Sounds True. Sandra is a world-renowned teacher of shamanism and has been teaching for close to 40 years. She has taught workshops internationally on shamanic journeying, healing, and reversing environmental pollution using spiritual methods. Sandra is recognized for bridging ancient cross-cultural healing methods to our modern culture, addressing the needs of our times.

Sandra is known for gathering the global spiritual community together to perform powerful transformative ceremonies, as well as inspiring us to stand strong in unity so we do our own spiritual and social activism work while keeping a vision of hope and being a light in the world.

She is passionate about helping people to reconnect with nature. Since the 1980s, thousands of people have healed from past and present traumas through the classic cross-cultural shamanic healing method Sandra teaches called Soul Retrieval.

She is a licensed marriage and family therapist and professional mental health counselor. She is also a board-certified expert on traumatic stress. Watkins Mind Body Spirit magazine honored Sandra by including her on its 100 Most Spiritually Influential Living People of 2020.

She was awarded the 2007 Peace Award from the Global Foundation for Integrative Medicines. Sandra was chosen as one of the Top 10 Spiritual Leaders of 2013 by Spirituality & Health magazine.

Sandra joined in partnership with Renee Baribeau to do a weekly 30-minute podcast, The Shamans Cave. For more information, visit shamanstv.com.

www.sandraingerman.com
www.shamanicteachers.com
www.shamanstv.com