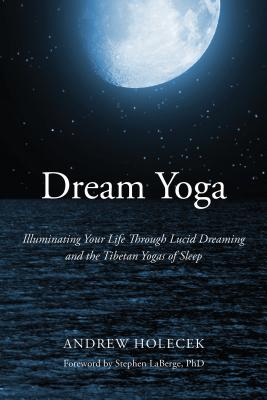 Dream Yoga
Illuminating Your Life Through Lucid Dreaming and the Tibetan Yogas of Sleep
Paperback

* Individual store prices may vary.
Other Editions of This Title:
Paperback, Spanish (10/31/2017)
CD-Audio (10/1/2013)
Description
Lucid dreaming—waking up and becoming fully conscious in your dreams—has intrigued legions of those seeking to explore their vast inner worlds. Yet for many, "getting lucid" for the first time can be elusive. And for those who have, there are few resources that show us how to use this extraordinary state for the greater goal of awakening to all of reality, day or night.

With Dream Yoga, Andrew Holecek brings us a practical guide for meditators, seasoned dream travelers wanting to go deeper, and total beginners eager to experience lucidity for the first time.

Here, you'll join this expert teacher of dream work and meditation to learn:
How to awaken in your dreams naturally by using modern scientific principles with the insights and practices of Tibetan dream and sleep yoga
• Proven guidance to overcome common obstacles, enhance dream recall, focus and amplify awareness while dreaming, work with nightmares safely, resolve emotional blockages, and glean wisdom from your dreams
• A wealth of practices and tips that have helped thousands enjoy successful dream-time exploration
• Essential Buddhist teachings and tools for navigating the many realms of sleep (dreaming is just one of them)
• Direct insights into the continuation of consciousness beyond the physical body and death
• How to bring your skills together to engage with the hundreds of thousands of dream opportunities that most of us forget or dismiss

Have you ever wondered what happens when you sleep and dream? Desired to wake up in your dreams and have the time of your life? Or wanted to use your sleep hours to fully explore these dimensions, heal, and evolve? Dream Yoga answers these questions—not academically but directly—by showing you how to access this profound universe for yourself.
Praise For Dream Yoga: Illuminating Your Life Through Lucid Dreaming and the Tibetan Yogas of Sleep…
"Dream Yoga is a book that makes big promises: According to author Andrew Holecek, if we become sufficiently skilled at lucid dreaming (being aware that we are dreaming), we will eventually find our lucidity muscles at work while we are awake...While it will require time and patience to test the efficacy of these practices in bringing about The Great Awakening, the earnestness with which Holecek writes about their benefits, as well as the detail with which he describes them, suggests that it may be worth the effort." —Spirituality & Health

"In this text, Holecek offers a practical guide for meditators to access and use lucid dreaming—waking up and becoming fully conscious in your dreams—in order to wake up more fully in life, written for both those experienced with this practice or attempting it for the first time. With explorations on modern scientific principles, practices of Tibetan dream and sleep yoga, enhancing dream recall, and focusing and amplifying awareness while dreaming, Holecek also provides essential Buddhist teachings and tools for navigating realms of 'nocturnal meditation." —Lion's Roar

"Don't miss your opportunity to realize some of the very deepest and highest of all human potentials, from a real master of these realms!" —Ken Wilber, author of The Fourth Turning

"At once profound and pragmatic, traditional and contemporary, a fine contribution to the growing literature on ways of exploring the nature of the mind and its role in nature by way of awakening to our dreams." —B. Alan Wallace, author of Dreaming Yourself Awake

"Between these words one can sense a deep enthusiasm that comes from personal experience with the practice. This informative book will be very beneficial for dedicated dream yoga practitioners." —Tenzin Wangyal Rinpoche, author of The Tibetan Yogas of Dream and Sleep
Sounds True, 9781622034598, 352pp.
Publication Date: July 1, 2016
About the Author
Andrew Holecek teaches seminars on spirituality, meditation, and dream yoga. He is the author of The Power and the Pain: Transforming Spiritual Hardship into Joy and Preparing to Die: Practical Advice and Spiritual Wisdom from the Tibetan Buddhist Tradition. For more information, visit andrewholecek.com.

Stephen LaBerge, PhD, laid the groundwork for his pioneering breakthroughs in lucid dreaming research two decades ago while obtaining his PhD in psychophysiology at Stanford University. Since then he has been continuing work at Stanford studying lucid dreaming and psychophysiological correlates of states of consciousness. In 1988, acting on his conviction that lucid dreaming offers many benefits to humanity, Dr. LaBerge founded the Lucidity Institute, the mission of which is to advance research on the nature and potentials of consciousness and to apply the results of this research to the enhancement of human health and well-being.