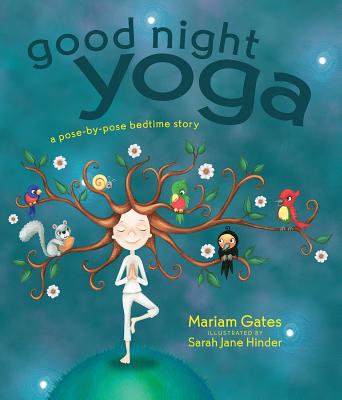 Good Night Yoga
A Pose-by-Pose Bedtime Story
Hardcover

* Individual store prices may vary.
Description
Kids love yoga—and it's great for them, so much so that the President's Council has added the practice to the fitness activities in the annual President's Challenge. For parents and caregivers looking for a fun and effective new routine for bedtime, innovative educator Mariam Gates presents Good Night Yoga, a playful yet wholly practical book for preparing for sleep.

This beautifully illustrated, full-color book tells the story of the natural world as it closes down for the night, while teaching children a simple flow of yoga postures inspired by their favorite characters from nature. Moving from "Sun Breath" to "Cloud Gathering" to "Ladybug & Butterfly" and more, readers learn techniques for self-soothing, relaxing the body and mind, focusing attention, and other skills that will support restful sleep and improve overall confidence and well-being.
Praise For Good Night Yoga: A Pose-by-Pose Bedtime Story…
"Good Night Yoga is a playful but practical way to help your kid release some of her extra energy before bedtime. The beautifully illustrated book teaches simple, kid-friendly yoga moves that induce self-soothing and relaxation—all of which can help kids catch more zzz's." —Parents Magazine

"Innovative educator Mariam Gates has put it all into one beautifully-illustrated package — nature, nurture, diversity, relaxation, visualization, mindfulness skills — and she managed to make it all age-appropriate. Parents will end the day on a positive note, as they move through this set of yoga poses with their children. Designing the sequence of poses to relate to day's end in the natural world was a stroke of bedtime genius and one from which your customers will benefit. Visually appealing, the book also presents the yoga protocol in a simple format, making it an exciting but stress free tool that both children and adults can joyfully embrace." —Anna Jedrziewski, Retailing Insight

"In a clear and calming introduction to yoga, serene children demonstrate 11 basic poses, while a lullaby winds throughout: 'The sun in the sky is going down/ and the clouds float by./ The stars sparkle brightly/ as the moon rises high,' writes first-time author Gates. Newcomer Hinder's acrylic paintings show a brown-skinned girl wearing a polka-dotted outfit as she performs a ladybug pose, while a boy takes on a cat pose. Gentle supplemental text describes the poses ('As I breathe in, as I breathe out, I arch my back like a cat'), which come together in a closing spread to create the 'Good Night Yoga Flow." —Publishers Weekly

"Bedtime stories come to life with Good Night Yoga: A Pose-by-Pose Bedtime Story, ?a charmingly illustrated book that tells the story of the earth settling down for the night while showing kids simple, relaxing poses. Author Mariam Gates, creator of the acclaimed Kid Power Yoga™ program, teaches children to calm their ?bodies and minds while moving from 'Ladybug' (a squat) to 'Cat' (an arch)." —Celia Shatzman, Yoga Journal

"Charming and practical, Good Night Yoga is a gift to parents and children alike. This beautiful offering from Mariam Gates turns a time that is often filled with consternation into one of connection and joy. This one belongs on every child's night stand." —Nikki Myers, Yoga Therapist and Founder of Y12SR: The Yoga of 12-Step Recovery

"There is nothing more important than teaching stillness and mindfulness to our children. I am endlessly grateful for Good Night Yoga and the miraculous gifts this book will offer the world, one little reader at a time." —Gabrielle Bernstein, New York Times bestselling author of Miracles Now

"A lovely way for young children to engage the body, heart, and mind at bedtime, by listening, breathing, bending, and stretching with a parent through the unfolding of a sweet story with delightful pictures." —Myla and Jon Kabat-Zinn, authors of Everyday Blessings: The Inner Work of Mindful Parenting

"As I read through this unimaginably sweet and soothing book, my breath slows and my muscles melt. If I were cozied down in bed right now, I'd surely be asleep. I can't imagine a more luscious night time ritual." —Brian Leaf, MA, author of Misadventures of a Parenting Yogi

"Thank God for Mariam Gates' book, Good Night Yoga, which dares to suggest and demonstrate how children can have a practice to help them face the complex world with more awareness, calmness, and joy. The illustrations are awesome. It will help kids to stay connected to their body and their breath, giving them real tools they will be able to use for the rest of their lives. How empowering for children! There are practices that will serve parents and kids any time of the day." —Tommy Rosen, yoga teacher and founder of Recovery 2.0

"I highly recommend Good Night Yoga to parents who want to share the love of yoga with their child. It is a sweet, whimsical, and endearing book that I will be reading to my own son as part of our bedtime ritual." —Melanie Klein

"I'm so happy to see a beautiful, accessible book that soothes children into slumber with a healing and restful sequence. The goal is to wind down and prepare for rest with both a calm mind and a calm body, and Mariam Gates has brought this to life masterfully" —Kathryn Budig
Sounds True, 9781622034666, 36pp.
Publication Date: April 1, 2015
About the Author
Mariam Gates holds a master's in education from Harvard University and is the creator of the renowned Kid Power Yoga. She is the author of the bestselling Good Night Yoga and many other yoga-related books for children. She lives in Northern California. For more, see mariamgates.com.

Sarah Jane Hinder, illustrator, creates acrylic artwork for a variety of children's books, including Good Morning Yoga, The Three Little Pigs, and The Elves and the Shoemaker. She lives in Manchester, England, with her husband and two chihuahuas. See sarahjanehinder.com.