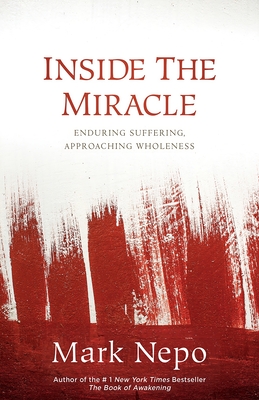 Inside the Miracle
Enduring Suffering, Approaching Wholeness
Hardcover

* Individual store prices may vary.
Other Editions of This Title:
CD-Audio (1/1/2016)
Description
Many are familiar with teacher and poet Mark Nepo's books on inner transformation, relationship, and the emergence of purpose in our lives. But less well-known is the journey that shaped his vision as a teacher
that began in 1987 when he was diagnosed with cancer. The revelations during that time would inform every dimension of his work to follow.

With Inside the Miracle, Mark Nepo shares what he discovered along this challenging terrain, and the insights most essential to those of us who now find ourselves there. The lessons and stories here are for
all of us, ill or not, when the inevitable question arises: How do we move through an overwhelming crisis—whether from physical illness, grief, or a major life change—into the rest of our lives?

This offering presents in its entirety Nepo's 1994 literary gem Acre of Light, written shortly after his recovery. Here, he expands and enriches its themes with new poems, essays, and teachings gathered in the
decades since. Throughout, Mark includes compelling questions and exercises from his popular workshops, to invite us to personalize the experience.

What emerges is a reading companion to be explored in many ways: as a memoir, as a "survival kit" of wisdom and verse that helped Mark during his own journey, and as a conversation to spark our own
contemplation, journaling, and discovery.

"To live in wonder on the other side of suffering and disappointment," reflects Mark Nepo, "is to know how magnificent and fragile it is to be here at all." Inside the Miracle calls us to leap into our lives with tenderness and courage, so we can fully inhabit the miraculous moments that await us.
Praise For Inside the Miracle: Enduring Suffering, Approaching Wholeness…
"Philosopher-poet, cancer survivor, and best-selling author Nepo (Seven Thousand Ways To Listen; The Endless Practice) invites readers on a particularly arduous journey through suffering. He suggests that people welcome adversity in order to move through it and provides remnants, such as poems and journal excerpts, from his own experience as well as "questions to walk with" directed at readers facing their own struggles. VERDICT Amazingly honest and inspiring for those confronting serious illness or dramatic transitions. While Nepo writes with academic references, his message is for everyone." —Library Journal, starred review

"Nepo was in his thirties when he was diagnosed with cancer and his life changed all the way through to its core. He speaks of his transformation with eloquent insight. Three decades after his illness, he's still garnering the lessons that came buried in that experience. Practically, it's become his life's work. This book, which draws on journal entries made during and since his illness, contains a collection of poems and prose that grew out of his experience with cancer and its aftermath. He speaks of the touchstone of grace, the current of life, embracing the will to live, the raw truth of my journey, the inner rhythm of healing, and enduring the miracle. Let customers know that while this is a straightforward discussion of his struggle with cancer, it remains uplifting and strangely lyrical throughout. The book includes Questions to Walk With which are intended to help readers express their own unexplored inner lives." —Anna Jedrziewski, Retailing Insight

"In Inside the Miracle, Mark Nepo gathers almost 30 years of writing, teaching, and thinking about suffering, healing, and wholeness, drawing on his own transformative experience with illness. With everyday lessons and hard-earned wisdom, he has given us a beautiful testament to the resilience of the human heart, and a guide to facing life's challenges with strength, grace, and gratitude." —Arianna Huffington, author of Thrive

"Inside the Miracle is simply the best book I have read in years. Mark Nepo invites us to live a human life, fully, joyously and without reservation, using all our experiences and vulnerabilities as a precious opportunity to encounter and serve the Mystery. He has blessed us all." —Rachel Naomi Remen, MD, author of Kitchen Table Wisdom and My Grandfather's Blessings

"Inside the Miracle will be a miracle for those who read it, especially those going through a difficult time, a big change, a loss, a confusion, a trial by fire. That means everyone born human. Our trials may differ in heat and length, but at the core, we are the same. We need each other, we need insight, and we need help. This book is help. It helps me every time I pick it up and read a poem or a teaching or the brave story of Mark Nepo's descent and rebirth." —Elizabeth Lesser, author of Broken Open: How Difficult Times Can Help Us Grow, cofounder of Omega Institute

"In the canyon of his soul, scoured into truth by pain and uncertainty, joy and Mystery, Nepo navigates the deeper currents with prose and poetry that masterfully invite us to those places where only rarely language can reach. Relentlessly refusing to resolve paradox into mere piety, this book is a rare soul-confirming and soul-stretching gift." —Sharon Daloz Parks, author of Big Questions, Worthy Dreams

"A sensitive sharing of the truth. I recommend it highly." —Bernie Siegel, MD, author of Love, Medicine, and Miracles

"This is a moving testament to the human spirit." —Jon Kabat-Zinn, author of Wherever You Go, There You Are

"Inside the Miracle is about elegance of language and elegance of spirit. This is a wise and beautiful recording." —Body Mind Spirit

"Mark Nepo is one of the finest spiritual guides of our time." —Parker J. Palmer, author of A Hidden Wholeness and The Courage to Teach

"Mark Nepo is a Great Soul. His resonant heart—his frank and astonishing voice—befriends us mightily on this mysterious trail." —Naomi Shihab Nye, author of You and Yours, 19 Varieties of Gazelle: Poems of the Middle East, and Red Suitcase

"Mark Nepo is a rare being—a poet who does not overuse language, a wise man without arrogance, a teacher who always speaks with compassion, and an easygoing love-to-listen-to-him storyteller." —James Fadiman, PhD, cofounder, Institute for Transpersonal Psychology

"Mark Nepo is an eloquent spiritual teacher." —Herbert Mason, professor of history and religious thought, Boston University, translator of Gilgamesh

"Mark Nepo joins a long tradition of truth-seeking, wild-hearted poets—Rumi, Walt Whitman, Emily Dickinson, Mary Oliver—and deserves a place in the center of the circle with them." —Elizabeth Lesser, Cofounder, Omega Institute, author of Broken Open: How Difficult Times Can Help Us Grow

"Mark Nepo's work is as gentle and reliable as the tides, and as courageous as anyone I've known in looking deeply into the mysteries of the self." —Michael J. Mahoney, author of Human Change Processes
Sounds True, 9781622034918, 264pp.
Publication Date: November 1, 2015
About the Author
Mark Nepo is a poet and philosopher who has taught in the fields of poetry and spirituality for over 35 years. ANew York Times#1 bestselling author, he has published numerous books--including The Book of Soul, The One Life We're Given, and Drinking from the River of Light--and recorded multiple audio projects.

Mark has been interviewed three times by Oprah Winfrey as part of herSoul Seriesradio show, and was interviewed by Robin Roberts onGood Morning America. As a cancer survivor, Mark devotes his writing and teaching to the journey of inner transformation and the life of relationship. Mark's work is widely accessible and used in spiritual retreats, healing and medical communities, and more. His work has been translated into 20 languages, and he continues to offer readings, lectures, and retreats.
or
Not Currently Available for Direct Purchase