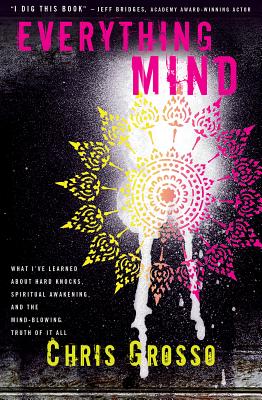 Everything Mind (Paperback)
What I've Learned About Hard Knocks, Spiritual Awakening, and the Mind-Blowing Truth of It All
Sounds True, 9781622035298, 264pp.
Publication Date: October 1, 2015
* Individual store prices may vary.
Description
I'm not a yogi from the Himalayas, a preacher from the pulpit, or a guru with dollar signs in my eyes," says Chris Grosso. "The truth is, as a result of years of heavy drug and alcohol addiction, I've been to some extremely dark places that resulted in a literal life-or-death search for something more." With Everything Mind, this emerging voice of the spiritual counterculture presents a riveting and insightful book about meditation, the search for deeper meaning, and the life-changing (and life-saving) process of waking up.
"Everything Mind" means it's all part of the path—dark and light, sacred and profane, serious and goofy, tragic and joyous. Each experience is unique, each has something profound to teach us if we open ourselves and let it in. Sharing hard-won wisdom and the spiritual practices that helped him through his darkest times, Chris invites you to discover:
• Spirituality—how something that doesn't fix your problems or change who you are can still revolutionize your life
• Why well-worn ideas like "love everyone" and "anything is possible" are much more than just wishful bullshit
• The perils of railing at fundamentalism—how to put down the pitchfork and practice compassionate spiritual discernment
• The mystery of "interbeing"—convincing your head, heart, and gut that you're actually connected to everything
• Expressing your truth through service, meditation, sports, relationships, punk rock, skateboarding—or just about anything done with love
Finding our own spirituality is both liberating and terrifying. Liberating because we no longer have to be tied down by dogma or march off to war just because a guy in a fancy hat says so. Terrifying because it's now totally on us to find out what's true, what's holy, what really matters to each of us. "Cultivating a spiritual lifestyle may be the most challenging undertaking you'll ever face," says Chris Grosso. "But if you stick with it, you can learn to meet all of life with an open heart—which, when you get down to it, is pretty fucking amazing.
About the Author
Chris Grosso is a public speaker, writer, recovering addict, spiritual director, and author of Indie Spiritualist: A No Bullshit Exploration of Spirituality and Everything Mind: What I've Learned About Hard Knocks, Spiritual Awakening and the Mind-Blowing Truth of It All. He writes for ORIGIN Magazine, The Huffington Post, and Mantra Yoga + Health Magazine, and has spoken and performed at Wanderlust Festival, Celebrate Your Life, Yoga Journal Conference, Sedona World Wisdom Days, Kripalu, and more.
Chris is passionate about his work with people who are in the process of healing or struggling with addictions of all kinds. He speaks and leads groups in detoxes, yoga studios, rehabs, youth centers, 12-Step meetings, hospitals, conferences, and festivals worldwide. He is a member of the advisory board for Drugs over Dinner and hosts The Indie Spiritualist podcast on The Mindpod Network.
Ken Wilber is one of the most influential and widely read American philosophers of our time. His writing has been translated into more than 20 languages. Ken Wilber is the author of many books, including
The Spectrum of Consciousness; The Eye of Spirit; Grace and Grit; Sex, Ecology, Spirituality; A Brief History of Everything; Boomeritis;
and
The Marriage of Sense and Soul
. Ken Wilber lives in Denver, Colorado.
Praise For Everything Mind: What I've Learned About Hard Knocks, Spiritual Awakening, and the Mind-Blowing Truth of It All…
"Grosso's advice avoids the sappy, clean-living reform rhetoric of most enlightenment memoirs; instead he teaches shadow work—the practice of working through imagined conversations with others—embracing emotional darkness, and gravitating toward those with a nontraditional (or nonexistent) spirituality. His low-key offer of tools for experiencing the oneness of life is human and humble, while secure in understanding its profound value, like a friend putting a hand on your shoulder on a rough day." —Publishers Weekly
"Chris Grosso has plugged into the emerging trend toward individualized spirituality and made it truly his own. What he shines a light on, within himself and in the world around him, points to the truth of what he is saying: that spirituality is everywhere and belongs to everyone. Some customers might have trouble connecting with his raw style, but anyone who reads the book will find themselves rooting for him and for the people he is reaching out to daily." —Anna Jedrziewski, Retailing Insight
"I dig this book. By sharing his life's journey, Chris Grosso shines a light on our own. Everything Mind is a spiritual meal cooked for today, for us living now to taste, for our hearts and minds to digest." —Jeff Bridges, Academy Award®-winning actor, musician, and New York Times bestselling coauthor of The Dude and the Zen Master
"Once again Chris Grosso delivers an awesome meditation on mindfulness for our emerging generation of DIY truth-seekers and spiritual practitioners. Everything Mind is a great reminder that what we focus on determines the quality of our reality. Our mindset is the key that will set us free." —MC YOGI, hip-hop artist and yoga teacher
"A potent, inspired, no-bullshit invitation to the everything. In this deeply human offering, Chris Grosso invites us to embrace a truly spiritual life. Not a conceptual spiritual life, not one lived on some distant mountaintop, but one that is embodied in the heart of daily life. Everything is that; that is everything. I loved this dude's book!" —Jeff Brown, author of Soulshaping and An Uncommon Bond
"If I begin to worry about the future of the Dharma Large—universal truth, genuinely enlightening practices, and the timeless wisdom traditions in our scientific, postmodern, secular era—I look to the younger generation for inspiration, people like fellow inter-meditator and Dharma buddy Chris Grosso. In Everything Mind, Backyard Bodhisattava Chris helps us make significant steps to recover from the human condition (of dissatisfaction and malaise) while juicing enticing ancient Sutras, the Bible, the Vedas, and Zen koans. He combines this with the contemporary—thrash metal, skateboarding, and the Occupy Movement—and the result is both sublime and delightful. His bullshit detector is well-tuned as he tears down spiritual barriers and constructs connections across generations, opening our inclusive everything minds and our spacious and warm everything hearts. This young Bodhisattva knows of what he speaks." —Lama Surya Das, author of Make Me One with Everything and Awakening the Buddha Within, and founder of the Dzogchen Center and Dzogchen Retreats
"In this age where there are so many distractions from career, family, and relationships, we often do not spend enough time checking in on ourselves and understanding how to tap into the inner peace within. Hence we experience stress, anger, depression, anxiety, and all other afflictive emotions. In Everything Mind, Chris Grosso offers pragmatic methods to address these afflictive emotions. He explains clearly how compassion and wisdom, first to oneself and later expanding it to include everyone else, are universal methods of achieving inner peace and healing which transcends society-defined labels of religion, culture and race." —Tsem Rinpoche, author of Compassion Conquers All
"Partly autobiographical, partly a manual for awakening and healing, Everything Mind will change you. Chris Grosso's special gift is his ability to translate complex spiritual teachings into vignettes that give us a sense of what an awakened life looks like. His words give us courage to look at our lives without judgment and adopt a practice that can turn our troubles into gifts that bring us into compassion and wisdom. Everything Mind will inspire you to engage with your pain, reclaim your passion for change, and in the process discover the truth of your life." —Adam Bucko, coauthor of Occupy Spirituality and The New Monasticism
"Everything Mind is awesome! Chris understands the fundamental truth that it doesn't matter how different we think we are because deep down, we're all the same. Whether you're spiritual, religious, tattooed, a punk rocker, or simply seeking an alternative approach to exploring many of life's timeless inquiries, this book will be of great benefit to you. Super rad." —Miguel Chen, musician (Teenage Bottlerocket)
"Everything Mind offers us a deep, open-minded and inclusive look at what spiritual awakening is and how to integrate transformative practices into our real lives. Chris Grosso is a spiritual revolutionary. I am happy to have him as comrade in the struggle against greed, hatred, and ignorance. Read this book and join us in the coupe d'etat." —Noah Levine, bestselling author of Dharma Punx and Refuge Recovery
"Chris Grosso's message of authenticity brings you to a place of truth and awareness, beyond the chaos of the current state of our everyday world. Another great masterpiece by a real modern-day guru, The Indie Spiritualist." —Don Jose Ruiz, New York Times bestselling coauthor of The Fifth Agreement
"If you are drawn to how real humans—with all the messiness of depression and addiction, anger and self-hatred—can walk an authentic spiritual path, please read Everything Mind. Chris Grosso, in telling his story, inspires us to find within our own imperfect selves, the very source of love and freedom." —Tara Brach, PhD, author of Radical Acceptance and True Refuge
"Chris manifests his 'indie spirituality' by drawing upon and finding the connections between spiritual traditions from the East and West and shining a whole new light on them to reveal a fresh relevance. He can segue from Foo Fighters to Thich Nhat Hanh to Charles Bukowski and have it make sense. This book is the immense heart—Chris Grosso shows up on every page with so much love, generosity of spirit, and compassion for the reader and his subject matter that you can't help but connect with him in his remarkable Everything Mind. This is a valuable friend to have on the path." —Stephen and Ondrea Levine, bestselling authors of Embracing the Beloved, Who Dies? and The Grief Process
"Chris Grosso is an honest and engaging young teacher and his work is both clearly expressed and inspiring." —Andrew Harvey, bestselling author of The Hope
"There is great difficulty afoot on any spiritual path. There is also strangeness, each of us approaching it in our own unique way. With Everything Mind, Chris Grosso empowers us to continue our quest no matter how difficult and strange it may be. I have already found the book to be a validating force on my own path. Take a day out of your life and read Chris Grosso's book, Everything Mind. You will find a wealth of knowledge, inspiration, and the most down-to-earth explanation of spiritual concepts that I've yet seen." —Tommy Rosen, yoga teacher and author of Recovery 2.0
"Spirituality is formless, yet it evolves with every new experience—and it is from each of these experiences in life that we learn. Chris Grosso adds to this evolution with ruthless honesty in a loving deposition that shares his experiences along the path of his own personal transformation. Everything Mind is a reflection of life." —Don Miguel Ruiz Jr., bestselling author of The Five Levels of Attachment
"Everything Mind came to me in middle of a personal spiritual trial. It is pure and simple wisdom born from a true heart and clear mind. Chris Grosso speaks to my soul." —Scott Kelly, musician (Neurosis, Tribes of Neurot, Shrinebuilder, Corrections House, Scott Kelly and the Road Home)
"Chris Grosso's Everything Mind will leave you rocking out to head-banger music, laughing until you pee, wishing you had finally gotten that tattoo, and in awe of the author's candid vulnerability as he shares tales of his audacious life. Because it slides down like a margarita on a hot summer night, you might not realize you've just had surgery. Everything Mind is a scalpel of truth, slicing through your illusions, your self-deceptions, your ego, and everything else that separates you from the magnificence of your spiritual essence. But fear not! This is a surgery you'll be grateful to undergo because it transports you into the frequency of miracles. This book will lay bare your soul and leave you breathless, your heart bursting open at the realization that we are all connected, we are perfect just as we are, we are never, ever alone, and if we're brave enough to walk the spiritual path with earnest humility, we can experience heaven on earth. Truly medicine for the soul. I love, love, love this book." —Lissa Rankin, MD, New York Times bestselling author of Mind Over Medicine and The Fear Cure
"Chris Grosso's tough life lessons inform his no-bullshit spirituality in Everything Mind. A holy ferocity is in the heart of awakening, Chris takes us there and shares visionary tools to deepen with. Enter your true identity and wrestle with the tough questions as you enter Everything Mind.
`" —Alex Grey, artist and cofounder of CoSM, Chapel of Sacred Mirrors
"Everything Mind offers heavyweight wisdom that's been tattooed with the mess and magnificence of life. In other words, it's a book about spirituality you can thoroughly trust because the gutsy author, Chris Grosso, ain't interested in hiding his humanity—he walks his talk with zero pretensions, raging authenticity, belly-shaking humor, breathtaking insight, a helluvalotta honesty, and most inspiring of all, an Everything Heart. Read Grosso's rare book and experience the inimitable power of Keeping It Real." —Sera Beak, author of Red Hot and Holy
"Everything Mind is just that—simultaneously expansive and intimate. Chris includes all aspects of life in his practice and his writing, and the result is a full picture of our shared human potential, for darkness, beauty, and freedom from suffering." —Sharon Salzberg, cofounder of The Insight Meditation Society and author of Real Happiness
"Everything Mind is a handy survival guide for the overgrown wilderness of contemporary consciousness and modern spirituality. No map is the territory, and each of us has within us uncharted thoroughfares ready to be explored with fearless-yet-gentle analysis. Through a carefully curated and easily absorbed selection of quintessential quotes, intimate reflections, and pedestrian teachings—from the holiest of holies to the lowliest of lowlies—Chris helps us to help ourselves with practical exercises intended to identify, and softly unpack, anything in our personal baggage that isn't serving us on the trail, and thus prevents us from serving others. From wherever you are to wherever you're going, Everything Mind lays out flexible formulas, which will inevitably leave our campsites of the mind a little better than we found them." —Liam Wilson, musician (The Dillinger Escape Plan)
"Chris Grosso speaks in a voice that is both sublime and grounded. He manages to convey the luminous essence of the perennial wisdom traditions with a deft and relevant touch that makes this essence—what Chris calls 'Everything Mind'—accessible to the beginner and fresh for those who have walked the path for long enough to have become cynical. Hilarious, skillful, authoritative, and humble, Everything Mind will help readers cultivate contemplative awareness and compassion in action. This book made me smile with irreverent delight and ache with longing for that which transcends all form and yet is embodied at the heart of the human experience. I'm so excited by this work and am grateful for Chris in this world." —Mirabai Starr, author of God of Love and Caravan of No Despair
or
Not Currently Available for Direct Purchase