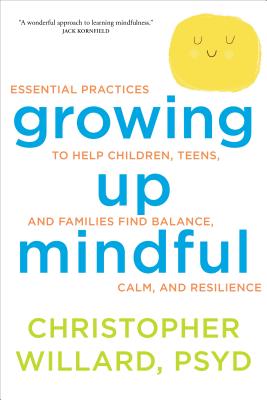 Growing Up Mindful
Essential Practices to Help Children, Teens, and Families Find Balance, Calm, and Resilience
Paperback

* Individual store prices may vary.
Other Editions of This Title:
Paperback, Spanish (9/30/2017)
Description
Introducing mindfulness into the lives of our children and teenagers is perhaps the greatest gift we can offer. Mindfulness builds emotional intelligence, boosts happiness, increases curiosity and engagement, reduces anxiety and depression, soothes the pain of trauma, and helps kids (and adults) focus, learn, and make better choices. If that weren't enough, research now shows that mindfulness significantly enhances what psychologists call "flourishing"—the opposite of depression and avoidance.

Growing Up Mindful helps parents, educators, and counselors learn how to embody and share the skills of mindfulness that will empower our children with resilience throughout their lives. With more than 75 accessible exercises and practices, along with adaptations for the individual needs of a wide range of children and teens, this inspiring guidebook brings you road-tested insights and tools for:

• Tapping the power of the imagination, play, and creativity



• Body-based mindfulness and movement practices



• Creatively overcoming resistance and gaining kids' buy-in



• The mindful use of technology and social media



• Building the foundation through your own personal practice



• "Attending" and "Befriending"—two positive responses to stress



• Setting intentions and managing expectations of new practitioners



• Sharing mindfulness in a formal setting including schools and workplaces



• Extending our practice into the larger communities we share

"Seeds of mindfulness can be planted in anyone at any time—seeds that under the right conditions can burst and bloom into a life of compassion and connection," writes Dr. Willard. Growing Up Mindful invites you to "embark on something incredible and world-changing" as you join the growing community of adults bringing wonder, curiosity, and reflection back into childhood and adolescence.
Praise For Growing Up Mindful: Essential Practices to Help Children, Teens, and Families Find Balance, Calm, and Resilience…
"Willard (Mindfulness for Teen Anxiety), a clinical psychologist who advocates mindfulness as a stress relief practice, offers a helpful manual to introducing secular mindfulness practices to children and teens, as well as their parents. The book progresses from explaining mindfulness and its benefits, illustrated by helpful charts, to various strategies for introducing it to one's children. Speaking as a parent himself, Willard writes that it's imperative to 'cultivate our own practice.' He also cautions parents against raising the subject in the way that suggests to children 'that they are broken and in the need of fixing.' The better approach is to offer a practice that's compatible with a child's interests and fits into ongoing activities. To this end, he offers 101 'mindfulness cues' geared to children of different ages and temperaments, and discusses how mindfulness can be applied to actions as simple as eating and walking. On integrating mindfulness into play, the author says, 'The games our kids play... are practices for real life' and good preparation for becoming 'mindful and compassionate adults.' This is a well-written, practical guide with a useful appendix, 'Matching the Practice to the Child." —Publishers Weekly

"This book offers a wonderful array of simple, playful, engaging mindfulness practices which can be shared by parents, teachers, and therapists with children at home, at school, and in clinical settings. Dr. Willard has created an invaluable resource to support you in sharing the nourishing power of mindfulness with children and adolescents. Like your go-to cookbook, this book is filled with healthy, delicious, satisfying mindfulness recipes that you can prepare and savor with the young people in your life." —Amy Saltzman, MD, author of A Still Quiet Place: A Mindfulness Program for Teaching Children and Adolescents to Ease Stress and Difficult Emotions and A Still Quiet Place for Teens: A Mindfulness Workbook to Ease Stress and Difficult Emotions

"This is a splendid and timely book, the richness and accessibility of which will be of enormous support to children and young people and those who live and work with them—and in particular to parents, a group very much on the front line in experiencing the fallout from teenage stress, but who have so far been lacking much guidance in the vital coping skills of mindfulness. It is an inspiring beginner's guide written by one of the best-respected practitioners in the field with a deep store of personal knowledge of what works in engaging young people in mindfulness, as well as a convincing grasp of the scientific evidence base. The style is friendly, pacey, fun, and approachable; the use of vivid anecdotes keeps it real; and the practices combine authenticity and practicality for fitting into the busy lives of families and young people—some are only a minute long. I will be using it myself to help with my parenting skills, and will recommend it widely." —Katherine Weare, Emeritus Professor, School of Education, University of Southampton, UK

"Whether you're a mindfulness newbie or a mindfulness instructor, in Chris Willard's Growing up Mindful you'll find wise answers to questions about sharing mindfulness that you have now and that you'll have in the future. This book is a gift—for yourself, for a friend, for a teacher." —Richard Brady, founder, Mindfulness in Education Network

"A wonderful, practical book for kids and adults that is reassuring, accessible, and enjoyable. Chock-full of useful and engaging practices, it is a great resource for parents, therapists, and teachers. Chris Willard is a rising star whose attunement to the needs of children shines through on every page." —Susan M. Pollak, President, Institute for Meditation and Psychotherapy, coauthor of Sitting Together

"A wonderful approach to learning mindfulness—full of great skills, practical tools, and enormously helpful wisdom." —Jack Kornfield, author of The Wise Heart

"Growing up Mindful is filled with wisdom and expert guidance in sharing the blessings of mindfulness with young people. Drawing on his vast experience as teacher, clinician and practitioner, Chris Willard provides the kind of practical, doable exercises and reflections that will help you bring mindfulness alive in all the situations of daily life." —Tara Brach, PhD, author of Radical Acceptance and True Refuge

"As the benefits of mindfulness become well established, a recurring question is, 'How do you teach this stuff to kids?' Look no further. This book is a treasure trove of exercises and practical wisdom to inspire any reader. The author's playful approach leaves us with the understanding that anyone can become more mindful and still be who we are. May we all practice like this, starting with the kids or with our own inner child." —Christopher Germer, PhD; author of The Mindful Path to Self-Compassion; co-editor, Mindfulness and Psychotherapy; faculty, Harvard Medical School

"Many of the deepest experiences youth have with mindfulness do not happen in formal, structured lessons. They happen in the 'micro-moments' of daily life. With a variety of short, conceptually simple methods, Growing Up Mindful is one of the few mindfulness and youth books that is structured to reflect this truth. If you are looking for developmentally appropriate ways to introduce practice to youth in a way that will stick, this is your book." —Chris McKenna, Program Director, Mindful Schools

"Chris Willard's new book Growing Up Mindful is jam-packed with great advice and practices for children, teens, and families. It is a wonderful resource for parents, therapists, and teachers worldwide!" —Susan Kaiser Greenland, author of The Mindful Child and cofounder of Inner Kids

"Practical, engaging, and a pleasure to read, this inspirational book is an invaluable resource for parents, teachers, and anyone else who works with or cares for kids. Based on extensive experience, it's chock-full of creative, common-sense practices that can help virtually any child, adolescent, or adult live a happier, richer, more engaged, life." —Ronald D. Siegel, PsyD; author of The Mindfulness Solution: Everyday Practices for Everyday Problems; assistant professor of psychology, Harvard Medical School
Sounds True, 9781622035908, 256pp.
Publication Date: June 1, 2016
About the Author
CHRISTOPHER WILLARD, PSYD, is a clinical psychologist and consultant specializing in bringing mindfulness into education and psychotherapy. The author of Child's Mind (Parallax, 2010) and other books on the topic, Dr. Willard lives in Cambridge, Massachusetts and teaches at Harvard Medical School and Lesley University. For more, visit drchristopherwillard.com.