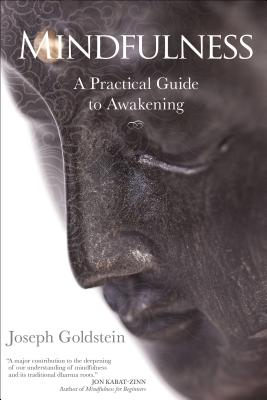 Mindfulness
A Practical Guide to Awakening
Paperback

* Individual store prices may vary.
Other Editions of This Title:
Paperback, Spanish (11/30/2015)
CD-Audio (10/1/2013)
Description
The mind contains the seeds of its own awakening—seeds that we can cultivate to bring forth the fruits of a life lived consciously. With Mindfulness, Joseph Goldstein shares the wisdom of his four decades of teaching and practice in a book that will serve as a lifelong companion for anyone committed to mindful living and the realization of inner freedom. Goldstein's source teaching is the Satipa??hana Sutta, the Buddha's legendary discourse on the four foundations of mindfulness that became the basis for the many types of Vipassana (or insight meditation) found today. Exquisite in detail yet wholly accessible and relevant for the modern student, Mindfulness takes us through a profound study of:

• Mindfulness of body, including the breath, postures, activities, and physical characteristics
• Mindfulness of feelings—how the experience of our sense perceptions influences our inner and outer worlds
• Mindfulness of mind—learning to recognize skillful and unskillful states of mind and thought
• Mindfulness of dhammas (or categories of experience), including the Five Hindrances, the Six Sense Spheres, and the Seven Factors of Awakening

"There is a wealth of meaning and nuance in the experience of mindfulness that can enrich our lives in unimagined ways," writes Goldstein. In Mindfulness you have the tools to mine these riches for yourself.
Praise For Mindfulness: A Practical Guide to Awakening…
"A major contribution to the clarifying and deepening of our understanding of mindfulness and its traditional dharma roots." —Jon Kabat-Zinn, author of Mindfulness for Beginners

"Joseph Goldstein is one of our most brilliant teachers. This is a masterwork of wisdom, depth, and experience, combining careful analysis, meditative guidance, and great love." —Jack Kornfield, author of A Lamp in the Darkness

"Author Joseph Goldstein—one of the most wise, lucid, and experienced teachers of our times—has written a book on mindfulness that calls forth the depth and power of classical Buddhist teachings. If you are drawn to meditation out of a longing to realize spiritual freedom, this book will be a cherished resource on your path." —Tara Brach, PhD, author of True Refuge

"Joseph Goldstein has written an immensely clear, practical, and accessible guide to living a mindful life. From examining its roots to exploring its manifold expressions, this deeply significant work shows the path for mindfulness to become our closest friend. I feel like I've waited a long time for a book just like this, and here it is!" —Sharon Salzberg, author of Real Happiness

"In eloquent and compelling detail by a master of the art, Goldstein's new book shows how mindfulness leads to calm, well-being, and the joy of self-realization. The most complete and understandable book on mindfulness in print." —Reggie Ray, author of Touching Enlightenment and Mahamudra for the Modern World
Sounds True, 9781622036059, 459pp.
Publication Date: March 1, 2016
About the Author
Joseph Goldstein has been leading insight and lovingkindness meditation retreats worldwide since 1974. He is a cofounder of the Insight Meditation Society, the Barre Center for Buddhist Studies, and the Forest Refuge. Since 1967, he has studied and practiced different forms of Buddhist meditation under eminent teachers from India, Burma, and Tibet. His books include A Heart Full of Peace, One Dharma, Insight Meditation, and The Experience of Insight.