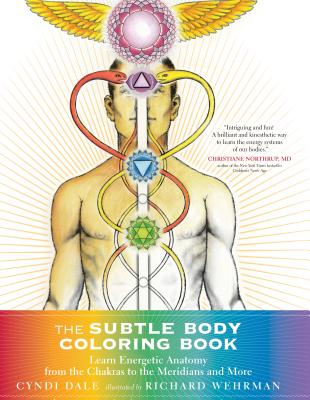 The Subtle Body Coloring Book
Learn Energetic Anatomy--from the Chakras to the Meridians and More
Paperback

* Individual store prices may vary.
Description
Explore the Energetic Dimension of Your HealthIn Living Color!

When it comes to the subtle body, coloring is more than just an enjoyable way to learn about the energy systems that govern our healthits also an effective practice to help awaken your intuitive connection to your chakras, meridians, and more. With The Subtle Body Coloring Book, Cyndi Dale joins illustrator Richard Wehrman to bring you an illustrated resource on healing modalities from a variety of traditions, inviting you to:

Embark on a coloring tour through the major energy structures of the subtle bodyfields, channels, and centers
Explore the bodys aura and electromagnetic biofield
Illuminate the meridiansthe bodys chi channels as identified by Traditional Chinese Medicine
Awaken the gifts and wisdom of each chakra as you color them
Journey through your acupressure points, organs, and the subtle energy centers that empower health and wellness
Learn the special qualities and healing properties of each color you use

Filled with practical guidance for students, teachers, and holistic practitioners here is an information-rich book that serves as an educational tool, memorization aid, and a great way to relax and explore the energetic dimensions of our health.
Praise For The Subtle Body Coloring Book: Learn Energetic Anatomy--from the Chakras to the Meridians and More…
The Subtle Body Coloring Book is intriguing and fun. It provides all of us with a brilliant and kinesthetic way to learn the energy systems of our bodies while also relaxing and enjoying ourselves. Northrup, MD, author of the New York Times bestsellers Goddesses Never Age; Womens Bodies, Womens Wisdom, and The Wisdom of Menopause

When we live with an awareness of color, we live a more colorful lifewe go from bland to vibrant, from lackluster to vital. Let yourself go full-spectrum through the conduit of creativity with this exciting Subtle Body Coloring Book! Dr. Deanna Minich, author of Whole Detox

Cyndi Dale once again brings highly esoteric and very subtle energy into the realm of play and learning. What better way to learn about these powerful systems than to engage the unconscious directly by means of art: colors, shapes, and play. Although the energy systems she describes transcend easy-to-categorize shapes and contours, Dale offers a way to begin to imagine these systemsand begin to feel and sense them within ourselvesby leading us into the creative, imaginal realm. From there, our inner artist can begin to sense what exists all around us, but is very difficult to pin down. This is a gift to students and teachers of subtle energy, and to anyone whose inner child is yearning for both advanced knowledge and a simple way to get there. Lauren Walker, author of Energy Medicine Yoga and The Energy Medicine Yoga Prescription

All those who need to understand the critical issue of energy anatomy can benefit from this great workbook. C. Norman Shealy, MD, PhD, founder and CEO, International Institute of Holistic Medicine

Wow! Such a beautiful way to deeply learn about the subtle energy systems of humanity: meridians, chakras, and colors. Live, love, and learn with this experiential coloring book! Brigitte Mars, coauthor of The Country Almanac of Home Remedies and The Home Reference to Holistic Health and Healing

The Subtle Body Coloring book is a wonderful, engaged way to learn more about the energy body and energy fields. I love that Cyndi Dale included so much information on auric fields as it is key to healing work, distance healing work, and everyday interaction in the world. I am a huge fan of this coloring book and will use it with my energy students. Dr. Ann Marie Chiasson, Arizona Center for Integrative Medicine at the University of Arizona and author of Energy Healing

The field of energy medicine has become a legitimate and serious focus of study within physics and health care. We are happy for this! And thanks to Cyndi Dale, we now have a new creative option for study and integration of the fascinating concepts of the human energy system beyond scientific articles and textbooks. A lovely complement between the art texts of Alex GreysSacred Mirrorsand the intellectually oriented scientific literature, Cyndi and her artist colleague, RichardWehrman, offer us both a FUNandmeaningful method to further integrate our understanding of the mystery of our humanbeing-ness! Through this fascinating and well done coloring book, one finds a lovely balance between just enough text to whet our left brains appetite for information and an artistic plethora of black and white figures with their energy anatomy, which satisfies the right brain and awaits your colored pencils and individual creativity! I will happily share this with students, colleagues, friends, and kids of all ages! Cynthia Hutchison DNSc, RN, HTCP/I, Educational Program Director, Healing Touch Program; owner of Boulder Healing Touch

Cyndi Dales The Subtle Body Coloring Book makes the learning of energy into a fun and adventurous journey! She uses different healing modalities from a variety of traditions, which provides us with wonderful interactive overview and are cross-information between each other. I strongly recommend this unique book! Robert Peng, author of The Master Key

Exploring subtle realms of healing brings together multiple ways of knowing and being. This coloring book allows us to learn and engage our imaginations in ways that embrace our expanded consciousnessand in turn invites us to harness the furthest reaches of our healing capacities. Now, sharpen your colored pencils and have fun. Marilyn Schlitz, MA, PhD

I am excited about sharing this book with my students and clients. It is a game-changer for those people looking to upgrade how they dance through this life, as it is a master playbook. True healing takes place in our subtle bodies where the deepest development of our souls can emerge. Coloring is a therapeutic, harmonic practice that naturally creates an unfolding of all aspects of our mind, body, and spirit. I love this tool! Dr. Light Miller, Ayurvedic College for Well-Being
Sounds True, 9781622036073, 148pp.
Publication Date: July 1, 2017
About the Author
Cyndi Dale is an internationally renowned author, speaker, intuitive healer, and visionary. She is president of Life Systems Services, a corporation that offers intuitive-based healing, destiny coaching, and corporate consulting. Cyndi has been trained in multiple healing modalities, including shamanism, intuitive healing, Lakota medicine, and Reiki. She is the author of 27 highly acclaimed books about energy medicine, intuition, and holistic healing. She lives in Minneapolis with her family.

Award-winning illustrator RICHARD WEHRMANS graphic work focuses on Eastern and Western spirituality and alternative medicine. He lives in upstate New York. For more, visit merlinwood.net.