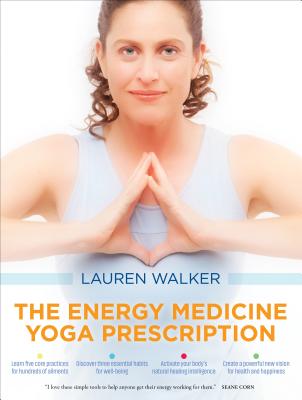 The Energy Medicine Yoga Prescription (Paperback)
Sounds True, 9781622036615, 280pp.
Publication Date: August 31, 2017
Description
A Powerful How-To Guide for Energetic Self-Care

When you're dealing with a health issue, what kind of energy practice will help the most? "To bring ourselves back into wellness," teaches Lauren Walker, "we first have to understand what brought our body out of wellness. When we return to balance, the body is best able to heal itself." With The Energy Medicine YogaPrescription, Lauren brings you an invaluable guide to help you uncover the root causes of specific physical, emotional, and psychological health complaints--along with a treasury of potent self-care practices to accelerate your healing.

This easy-to-use resource includes:

- Simple instructions for learning to sense and diagnose your body's subtle energy
- The Five Elements System--the ancient healing practice at the heart of Energy Medicine Yoga
- Easy reference charts to match hundreds of health complaints with the most effective energy healing practice
- Links to training videos to help guide you in many Energy Medicine Yoga techniques
- The three most important Ayurvedic techniques to change your life right now
- Guidance for creating your own daily practice--and maintaining good health and balance on and off the yoga mat

"If you want to affect the physical matter that is your body and the invisible matter that is your mind and your soul," says Lauren Walker, "the most effective practice you can learn is how to work with your own energy." With The Energy Medicine Yoga Prescription, she brings you a solution-oriented manual to complement any health regimen--filled with essential insights for well-being, techniques to activate your body's natural healing intelligence, and a powerful new vision for happiness and wholeness.

About the Author
Lauren WalkerLauren Walker is the author of The Energy Medicine Yoga Prescription (Sounds True, 2017) and Energy Medicine Yoga: Amplify the Healing Power of Your Yoga Practice (Sounds True, 2014). She's been teaching yoga and meditation since 1997, and created Energy Medicine Yoga while teaching at Norwich University. She teaches EMYoga across the US and internationally, and has been featured in Yoga Journal, Mantra Yoga + Health, Yoga Digest, and the New York Times. She was recently named one of the top 100 most influential yoga teachers in America by Sonima. For more information, visit EMYoga.net.
Advertisement