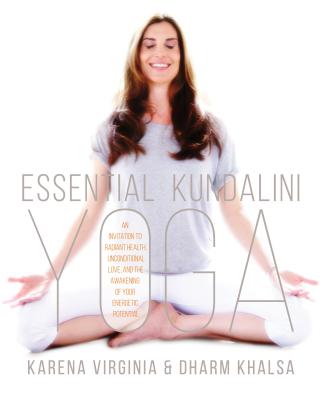 Essential Kundalini Yoga
An Invitation to Radiant Health, Unconditional Love, and the Awakening of Your Energetic Potential
Paperback

* Individual store prices may vary.
Description
For new and experienced students, practical guidance in kundalini yoga for happiness, health, and fulfillment

Kundalini is a universal life force within each of us that, once awakened, holds the power to transform every facet of our lives. Kundalini yoga is the art and practice of activating this radiant energy. With Essential Kundalini Yoga, Karena Virginia and Dharm Khalsa present the core principles and practices of this revered tradition in an inviting and accessible guide.

"Kundalini yoga opens joyous space for connecting deeply with the energy states of our being," write Karena and Dharm, "It brings vital health to the body and opens our consciousness to new potentials of awareness."

Created for the modern practitioner, this book offers clear, comprehensive instruction in the key insights and practices of kundalini yoga. From philosophy and lifestyle, to working with anatomy and physical asana, to activating our energy bodies, Essential Kundalini Yoga is a uniquely practical and in-depth manual. Highlights include:

Gorgeous photos illuminating step-by-step instructions
• Detailed instructions, explanations, and illustrations for core kundalini practices—mantra, pranayama, bhanda, asana, kriya, meditation, and more
• Seven traditional kundalini yoga routines, including a pituitary gland series for intuition, yoga for the immune system, and detoxing for radiance
• Understand the science of the practice, including its effects on the glandular system, spine, nervous system, and skeleton
• Meditations, mantras, and yoga poses to activate each of the chakras and bring health to your energetic body
• Remedies for common emotional challenges—dealing with fear, shame, and depression, among others
• Kundalini secrets for getting better sleep, aging gracefully, enhancing fertility, cultivating vitality, and more
Rooted in tradition and infused with a sense of infinite possibility, Essential Kundalini Yoga is a joyful invitation for practitioners of all levels to awaken the vital energy within and receive the gifts that emerge from connecting more deeply with your own potential for creativity, abundance, and joy.
Praise For Essential Kundalini Yoga: An Invitation to Radiant Health, Unconditional Love, and the Awakening of Your Energetic Potential…
"Longtime yoga teachers Virginia and Khalsa team up to provide novices with an inspiring introduction to the kundalini version of the practice, as well as to offer a fresh perspective for seasoned practitioners. The authors explain the system of beliefs behind kundalini yoga, 'an ancient, time-tested system of exercises and meditation,' and cover the use of asana, breath work (pranayama), meditation, and mantra. The kriyas (seven 'classic' exercise sets have been selected for inclusion), meditations, and other aspects of the practice are presented with user-friendly clarity and are accompanied by attractive black and white photos of Virginia demonstrating the poses. Readers will learn the basics of a kundalini yoga session, including the opening Adi Mantra and other mantras, commonly used mudras (gestures), and breathing techniques such as kundalini yoga's signature Breath of Fire. The authors do an excellent job of summarizing kundalini's rise in the U.S. since it was introduced by India-born kundalini yoga master Yogi Bhajan in the l960s, but the emphasis is on engaging the reader to participate and learn through experience. Readers will find this a valuable resource for jump-starting or enhancing their kundalini yoga studies." —Publishers Weekly

"Karena Virginia and Dharm Khalsa illuminate a complex and rich practice with friendliness, joy, and love. This book gives practitioners of all levels the skills and confidence they need for a powerful, nurturing kundalini yoga practice." —Seane Corn, internationally celebrated yoga teacher, social activist, and cofounder of Off the Mat, Into the World

"This book is an intelligent insight into the miracles and healing of kundalini yoga that will inspire not only the beginner, but the regular practitioner as well." —Snatam Kaur, musician and author of Original Light

"A beautifully presented, simply written, and accessible portrait of kundalini yoga from the authors' unique perspective." —Alan Arkin, Academy Award®-winning actor and bestselling author of An Improvised Life

"Everyone can benefit from practicing kundalini yoga. This book will show you the way to unlock strengths you never knew you had." —Parvati Shallow, winner of CBS's hit show Survivor

"Something is shifting, and many of us feel it. We are moving through a birth canal of sorts, collectively and personally, and the evidence is in the suffering and struggle all around and within us. Conventional medicine's tools cannot meet the complexity of the modern condition, so we are reaching for ancient technology. As a holistic physician, I enthusiastically recommend these practices to my patients and have been nothing short of amazed at the results. Essential Kundalini Yoga is an urgently needed guide to self-initiation and healing in today's world." —Kelly Brogan, MD, New York Times bestselling author of A Mind of Your Own

"There are very many books out there that tell you what to do, but very few crafted as well as this that explain and demonstrate how to work with these esoteric techniques. The how-to instructions for the postures, breath, and visualization in each pose allow deep access to the experiential aspect of our Divine Nature and its connection to the Divine Sacred. My experience with this book was that of being gently guided to the inner door, being handed the magic keys, and finding inside the crown jewels of the ancient and sacred arts and sciences." —J. Michael Wood, certified master of medical qigong

"Karena and Dharm have created a masterpiece that enables us to move beyond the limitations of the mind so we can live in our brilliance and share our light with the world. We cannot deny that we are here on this planet to reach our fullest potential and live a life of joy and abundance. Essential Kundalini Yoga is a simple guidebook to help you blossom into your full form instead of settling for a mediocre life or hiding behind humility. This book reveals simple tips for the modern world, which were kept secret in the holy land of India for thousands of years. It is a treasure to have and to share." —Reshma Thakkar, featured on Oprah Winfrey's Belief television event and founder of Made with a Purpose

"A beautifully presented book, written with sensitivity, both to yogic principles and practice, and the need of our times to undertake what we do with an attitude of lovingkindness and a gentle nurturing of self.

The authors have provided a clear basis for an easily accessible kundalini regime for novices to adopt. While adhering to their expert knowledge of this discipline, they have produced this delightful book, as a testament to the best yogi traditions made simple. I highly recommend this book for anyone who is drawn to yoga, be they newbies or more seasoned proponents.

There are gems embedded herein which belie the simplicity of the content." —Nicky Hamid, PhD, author of All You Can Be and "professor of happiness"

"Kundalini yoga has given me the tools to thrive in my life. I am thrilled to see a book written about kundalini yoga that is for everyone. The technology of kundalini yoga has the ability to uplift and inspire all of us. I believe that this book will give you tools to elevate your life." —Carrie-Anne Moss, actor and founder of Annapurna Living and the Fierce Grace Collective

"If you're looking for a miracle in your life, this book could be it. It is a must-read for anyone interested in energizing their mind, healing their body, and activating their spirit. Use it well and discover your true self and bask in the light of Universal love. We need this book now more than ever!" —Dharma Singh Khalsa, MD, leading researcher and president of the Alzheimer's Research and Prevention Foundation, and bestselling author of Meditation as Medicine (with Cameron Stauth)

"One of the greatest gifts of any moment in time, in human life, is to activate your force of attraction—to dwell in the vibration of love. Karena and Dharm have created a gem here in this book. It demonstrates how kundalini yoga can be used to connect the higher frequencies, the ocean of love, and your abilities of attraction. I highly recommend it for those who are called to break through limiting beliefs and enter the world of all possibilities." —Guru Singh, internationally recognized master spiritual teacher, author of Buried Treasures, and musician

"Essential Kundalini Yoga encapsulates a rare, modern-mind translation of ancient technology, ripe with palatable bite-sized nuggets of wisdom. Akin to books by Thich Nhat Hanh and Abraham Hicks, first-time students to seasoned practitioners will get that instant sense of calm and inspiration, regardless of which page they flip to or how much time spent indulging in any given sitting. My experience with this book is like opening one big box of Yogi Tea." —Jamie Lee, TV and radio host, KRI certified educator, and healthy lifestyle expert

"Karena and Dharm invite us to dissolve the beliefs that keep us feeling lost, using the simple magic of kundalini breathwork, so we can hear the sometimes barely audible voice of our own intuition and follow our grace." —Elena Brower, author of The Art of Intention and Practice You

"Karena Virginia and Dharm Khalsa have written a beautiful book of timeless wisdom that brings the magic of kundalini yoga as taught by Yogi Bhajan to a new audience. As a teacher and devotee of this practice and its transformational power for many years, I am delighted that this book has been brought forth as a gift of love for new yogis to discover and to become inspired within its practice." —Kristen Eykel, CHT, TV personality and author of Planning for Success

"Essential Kundalini Yoga is a book for first-timers as well as longtime practitioners. Kundalini yoga uses ancient, time-tested exercises to optimize the flow of prana through to the entire nervous system. The easy to follow explanations in this book bridge the detailed science of Western medicine with Eastern philosophies from experts in the field of health, well-being, and mindset." —Paul J. Gilson, MD, clinical professor of neurology, Robert Woods Johnson School of Medicine
Sounds True, 9781622036622, 352pp.
Publication Date: February 1, 2017
About the Author
Karena Virginia is a certified healer and registered yoga instructor who has taught in the Kundalini and Hatha schools for nearly 20 years. Before her career as a spiritual teacher, she worked in the entertainment industry as an actor and model. Karena's work encourages us to connect with our own personal truth through love, compassion, inner beauty, and radiance.

Dharm Khalsa is a board member of the Siri Singh Sahib Corporation, the nonprofit overseeing kundalini yoga in the US since founder Yogi Bhajan's passing. Trained directly by Yogi Bhajan, for whom he was a personal assistant for eight years, Dharm has taught kundalini yoga since 1980. He lives in New Mexico.