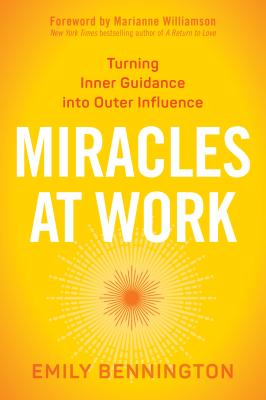 Miracles at Work (Paperback)
Turning Inner Guidance Into Outer Influence
Sounds True, 9781622037247, 192pp.
Publication Date: February 1, 2017
* Individual store prices may vary.
Description
Millions have embraced the insights of the spiritual classic
A Course in Miracles
as a source of vision, empowerment, and deeper connection with others. For years, author and career expert Emily Bennington has quietly drawn upon this inspired text's most useful principles to help thousands succeed in their vocations.
With
Miracles at Work
, she invites kindred spirits--those who yearn to bring their spiritual Selves into their professional lives--to begin the adventure.
Merging principles of the
Course
with mindfulness practices, social and emotional intelligence, and her own proven strategies for on-the-job success, Emily illuminates for those at any career stage how to:
Anchor in to your aware Self on the job, resulting in extraordinary composure and leadership presence
Use the Course method for reorganizing your energy in each moment, allowing you to instantly release anxiety, anger, judgments, comparisons, or fear
"Rise above the battleground" and navigate conflict with ease
Move from a thought system based on striving and "specialness" to one grounded in connectedness
Stay inspired at work even through long periods of struggle, doubt, and overwhelm
"When you strengthen your spiritual foundation, you become a healing presence to those around you--which naturally expands your influence at work," teaches Emily Bennington.
Whether you're familiar with
A Course in Miracles
or new to its insights,
Miracles at Work
is an exceptional guide to applying its timeless wisdom to your career, where it can profoundly enrich your experience and enhance your impact on the world.
About the Author
Emily BenningtonEmily Bennington has been featured on Monster.com's "11 Career Experts to Follow," Forbes'"100 Best Websites for Women," as well as in major broadcast and print media nationwide. She's led training programs for Fortune 500 companies and is the author of Effective Immediately (with Skip Lineberg, Ten Speed, 2010) and Who Says It's a Man's World (AMACOM, 2013). She resides in Charlotte, North Carolina .For more information, visit emilybennington.com.Marianne WilliamsonMarianne Williamson is a spiritual teacher, lecturer, and author of four New York Times #1 bestsellers, including A Return to Love, Meditations for a Miraculous Life, and many other books.