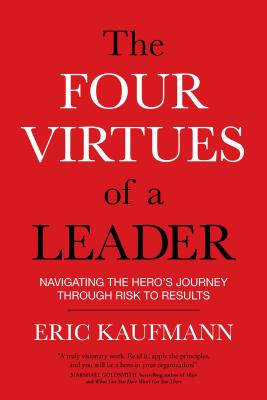 The Four Virtues of a Leader
Navigating the Hero's Journey Through Risk to Results
Paperback

* Individual store prices may vary.
Other Editions of This Title:
CD-Audio (9/1/2016)
Description
Awaken the Courageous Leader Inside You

True leaders inspire us with their confidence, dedication, and track record of achievement—but does their success arise from innate gifts, or qualities that we all can develop? "Each of us, no matter what our title or job, can become an effective leader by cultivating the same essential attributes found in the classic hero's journey," says Eric Kaufmann. With The Four Virtues of a Leader, this top executive coach presents a must-read guide to help you awaken and amplify the fundamental competencies that every successful leader embodies.

Through his interaction and study of some of today's top executives and innovators, Kaufmann has identified the four cornerstones of good leadership: Focus that combines self-awareness with vision; Courage to move toward what you'd rather avoid; Grit for persevering through fatigue and discouragement toward your long-term goals; and the Faith to overcome doubt and stay fully committed to your work. Here he shares powerful insights and field-tested guidance to help you develop these qualities, including:

• Four key questions to keep you on track: What am I creating? What am I avoiding? What am I sustaining? What am I yielding?
• How to recognize fear as the gatekeeper to your true power
• Employing effective communication and genuine empathy to improve your relationship with your team
• Using mindfulness and meditation to instill leadership qualities at the neurological level
• Training yourself to consistently make better decisions that always serve your ultimate goals

"The hero's journey challenges you to leave your comfort zone and become a different person—and a better leader," writes Eric Kaufmann. With The Four Virtues of a Leader, he invites you to embark upon a time-honored path of personal evolution to become the inspirational leader you were meant to be.
Praise For The Four Virtues of a Leader: Navigating the Hero's Journey Through Risk to Results…
""Eric Kaufmann's Four Virtues of a Leader is a truly visionary work. Read it, apply the principles, and you will be a hero in your organization!"
—Marshall Goldsmith, "The World's Most Influential Leadership Thinker," Thinkers 50 global survey; bestselling author of Mojo and What Got You Here Won't Get You There" —Marshall Goldsmith

"His [Eric Kaufmann's] guide to leadership philosophy and psychology is intended for those who seek self-improvement and leadership acumen. Evolving into a great leader takes both thought and action, and Kaufmann addresses this formidable task with the titular four virtues: focus (what are you working on?), courage (what are you afraid of?), grit (what are you sustaining?), and faith (what are you yielding?). The method requires substantial self-examination and self-discipline, relying largely on the power of thought. His interest in Zen shows in his strong emphasis on mindfulness. Earnest, encouraging, and thoughtful, this meditation on the soul of a leader will help readers looking for a path to self-understanding along their journey to greatness." —Publishers Weekly

"Eric's book shows leaders how to transform themselves into masters of chaos and uncertainty. From this place of power, they become a force of clear and calm direction that aligns their people and accelerates results." —Garry Ridge, CEO, WD-40 Companies

"Four Virtues of a Leader is a true gift from one of the world's leading executive coaches. It should be at the top of the reading list for all business leaders who are seeking to fulfill their leadership potential." —Kevin Kruse, author of Employee Engagement 2.0; Executive Director, Society of Pharmaceutical and Biotech Trainers

"Leadership is a journey that involves continuous learning. Four Virtues of a Leader provides insights in how to navigate this journey with purpose, and regardless of level. Eric Kaufmann's thought-provoking questions and tangible examples will help you evolve the quality of your leadership and how you approach your work." —Tom Werner, President and CEO, SunPower Corporation

"Four Virtues of a Leader by Eric Kaufmann should be required reading for every conscious leader, coach, or manager—and should be incorporated into their daily lives!" —Peter Davis, cofounder and CEO, IDEA Health & Fitness Association

"Four Virtues of a Leader is a perfect book for leaders looking to model a brave and connected leadership style. Eric challenges common thinking while giving you many practical ideas on how to stay focused, courageous, and persevering as you accelerate your organizational growth." —Sarah Eberhardt-Rios, MPA, Deputy Director of Program Support Services for the San Bernadino County Department of Behavioral Health

"Four Virtues of a Leader is like having one of the world's best executive coaches as your personal mentor. It's filled with the author's own growth experiences, stories from his clients and exercises that will certainly lead to better leadership results." —Shayna Gothard, PhD, forensic psychologist

"As someone who is on a long journey into leadership, I found accessible wisdom, simple actions, and profound effects. Kaufmann's writing is very accessible, written as complex as it needs to be, and no more. Kauffman's words touch me in a way that leads to taking simple actions that have profound effects. Four Virtues of a Leader is provoking in the finest way." —Jason Martin, Verizon Telematics

"This book will give you a perspective on leadership that can't be found anywhere else. I really appreciate the depth of knowledge and experience that Eric Kaufmann has and how he makes it so accessible in this book. As an owner of a small business with hopes of growth and expansion, I received some great insight into my blind spots as well as things to avoid and to aspire to in this book." —Mikel Bruce, CEO, Tiny Frog Technologies

"Eric courageously outlines leadership as a conscious and intentional path available to all through the commitment to awareness and practices outlined in this exceptional book. This book is accessible, personal, and a must-read for anyone on that path—and provides a bridge on which to cross over from theory to practice. This is a wonderful synthesis of Eric's personal journey and practical wisdom founded in his own extensive and hard-won experience." —Susan Penn, Vice President of Human Resources, Evofem, Inc.

"Eric Kaufmann has done what no other business/self-help author has yet done—he has combined all of the lessons from hundreds of sources into one comprehensive and practical book. He understands the reader because he is just like the reader. He acknowledges his own faults throughout his own journey, which truly allows the reader to connect and understand the learning experience. I recommend this book to anyone looking to grow as a leader for others and themselves." —Scott Schindler, Vice President, The Irving Group

"Finally, a truly fresh look at leadership. Drawing on decades of experience in both the corporate world and his Zen practice, Kaufmann provides wisdom and guidance to those who are serious about self-awareness and the courageous path of true leadership." —Hal Dunning, President, Barney & Barney, LLC

"Eric is a fantastic leadership coach. This book offers great ideas and tools for living a heroic life of leadership. Grit and Focus are my favorite takeaways. The wisdom in Four Virtues of a Leader will inspire many future leaders with practical ideas on how to be courageous and persevering." —John Frager, Executive Managing Director, CBRE Commercial Real Estate Services

"If you're a leader—or aspire to be one—the question is: how fruitful and fulfilling will your journey be? The insights and actions Kaufmann offers in Four Virtues of a Leader will make your work conscious, intentional, and successful. Not only is this a provocative book, it is exceptionally well-written. I highly recommend you make it well-read, too." —Steve Farber, author of The Radical Leap Re-Energized and Greater Than Yourself; founder, The Extreme Leadership Institute

"Four Virtues of a Leader asks tough questions. But they are questions that every leader must ask in order to experience lasting personal and market breakthroughs. I wish I carried this book with me when I began advising CEOs and Chief Marketing Officers 20 years ago!" —Lisa Nirell, founder of EnergizeGrowth®; award-winning FastCompany contributor; and author of EnergizeGrowth® NOW and The Mindful Marketer

"A heroic effort of heart, mind, and truth, Eric Kaufmann's Four Virtues of a Leader provides a beacon towards which all those on the forefront of leadership can confidently venture, and the means to get there." —Sarah McArthur, author/editor of Coaching for Leadership

"Effective leadership comes from the inside out, and those who courageously start within need both practical and inspiring support for the journey. Eric Kaufman provides that and more in his compelling new book, Four Virtues of a Leader." —David Berry, Former Vice President, Leadership and Learning, TaylorMade/Adidas Golf Company
Sounds True, 9781622037278, 280pp.
Publication Date: September 1, 2016
About the Author
Eric Kaufmann guides leaders to make better decisions and achieve better results. He has consulted for hundreds of leaders, including executives and teams at Sony, T-Mobile, Genentech, Alcon Labs, and Teradata. He is the founder and president of Sagatica, Inc. and serves on the board of the San Diego Zen Center. For more, visit sagatica.com.
or
Not Currently Available for Direct Purchase