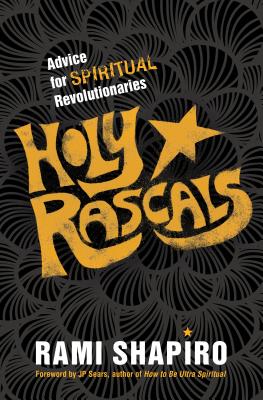 Holy Rascals: Advice for Spiritual Revolutionaries (Paperback)
Advice for Spiritual Revolutionaries
Sounds True, 9781622037469, 232pp.
Publication Date: December 1, 2017
Description
God is real. Everything we say about God is made up. Holy Rascals is a rousing call to anyone ready to go beyond "isms" and ideologies, and live in the world as a liberating force of justice, compassion, and joy.

"Holy rascals are spiritual culture jammers who use humor, play, creativity, and critical thinking to reveal the human origins of religions-- and how religions mask their true origins behind the conceit of divine origins," writes Rabbi Rami. In part one, he describes the making of a holy rascal and the great task of "freeing religion from the parochial and for the perennial." Part two explores the art of "hacking the holy," or pulling back the curtain on religion's fear-based mechanisms of control. Part three presents some of the provocative tools and one-of-a-kind practices of the holy rascal, with guidance for creating your very own "rascally" ways.
About the Author
Rabbi Rami ShapiroRabbi Rami Shapiro is an award winning author of over two dozen nonfiction books, whose poems and short stories have been anthologized in over a dozen volumes, and whose prayers are used in prayer books around the world. Rami received rabbinical ordination from the Hebrew Union College-Jewish Institute of Religion, and holds a PH.D. in religion from Union Graduate School. A congregational rabbi for 20 years, Rabbi Rami is currently Adjunct Professor of Religious Studies at Middle Tennessee State University where he also directs The Writer's Loft, MTSU's creative writing program, and co-director of One River Wisdom School, a training program in the Perennial Philosophy.In addition to writing books, Rami writes a regular column for Spirituality and Health magazine called Roadside Assistance for the Spiritual Traveler. He can be reached via his website, rabbirami.com.
Advertisement