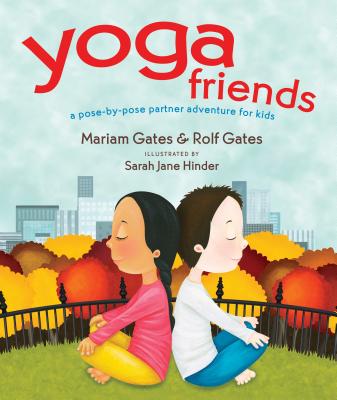 Yoga Friends (Hardcover)
A Pose-By-Pose Partner Adventure for Kids
Sounds True, 9781622038169, 32pp.
Publication Date: April 1, 2018
* Individual store prices may vary.
Description


Time to Buddy Up for Movement, Cooperation, and Imaginative Play

A sailboat skimming across the waves,
A feathery owl,
A tree stretching from earth to sky.
Together, what do we want to become today?

From the creators of Good Night Yoga and Good Morning Yoga comes a beautifully illustrated city adventure that introduces children to the delights and benefits of partner yoga.

Perfect for teaming up with a friend, sibling, parent, or caregiver, each easy practice shows how cooperation helps us to imagine, move, and have fun in a whole new way.

Includes a back-page guide for parents and caregivers, showing how to do each pose and how to connect them into an easy-to-follow flow.

About the Author
Mariam GatesMariam Gates holds a master's in education from Harvard University and is the creator of the renowned Kid Power Yoga. She is the author of the bestselling Good Night Yoga and many other yoga-related books for children. She lives in Northern California. For more, see mariamgates.com.Rolf GatesROLF GATES is a leading voice of modern yoga philosophy and practice, and Mariam's life partner. He is the author of Meditations from the Mat and Meditations on Intention and Being (Anchor, 2002, 2015), and teaches in the US and abroad. They reside in Northern California. For more, visit rolfgates.com.