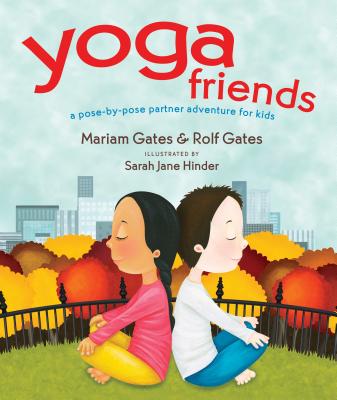 Yoga Friends
A Pose-by-Pose Partner Adventure for Kids (Good Night Yoga)
Hardcover

* Individual store prices may vary.
Description
Time to Buddy Up for Movement, Cooperation, and Imaginative Play

A sailboat skimming across the waves,
A feathery owl,
A tree stretching from earth to sky.
Together, what do we want to become today?

From the creators of Good Night Yoga and Good Morning Yoga comes a beautifully illustrated city adventure that introduces children to the delights and benefits of partner yoga.

Perfect for teaming up with a friend, sibling, parent, or caregiver, each easy practice shows how cooperation helps us to imagine, move, and have fun in a whole new way.

Includes a back-page guide for parents and caregivers, showing how to do each pose and how to connect them into an easy-to-follow flow.
Praise For Yoga Friends: A Pose-by-Pose Partner Adventure for Kids (Good Night Yoga)…
"In a companion title to Good Night Yoga and Good Morning Yoga, pairs of peaceful, bright-eyed children from different ethnic backgrounds collaborate on yoga poses, in a variety of indoor and outdoor settings. In one scene, two sets of kids are "face to face/ and toes to toes" on a sandy beach. At a zoo, children sit back-to-back, mimicking a lizard "basking in the sun," as two other children perform a yoga imitation of a pink, sushi-eating octopus in a tank: "One small turn and we're an octopus/ swimming silently so as not to cause alarm./ We move slowly underneath the water,/ arm after arm after arm." Hinder's cozy, cartoony pictures clearly demonstrate each yoga pose, while offering a celebration of teamwork and cooperation." —Publishers Weekly

"Teachers and trained yogis will welcome the return of the diverse cast from Good Morning Yoga (2016) and Good Night Yoga (2015) to introduce playful partner yoga." —Kirkus Reviews

"Don't let the playfulness of the illustrations and the simplicity of the narrative mislead you. This is serious yoga instruction, perfectly formatted for a very young audience." —Anna Jedrziewski, Retailing Insight
Sounds True, 9781622038169, 32pp.
Publication Date: April 1, 2018
About the Author
Mariam Gates holds a master's in education from Harvard University and is the creator of the renowned Kid Power Yoga. She is the author of the bestselling Good Night Yoga and many other yoga-related books for children. She lives in Northern California. For more, see mariamgates.com.

ROLF GATES is a leading voice of modern yoga philosophy and practice, and Mariam's life partner. He is the author of Meditations from the Mat and Meditations on Intention and Being (Anchor, 2002, 2015), and teaches in the US and abroad. They reside in Northern California. For more, visit rolfgates.com.

Sarah Jane Hinder, illustrator, creates acrylic artwork for a variety of children's books, including Good Morning Yoga, The Three Little Pigs, and The Elves and the Shoemaker. She lives in Manchester, England, with her husband and two chihuahuas. See sarahjanehinder.com.