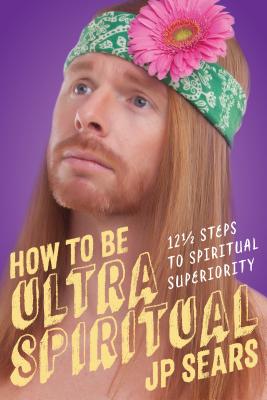 How to Be Ultra Spiritual
12 1/2 Steps to Spiritual Superiority
Paperback

* Individual store prices may vary.
Other Editions of This Title:
CD-Audio (3/7/2017)
Description
Welcome to the Glorious Grandeur of Ultra Spirituality

In case you haven't noticed, the New Age has become the Old Age. But don't recycle your crystals just yet! His Enlightenedness JP Sears is ushering in the Newer Age, blinding us with the dawn-like brilliance that is Ultra Spirituality. How to Be Ultra Spiritual presents Ultra Spiritual JP's none-of-a-kind guidance, so you can better yourself through teachings on:

• Competitive spirituality—the Ultra Spiritual foundation that the rest of your Ultra Spiritual path rests on

• Why burying your feelings alive makes you thrive

• Dreaming up your awakening—how to engineer your carefully contrived spiritual narrative

• Rigidly yogic yoga—the moisture-filled cloud formation that drops rain upon your river so your flow can flow

• Following the light to the greener spiritual pastures of veganism

• He-ness, financial levity, deathliness, and other qualities of the quality guru

• Mindfullessness—all of the fullness of mindfulness with none of the mind

• Merciless meditation—the most effective way to become more meditative (and, duh, more spiritual)

• Accessing the forces of critical nonjudgment

• Using plant spirit medicine to experience a degree of enlightenment that you aren't enlightened enough to experience without the spirit who lives inside its particular vegetation

• Humbleness, and how to employ it in the most superior sense of the word

With How to Be Ultra Spiritual, His Enlightenedness JP Sears brings the heart and soul of ancient spirituality back to life with a progressive aggression, replacing the diluted uselessness of modern spirituality with the waaay more spiritual wisdom of Ultra Spirituality. See if you can keep up . . .
Praise For How to Be Ultra Spiritual: 12 1/2 Steps to Spiritual Superiority…
"JP is a brilliant wit, and moreover, seems to have one-upped me in the 'grace race' by being the most spiritual guy around. I'm not entirely sure that's a good thing, but—oh well. I'm still the humblest, by far. We need more Dharma stand up and trickster wisdom in this Buddhist ghetto, where there's so much old fashioned sittin' and bowin' going down. I myself am getting tired of the new Now; it's kinda getting old, no? Anyway, this book is a genuine delight and a real contribution; it will help anyone who reads it see thru self-deception and various kinds of illusion while having a laugh, too. Lightening up while enlightening up, together. I don't know a better way to travel this marvelous, mysterious, magical Path." —Lama Surya Das

"Learning to laugh on our path may be the most potent spiritual medicine there is, and I believe there's no better guide to help us do just that than my dear friend, JP Sears. This whole game of spirituality, awakening, 'Namaste' this, and 'love and light' that is often taken way too seriously—so why not read this book, lighten up, and laugh at the fact that we're all a little 'Ultra Spiritual' in our own way? " —Chris Grosso, author of Indie Spiritualist and Everything Mind

"This book is simply brilliant and made me laugh out loud on every page. JP also sneaks in his trademark wisdom and insights. We humans are such a ridiculous species—I mean, ask any animal, mineral, or plant—and yet no one points this out more humorously than Mr. Sears. Don't miss the joy of reading this book." —Paul S. Dolman

"Spirituality is a funny thing. By the mere act of personally identifying ourselves as 'spiritual,' we instantly drop out of spirituality into ego. JP Sears sheds a critical and humorous light on New Age attempts to grasp, speak of, and take ownership of that which is ungraspable, unspeakable and uncontainable. You'll find yourself laughing, thinking, and laughing some more!" —Elliott Hulse

"I still remember the first time a friend sent me JP's 'Ultra Spiritual' video—I laughed my ass off! I sent it to everyone I know. I share How to Be Ultra Spiritual with my students because I want them to live more fully connected to the power of their hearts—not society's hyper-spiritualized B.S. of the egos. This book is loaded with laugh-out-loud humor, but it still intelligently exposes the spiritual delusions that many people trick themselves into adopting. Finally someone has intelligently shined the light; JP provides a clever and upfront riposte. Enjoy his perceptive underlying insights while you laugh beyond all understanding." —Tony Robbins

"How to Be Ultra Spiritual bridges the wisdom of bearded Jesus with the playfulness of baby Jesus." —Spiritual Scholar

"His Enlightenedness JP is funnier than the law of karma!" —The Universe

"I got really attached to this book!" —Buddha

"His Enlightenedness JP is the honey badger of the spiritual kingdom!" —Krishna

"Finally someone has intelligently shined the light; JP provides a clever and upfront riposte. Enjoy his perceptive underlying insights while you laugh beyond all understanding." —Tony Robbins, author of Awaken the Giant Within
Sounds True, 9781622038213, 272pp.
Publication Date: March 7, 2017
About the Author
JP Sears is an international teacher, speaker, and performer at events around the world, emotional healing coach, curious student of life, and satirist best known for his popular YouTube channel. JP's "Ultra Spiritual" videos have accumulated over 100 million views. For more, visit AwakenWithJP.com.
or
Not Currently Available for Direct Purchase