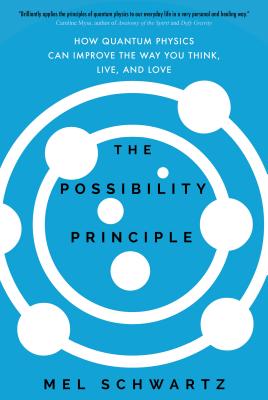 The Possibility Principle
How Quantum Physics Can Improve the Way You Think, Live, and Love
Hardcover

* Individual store prices may vary.
Other Editions of This Title:
Digital Audiobook (10/14/2017)
MP3 CD (10/15/2017)
Compact Disc (10/15/2017)
Description
How would you like to experience your life? It's an intriguing question, and yet we've been conditioned to believe our life visions and goals are often unattainable—until now. With The Possibility Principle, psychotherapist Mel Schwartz offers a revolutionary approach to living the life we choose.

Though science has vastly expanded our knowledge, it has also led us to adopt a worldview where we see ourselves as insignificant specks living in a mechanical universe. Now, insights from quantum physics reveal that our universe is, in fact, a vibrantly intelligent reality and that each of us plays a vital role in shaping it. In this groundbreaking book, Schwartz shows us how to integrate this new quantum worldview into our everyday lives, allowing us to transcend our limitations and open to infinite possibilities.

The Possibility Principle reveals how we can apply the three core tenets of quantum physics—inseparability, uncertainty, and potentiality—to live the life we choose, free from the wounds of our past and the constraints of our old beliefs. You can learn to: Develop a mastery of your thinking as you free yourself from the replication of old thought patterns
• Utilize the concept of wave collapse to realize that you are not imprisoned by your genes, brain chemistry, or past traumas
• Overcome anxiety and depression through a shift of mind
• Thrive in resilient relationships and develop powerful communication skills that foster empowerment and intimate connection
• Embrace uncertainty to ride the waves of personal change
Praise For The Possibility Principle: How Quantum Physics Can Improve the Way You Think, Live, and Love…
"The Possibility Principle is a beautifully written book on how we can live fully as we awaken from the stupor of Newton's sleep. The benefits range from overcoming anxiety and depression and mastering our communication to thriving in our relationships!" —Caroline Myss, author of Anatomy of the Spirit and Defy Gravity

"Building on the science of quantum physics, Mel Schwartz uses the metaphors of quantum realities to propose a new model of transformation that informs our everyday lived experiences. This handbook for life brings the inspiration of quantum uncertainty, interconnectedness, emergence, and entanglement into compelling practices to help each of us grow and heal. A seasoned clinician, Schwartz offers new perspectives on the power of our beliefs, worldviews, and intentions that can help us enter realms of unfolding possibilities." —Marilyn Schlitz, PhD, professor and chair of PhD programs in Transpersonal Psychology, Sofia University; author of the book Death Makes Life Possible; executive producer and writer of the film Death Makes Life Possible

"The insights to be gained from The Possibility Principle are enormous, as you will see. Mel Schwartz draws breathtaking parallels between the quantum reality and our human experience, revealing powerful lessons for living to our greatest potential. He shows that consciousness is fundamental and that our minds and hearts are shared, as one. The implications for human welfare are profound." —Larry Dossey, MD, author of One Mind: How Our Individual Mind Is Part of a Greater Consciousness and Why It Matters

"The Possibility Principle is profound yet reader-friendly, well-grounded but very, very wise. According to Mel Schwartz, our lives are in tatters as a result of clinging to seventeenth-century paradigms to cope with twenty-first-century crises. His book, The Possibility Principle, clearly describes the havoc wrought by a worldview that reinforces competition and separateness while neglecting compassion and cooperation. Schwartz insists that humanity is playing out the wrong game plan and calls for nothing less than new ways of thinking that will turn around both individual lives and the world-at-large. This move from a deterministic, mechanistic worldview to one that is participatory has incredible implications for our personal lives, for our mental and emotional health, and for the very foundations of society." —Stanley Krippner, PhD, coauthor of Personal Mythology
Sounds True, 9781622038633, 200pp.
Publication Date: August 31, 2017
About the Author
MEL SCHWARTZ is a practicing psychotherapist, marriage counselor, writer, and speaker. He resides in Westport, Connecticut. Learn more at melschwartz.com