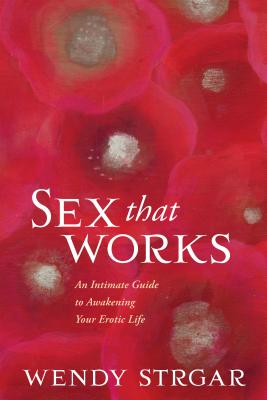 Sex That Works (Paperback)
An Intimate Guide to Awakening Your Erotic Life
Sounds True, 9781622038893, 224pp.
Publication Date: June 1, 2017
* Individual store prices may vary.
Description
Awaken Your Erotic Life

"Making sex work—embracing your erotic soul and deepening the intimacy in your life—is both a consequence of deep presence and its gift. Healing our selves in our deepest erotic space can only be a deliberate act, and the doing of it miraculously seems to heal everything else. Tapping into the courage to know your own deepest sexual thoughts and feelings, and offering them with your whole being, is both a life work and lasting gift that will be long remembered." —Wendy Strgar, Sex That Works

If you and your partner have lost that special spark, here is a book with the power to save your sex life—and your relationship. Sex That Works invites you to experience a new level of feeling and a new level of freedom in your sexuality. Wendy Strgar offers healing insights, potent practices (for you alone and with your partner), and guidance drawn from her marriage of over 30 years and her work with thousands of people to encourage the full awakening and expression of your erotic life.

Nine core topics include:

Freedom

Taking responsibility for your sexual evolution • Healing our harmful behaviors • Claiming erotic freedom • Overcoming silence • Giving yourself permission • Finding forgiveness

Pleasure

Pleasure as a medium of communication • Restoring our humanity • Orgasm • Relaxing our judgments about sexuality • The many benefits of self-pleasure • Owning the pleasure response • Calling pleasure by its true name • Transcendent orgasms • Broadening our sexual vocabulary • Pleasure as a fountain of youth

Finding your normal

The universal uncertainty • Bridging the erotic with the rational • Putting sexual health in context • The Sexual Identity Grid • The malady of sexual dysfunction • Trusting our erotic nature • Beyond right and wrong

Courage

The gift of choice • Growing up sexually • Living well with risks • Befriending our fear • The four attributes of courage • Desire as courage • Daily practice • Becoming who you really are • Healing erotic wounds • Letting our erotic self teach us

Curiosity

Overcoming sexual boredom • Filling in the gaps of our sexual education • Exploration as the leader • Sensory intrigue • Opening as a creative act • Awakening to life, sexual and otherwise

Sensation

Awakening the senses • Out of the head and into the body • Trusting erotic impulses • Building a vocabulary of scent and taste • The healing language of touch • Erotic connections • Making noise • Negotiating shared sensations • Mindfulness • Falling into the body

Fantasy

Eliciting arousal through stories • Witnessing your fantasies • Fantasies as charged erotic fuel • The space between witnessing and enacting • Inner erotic landscapes • Uncovering the subconscious source of pleasure • Expressing desire • Submission and domination

Attention

Listening • Making the time • A radical leap • Creating a love container • Sustaining an atmosphere conducive to intimacy • Showing up vs. coexisting • Compassion as a way to connect • Sourcing from our center • Committing to something bigger than our selves

Gratitude

Letting go and receiving • Grateful sex • Healing through kindness • Receiving abundance • The importance of sexual freedom, revisited • A simple gratitude practice • A passionate love affair with your fleeting life
About the Author
Wendy Strgar is the founder and CEO of Good Clean Love. She is a relationship expert and the author of Love That Works (Love Words, 2009) who for the past 12 years has written on the topics of love, sexual health, and positivity. She lives in Eugene, Oregon. For more, visit makinglovesustainable.com.
Praise For Sex That Works: An Intimate Guide to Awakening Your Erotic Life…
"SEX THAT WORKS is thoughtful, well written...Strgar's premise is that many of us spend our lives self-medicating — with drugs, drink, food, shopping — to escape our true selves. Yet if we want to experience real pleasure, we also need to be willing to feel pain. Not, like, "Fifty Shades of Grey" pain, though that kind is discussed. Rather, the kind of discomfort that comes from being honest with others, and with ourselves. Sounds simple, but anyone who has been faking pleasure for years knows that it's not. According to Strgar, the rate of anorgasmic women is three times higher in the United States than in Europe, which she attributes to our culture of denial and I attribute to fantasy football.

Strgar makes very good points about how we confuse sexual freedom with sexual license, resulting in a hookup culture that has us faking orgasms like porn stars. Authentic sexual freedom, she writes, means 'taking responsibility for our own sexual needs.' The book shows us how to do just that. She talks about how to achieve a state of mental abandonment, how to appreciate small sensual moments, how to love without always worrying every second about being loved back — and how asking for sexual satisfaction even requires a certain level of courage. Along the way, Strgar, now in her 50s, explains how she brought her own sex life with her husband of more than 30 years back from the brink of ruin. She argues persuasively that sexual pleasure, however you define it, is not a luxury but a necessity. I might add that the love oils she sells on her site smell really good." —The New York Times Book Review

"As a couples therapist who regularly works with clients on issues related to attachment and emotional regulation, I welcome loveologist Wendy Strgar's new book, Sex That Works, with its abundance of tools for individuals and couples seeking to improve their emotional and sexual lives. The themes around which the book is organized—freedom, pleasure, courage, curiosity, sensation, attention, and more—are foundation not only to a satisfying sex life but also to a mutually respectful and secure-functioning relationship." —Stan Tatkin, PsyD, MFT, author of Wired for Love and Wired for Dating; founder of the PACT Institute

"Wendy Strgar's new book, Sex That Works: An Intimate Guide to Awakening Your Erotic Life, has captured the struggle: deep within our erotic selves, we all have a desire to be free to pursue sexual pleasure. Using her own life and the stories of couples just like us, it is clear that she knows this world; she has lived it, she is an expert in true intimacy. She helps us to express our fantasies through fun and easy to understand exercises. Strgar shows us how to find the courage to ask for what we want, and reassures us that there is no such thing as 'normal.' Buy this book today, and while you're at it, order her love oils too. They are fabulous." —Tammy Nelson, PhD, Board Certified Sexologist, AASECT Certified Sex Therapist, author of Getting the Sex You Want and The New Monogamy

"Erotic bliss is everyone's birthright. The teachings in this book point the way to emotional healing, empowered authenticity, and passion beyond your wildest expectations." —Gay Hendricks, PhD, author of the bestselling books Conscious Loving, The Big Leap, and Five Wishes

"As a wholistic sexuality teacher, I resonate deeply with loveologist Wendy Strgar's book, Sex That Works. Her wise words offer an insightful and encompassing deep dive into the real sexual arts: connection, feelings, intimacy, communication and pleasure. Now at the top of my 'must-read' list, this book is for anyone who wants to transform their sex lives into a celebration of freedom. You can learn to delight in deeply embodied pleasure and Sex That Works will lovingly guide you on your way!" —Sheri Winston, award-winning author of Women's Anatomy of Arousal and Succulent SexCraft, director of the Intimate Arts Center

"Part memoir, part meditation, Wendy Strgar's new book is all sex and all passion. Pick a page, any page, of Sex That Works, and you'll be sure to find a pearl of sexual wisdom." —Ian Kerner, PhD LMFT, sex therapist and author of She Comes First

"Sex is shrouded in so much mystery and secrecy and considered so personal that it's a wonder that we can ever have an honest conversation about it. Sex That Works provides a remedy for this. Wendy Strgar speaks openly and frankly about what sex is and how we can attain not only its simple physical pleasures but also a deep understanding of our complex individual sexual 'truth' in all its manifestations through our fantasies and desires.
Through well-chosen real-life stories and practical exercises, Strgar demystifies questions and myths that many of have about sex and teaches us how to allow vulnerability, honor sexual freedom and responsibility, and ultimately attain the sexual courage that leads to authentic and fulfilling sexual relationships.
This is a book that everyone should read. Its lesson would well serve our children and generations that follow in transforming our moralistic yet sex-obsessed society to one that appreciates the deeper meaning and value of sex." —Stanley Siegel, LCSW, author of Your Brain on Sex

"Sex That Works is about far more than sex. It's an invitation to connect with your feelings, explore your sexuality, and heal the broken areas that hold us all back from sexual intimacy and connection. Highly recommended reading!" —Debby Herbenick, PhD, associate professor at Indiana University and author of Because It Feels Good: A Woman's Guide to Sexual Pleasure and Satisfaction

"Simply put, I love this book! Wendy Strgar invites us to stop repressing ourselves, our senses, our fantasies, our possibilities. From understanding where we are on the Sexuality Identity Grid, to awakening our senses as doorways to arousal, Wendy opens portals to possibilities previously unimagined. She teaches many new steps in the dance of our erotic and sensual lives and illuminates areas to explore to better understand and embrace ourselves, our intimate partners, and to mine the gold of our potential. Let this book awaken you on every level and it will widen your heart, your mind, your erotic soul and your life." —Barbara Musser, author of Sexy After Cancer

"Wendy Strgar is a genuine pioneer in the important and emerging field of human sexuality; in her new book she lifts the cultural taboos on the experience of pleasure and the erotic self out of the shadows and into the light. In Sex That Works: An Intimate Guide to Awakening Your Erotic Life, Strgar calls for the eradication of long standing cultural and personal shame and she stresses the importance of learning how to feel and thereby experience emotional healing and freedom. Strgar quite literally provides a brilliant road map out of secrecy and into sexual freedom. As Strgar argues, we live in a time where many still experience sexual abuse, repression and confusion. There can be no better time than now for this book to enter our discourse. In Sex That Works, Strgar takes us to the next level and provides a clear and much needed road map to once and for all bury our collective shame and embrace the freedom that lives in our erotic selves." —Susan Tate, Eugene Energy Medicine