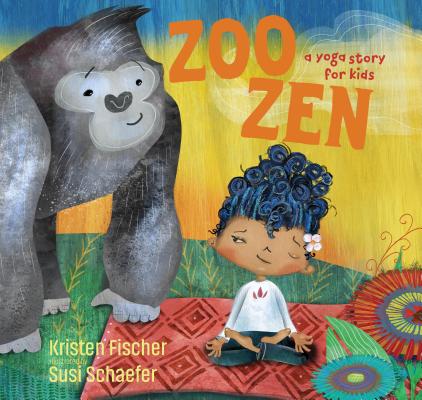 Zoo Zen
A Yoga Story for Kids
Hardcover

* Individual store prices may vary.
Other Editions of This Title:
Compact Disc (4/23/2019)
Description
You Can Count on Animals to Make Yoga Fun!

What could be more fun for kids than to hop like a frog, slither like a snake, and roar like a lion—all while learning an empowering, healthy life skill? Zoo Zen: A Yoga Story for Kids is a delightful pose-along adventure for children ages four to eight. Young readers will join our heroine Lyla as she learns ten yoga poses from her friends at the zoo, receiving helpful tips along the way from each animal she encounters. Using rhyming and counting to make memorization easier, here is an imaginative book that combines the benefits of yoga with kids' natural love for animals to create a magical learning journey that parents and kids can enjoy together.

Ages 4–8
Praise For Zoo Zen: A Yoga Story for Kids…
"Counting meets yoga in this first children's book from adult author Fischer. Lyla, a girl with a head of blueberry-colored curls, demonstrates 10 poses that correspond with zoo animals. After rolling out her mat on her bedroom floor, Lyla poses like "one balancing bear," two cobras, three eagles, and so on. Debut illustrator Schaefer creates an air of serenity in her multitextured digital collages, emphasizing how Lyla's movements echo the animals' movements or bodies. Fischer's perky verse generally makes clear how readers can achieve each pose ("Eight gorillas screech/ Lyla folds in half/ Clasps hands under feet/ And lets out a laugh"), and separate exclamatory comments ("It's okay to bend your knees!") offer encouragement. Parents seeking to introduce yoga to their children should find this an engaging, easy-to-follow resource." —Publishers Weekly

"From "one balancing bear" to "ten frogs by a pond" Lyla turns to her animal friends for help in doing yoga. The illustrations in this delightfully inventive book lead her through a simple (for children) yoga routine that will put smiles on the faces of all the children who read it. Beguiling cobras remind her to keep her hands under her shoulders for the Cobra Pose. Lion cubs roar and grin as she sticks out her tongue for the Lion Pose. A butterfly rides on the nose of a crocodile as she does the Crocodile Pose. And multi-colored frogs seem to jump off the page as she stretches out for the Frog Pose. Sounds True's entry into the world of yoga for children has produced yet another stellar product for your customers to embrace." —Anna Jedrziewski, Retailing Insight
Sounds True, 9781622038916, 32pp.
Publication Date: July 1, 2017
About the Author
Kristen Fischer is an author whose adult books include When Talent Isn't Enough (Career Press, 2013) and Ramen Noodles, Rent, and Resumes (SuperCollege, 2008). She has published articles in Health, Woman's Day, and more. Fischer is married and lives at the Jersey Shore. For more, visit kristenfischer.com.

Susi Schaefer trained as a classical stained glass painter in Austria before studying graphic design at UCI in Irvine, California. There she fell in love with writing and illustrating children's books. Susi lives with her family in North Tustin, California. For more, visit susischaefer.com.