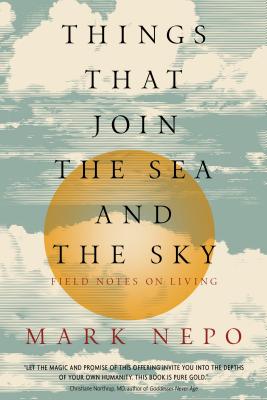 Things That Join the Sea and the Sky
Field Notes on Living
Paperback

* Individual store prices may vary.
Description
A Reader for Navigating the Depths of Our Lives

The Universe holds us and tosses us about, only to hold us again. With Things That Join the Sea and the Sky, Mark Nepo brings us a compelling treasury of short prose reflections to turn to when struggling to keep our heads above water, and to breathe into all of our sorrows and joys.

Inspired by his own journal writing across 15 years, this book shares with us some of Mark's most personal work. Many passages arise from accounts of his own life events—moments of "sinking and being lifted"—and the insights they yielded. Through these passages, we're encouraged to navigate our own currents of sea and sky, and to discover something fundamental yet elusive: How, simply, to be here.
To be enjoyed in many ways—individually, by topic, or as an unfolding sequence—Things That Join the Sea and the Sky presents 145 contemplations gathered into 17 themes, each intended to illuminate specific situations.

The themes include: Unraveling Our Fear, Beyond What Goes Wrong, The Gift of Deepening, The Practice of Relationship, What Holds Us Up, Right-Sizing Our Pain, The Reach of Kindness, Burning Off What's Unnecessary, How We Make Our Way and many more.

For those interested in either beginning or expanding their own journaling explorations, this reader also provides a guide to the practice of daily writing, with 100 compelling questions to get us started. "Joy is the sea that holds all," writes Mark, "the Unity of Being where feelings don't separate, but surface like waves to remind us we are alive."
Here, he helps us swim in those waters until we are held in the mystery of their buoyancy.
Praise For Things That Join the Sea and the Sky: Field Notes on Living…
"Nepo combines poetic prose and straightforward, sensible philosophy, encouraging readers to relish their journeys through life. The book sensitively and empathetically examines universal parts of the human experience—such as fear, death, love, happiness, and kindness—in an inviting way that compels the reader to follow. A rich source of comfort and courage for anyone who opens it." —Publishers Weekly

"Nepo's short writings say everything there is to say about recording the hidden wonders of the world around us." —Anna Jedrziewski, Retailing Insight

"These journal entries from one of our favorite spiritual teachers encourages us to sail on a sea of possibilities. We find ourselves putting the senses on full alert, making the mind receptive, and being drawn into the spiritual practice of openness." —Frederic and Mary Ann Brussat, Spirituality and Practice

"Open this book. Read the table of contents. And let the magic and promise of this offering invite you into the depths of your own humanity. Allow the poetic soul of Mark Nepo to guide you. And then keep this guide on your nightstand as an oracle and a road map for living well. This book is pure gold." —Christiane Northrup, MD, author of the New York Times bestsellers Goddesses Never Age; Women's Bodies, Women's Wisdom; and The Wisdom of Menopause

"This book offers itself to you like an intimate conversation with a dear friend. Enjoy the beauty and the deep dives into life's varied meanings and mysteries." —Sharon Salzberg, author of Lovingkindness and Real Love

"Mark Nepo's vulnerable and generous-hearted sharing is irresistibly readable, reminding us of the importance of trusting the moment-by-moment experiences that lead us to our awakening." —Michael Bernard Beckwith, author of Life Visioning

"Nepo is a consummate storyteller with a rare gift for making the invisible visible." —Publishers Weekly

"Mark Nepo has a great heart. His poems are good company." —Coleman Barks, translator of The Essential Rumi

"Mark Nepo has a rare quality of writing, one that fills you up even as it drops you into emptiness. Through his sensibilities we touch what is human: he plucks at our heartstrings with naked candor and metaphorical mastery." —Julie Clayton, New Consciousness Review

"Mark Nepo is a rare being—a poet who does not overuse language, a wise man without arrogance, a teacher who always speaks with compassion, and an easygoing love-to-listen-to-him storyteller." —James Fadiman, PhD, cofounder, Institute for Transpersonal Psychology

"Mark Nepo's work is as gentle and reliable as the tides, and as courageous as anyone I've known in looking deeply into the mysteries of the self." —Michael J. Mahoney, author of Human Change Processes

"Mark Nepo is one of the finest spiritual guides of our time." —Parker J. Palmer, author of A Hidden Wholeness and The Courage to Teach

"Mark Nepo is a Great Soul. His resonant heart—and his frank and astonishing voice—befriend us mightily on this mysterious trail." —Naomi Shihab Nye, author of You and Yours, 19 Varieties of Gazelle, and Red Suitcase

"Mark Nepo is an eloquent spiritual teacher." —Herbert Mason, professor emeritus of history and religious thought at Boston University and translator of Gilgamesh

"Mark Nepo is one of our national treasures. That is because Mark inhabits that rare and beautiful consciousness that enables him to express the language of the soul. The words and energy flowing from the font of his heart not only make our lives more beautiful, but heal us." —Rev. Ed Bacon, author of 8 Habits of Love

"Mark Nepo is someone who walks through this confusing and sometimes dark world holding up a lantern and lighting the way. His voice helps us find pathways where we might have believed that no pathway could possibly exist. He is more than simply brave and more than simply wise; he is deeply kind—because he understands that kindness is the most courageous act of wisdom there is. I can say with all certainty that I would follow this man anywhere his words want to take us." —Elizabeth Gilbert, author of Eat, Pray, Love and Big Magic

"Mark Nepo joins a long tradition of truth-seeking, wild-hearted poets—Rumi, Walt Whitman, Emily Dickinson, Mary Oliver—and deserves a place in the center of the circle with them." —Elizabeth Lesser, author of Broken Open and Marrow; cofounder of Omega Institute
Sounds True, 9781622038992, 264pp.
Publication Date: November 1, 2017
About the Author
Mark Nepo is a poet and philosopher who has taught in the fields of poetry and spirituality for over 35 years. ANew York Times#1 bestselling author, he has published numerous books--including The Book of Soul, The One Life We're Given, and Drinking from the River of Light--and recorded multiple audio projects.

Mark has been interviewed three times by Oprah Winfrey as part of herSoul Seriesradio show, and was interviewed by Robin Roberts onGood Morning America. As a cancer survivor, Mark devotes his writing and teaching to the journey of inner transformation and the life of relationship. Mark's work is widely accessible and used in spiritual retreats, healing and medical communities, and more. His work has been translated into 20 languages, and he continues to offer readings, lectures, and retreats.