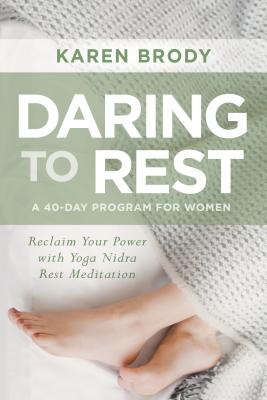 Daring to Rest (Paperback)
Reclaim Your Power with Yoga Nidra Rest Meditation
Sounds True, 9781622039098, 248pp.
Publication Date: November 1, 2017
* Individual store prices may vary.
Description
What if you could reboot your health, tap into your creative self, reclaim your wild nature, lead from your heart—and still feel well rested?
As modern women, we're taught that we can do it all, have it all, and be it all. While this freedom is beautiful, it's also exhausting. Being a "worn-out woman" is now so common that we think feeling tired all the time is normal. According to Karen Brody, feeling this exhausted is not normal—and it's holding us back. In Daring to Rest, Brody comes to the rescue with a 40-day program to help you reclaim rest and access your most powerful, authentic self through yoga nidra, a meditative practice that guides you into one of the deepest states of relaxation imaginable.
It's time to lie down and begin the journey to waking up
Though it comes from the yogic tradition, yoga nidra doesn't look like a typical yoga class—the entire practice is done lying down. As you listen to a guided meditation, you're gently taken into complete inner stillness, effortlessly releasing into a healing state that works on both cellular and subtle body levels.
With Daring to Rest, Brody presents a comprehensive yoga nidra program that unfolds in three phases: rest for physical exhaustion, release for mental and emotional exhaustion, and rise for tuning in to the "life purpose exhaustion" that can come when we're not in our full power. Each phase includes a downloadable yoga nidra guided meditation and supportive practices.
"By directly accessing your subconscious mind, yoga nidra helps shift the long-held patterns that prevent you from stepping fully into your purpose and power," writes Brody. "Now is the time to break the cycle of fatigue and return to your truest self—the woman you are when you're not constantly exhausted."
This is a book about yoga nidra, a meditation practice that helps with relaxation, sleep, rest, and healing.
About the Author
Karen Brody is a women's well-being and leadership expert who helps women journey from worn out to well rested and then dream big in their work and lives. A certified yoga nidra instructor, she is the founder of Daring to Rest™, a yoga nidra-based self-empowerment program for women. She has an MA in Women and International Development from the Institute of Social Studies in the Netherlands, and a BA in sociology from Vassar. Karen is also a playwright, and Birth, her theater-for-social-change play has been seen in over 75 cities around the world. She is the mother of two boys and met her husband in the Peace Corps. She resides in Washington, DC, but considers the world her home.
Praise For Daring to Rest: Reclaim Your Power with Yoga Nidra Rest Meditation…
"As someone who has found yoga nidra to be utterly life changing, I am over-the-moon delighted that Karen wrote a guide for every woman to get the rest she needs using this ancient tool. You'll love the science and the excellent case she makes for why you need rest. But the way she gives you to actually get that rest—it's going to create such magic in your life. Please read this and do the practices. Then prepare to become a raving fan!" —Jennifer Louden, author of The Woman's Comfort Book and The Life Organizer
"This book makes the case for the importance of deep rest. As a mindfulness teacher, I know how meditation creates such rest through synchronizing mind and body. Yoga nidra provides the same pathway to this calm, well-rested place where power and purpose are rediscovered. Karen's new book brings together rest, meditation, and women's empowerment to create lasting benefits when it comes to sleep, mood, and overall happiness." —Susan Piver, author of Start Here Now: An Open-Hearted Guide to the Path and Practice of Meditation
"What a masterpiece! With skill and compassion Karen masterfully guides her reader through a step-by-step journey into herself where she can shed the worn-out woman and emerge well rested, fully energized and empowered. Accessible, relatable, and full of inspirational success stories, this book artfully introduces the ancient practice of yoga nidra rest meditation to our rest-deprived society." —Kamini Desai, PhD, author of Yoga Nidra: The Art of Transformational Sleep Education, director of Amrit Yoga Institute
"Karen Brody's Daring to Rest offers us essential teachings about the true nature and profound benefits of genuine rest. She reminds us that rest is not just a break from but the very root of passionate and joyous productivity. Based on an integration of science and spirituality, Karen gently guides us through an effective and practical, life-changing program. In summary, Daring to Rest is a beautiful book of contagious inspiration." —Rubin Naiman, PhD, clinical assistant professor of medicine, University of Arizona Center for Integrative Medicine
"In this over-committed, gadget-obsessed world, most of us have forgotten what true rest feels like. Dare to Rest is a much-needed clarion call that reminds us how to find freedom in a restful body, mind, and spirit. Karen Brody's authentic voice and her elegant 40-day program will bring you home, at last, to rest, release, and rise." —Jeffrey Davis, author, speaker, and creativity consultant
"Daring to Rest is simply brilliant. I thought I knew a thing or two about health, rest, and yoga. But in this wonderful book, Karen Brody breathes new life into the need for rest—and it's not just 'get more sleep.' After reading Daring to Rest, I cannot wait to lie down, listen to a yoga nidra meditation, and start listening to my soul. Women everywhere need to take rest seriously if they are to enjoy vibrant health. This book is the most practical place to start." —Christiane Northrup, MD, OB/GYN physician and author of the New York Times bestsellers Goddesses Never Age: The Secret Prescription for Radiance, Vitality, and Wellbeing; Women's Bodies, Women's Wisdom; and The Wisdom of Menopause
"In this world that tells us that in order to be more we must keep doing more and more, Daring to Rest is a beautiful, true antidote. The truth is that the only way to have what we really want is to stop, rest, and make space. Daring to Rest is the perfect guide to do just that. Read this book, follow this wisdom, and enjoy the experience of truthful living that can only come from a well-rested place." —Kate Northrup, bestselling author of Money: A Love Story
"In Daring to Rest, Karen Brody skillfully shows us how to discover deep, restorative rest and maintain core relaxation amidst the challenges we all face in our daily lives. Karen's true gift is her ability to showcase ancient meditative principles in simple, secular practices that restore and support health and well-being at all levels of our body and mind. Karen expertly guides us—in easy-to-follow steps—in how to interweave these elegant, simple, yet profound practices into our daily life, [in a way] that enables us to truly embrace the lives we are all meant to be living." —Richard Miller, PhD, author of iRest Meditation, The iRest Program for Healing PTSD, and Yoga Nidra: A Meditative Practice for Deep Relaxation and Healing
"Daring to Rest is a book that every woman can benefit from. As a mother with a strong calling to live life to its fullest while helping other women reach their own empowerment, I certainly vouch for this book. Karen shares a journey of 40 days to rest and rise, which to me is the garden of life many of us women are searching for. We are living in a powerful new paradigm where rest and allowing with grace is so much more powerful than pushing. Karen takes us on a magical carpet ride of manifesting through ease. The power we women embody is magnified when we accept our graciousness and radiance as our greatest gift. I highly recommend this beautiful piece of art." —Karena Virginia, healer, speaker, TV personality, and author of Essential Kundalini Yoga
"Karen Brody has put together a program that makes yoga nidra relevant and accessible to 21st century women, who may need the practice more than any previous generation. If you feel overwhelmed by living, the techniques in Daring to Rest are a good place to start your journey back to well-being." —Sharon Salzberg, author of Lovingkindness and Real Love