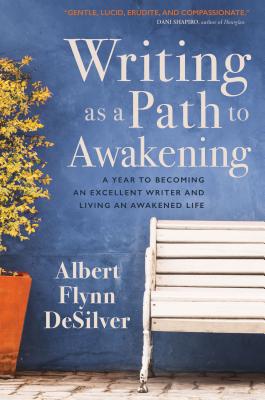 Writing as a Path to Awakening
A Year to Becoming an Excellent Writer and Living an Awakened Life
Paperback

* Individual store prices may vary.
Description
The best writers say their work seems to come from a source beyond the thinking mind. But how do we access that source? "We must first look inside ourselves and be willing to touch that raw emotional core at the heart of a deeper creativity," writes Albert Flynn DeSilver. In Writing as a Path to Awakening, this renowned poet, writer, and teacher shows you how to use meditation to cultivate true depth in your own writing—so your words reveal layers of profound insight that inspire and move your readers.

Constructed as a year-long exploration with a new focus for each month and season, Writing as a Path to Awakening includes:

• How to approach writing and reading with a greater level of presence and immersion
• Engaging curiosity, playfulness, and spontaneity to keep your regular practice fresh
• Meditating with poetry to deeply embody the power of language
• How you can spark your imagination by connecting to the groundless source of creation
• The meditative approach to storytelling—how not being trapped in your story liberates your capacity to create
• Editing, rewriting, and the path of spiritual transformation

"Writing and meditation practice are a powerful pair, a dynamic duo," Albert Flynn DeSilver teaches. "Together they nourish and push, trigger and define, inform and inspire, enable, and energize. To engage in both practices fully is to activate a more complete, creative, and spiritual self." With a mixture of engaging storytelling and practical exercises, Writing as a Path to Awakening invites you on a yearlong journey of growth and discovery—to enhance your writing through the practice of meditation while using the creative process to accelerate your spiritual evolution.
Praise For Writing as a Path to Awakening: A Year to Becoming an Excellent Writer and Living an Awakened Life…
"DeSilver opens a doorway that allows for spiritual and emotional growth, concepts not discussed in typical writing books." —Shelf Awareness

"In this gentle, lucid, erudite and compassionate guide, Albert Flynn DeSilver offers the wisdom and warmth of a true friend who has walked the path—one who reaches out a capable hand and offers it to the new writer, to the struggling writer, and says, 'Here, here, let me show you not only how to write, but how to live." —Dani Shapiro, author of Still Writing: The Perils and Pleasures of a Creative Life

"This book is full of wonderful insights, exercises, and some luscious prose. Luck for us, Albert Flynn DeSilver learned how to write as he was walking the spiritual path, a quality lacking in so many books on spirituality. This is an original, and a real good read." —Wes Nisker, author of Buddha's Nature: A Practical Guide to Discovering Your Place in the Cosmos

"This is a wonderful collection of insights, practices, writing exercises, and meditations to help you get words on the page, not just as an accomplishment, but as a way to discover who you really are." —Susan Piver, author of Start Here Now: An Open-Hearted Guide to the Path and Practice of Meditation

"Albert Flynn DeSilver is our funny, wise, and vulnerable tour guide on this magical year-long journey through the soul of writing. I recommend this book to seekers who want to tell their stories, writers who want to connect with their deepest truths, and anyone who wants to use words as a path to what lies beyond language." —Anne Cushman, author of Enlightenment for Idiots: A Novel
Sounds True, 9781622039111, 208pp.
Publication Date: August 31, 2017
About the Author
ALBERT FLYNN DESILVER is an internationally published poet, memoirist, novelist, speaker, and workshop leader. He has published several books of poetry and Beamish Boy (Owl Press, 2012), which Kirkus Reviews calls, "A beautifully written memoir of awakening and self-acceptance." He teaches at the Omega Institute, Esalen, Spirit Rock, and writing conferences nationally. He lives in northern California. For more, visit albertflynndesilver.com.
or
Not Currently Available for Direct Purchase