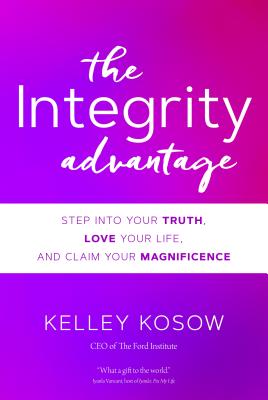 The Integrity Advantage
Step into Your Truth, Love Your Life, and Claim Your Magnificence
Hardcover

* Individual store prices may vary.
Description
Are you ready to open up to new levels of self-trust and self-love, to get where you want to go?

You vowed to speak up at work, and then sat silent in the meeting yet again.
You told yourself "this time the diet is going to stick," only to watch the scale inching up.
You felt that something just wasn't right about someone that—until you learned the hard way that your instincts were right.

"Every time you bite your tongue," teaches Kelley Kosow, "you swallow your integrity."

Before Kelley Kosow was a renowned life coach and CEO, she constantly second-guessed herself, let her "to-do" lists and others steer her dreams and passions, and played it "small and safe."
Inspired by the groundbreaking principles of her renowned mentor Debbie Ford, who hand-picked Kelley to be her successor, The Integrity Advantage is Kelley's step-by-step guide for facing the fear, shame, and false beliefs that cause us to lose our way.

Through life-changing insights, true stories, and proven strategies, this book will show you how to live on your own terms—according to you—from the inside out.
Join this transformational leader and motivational speaker to learn how to:

• Connect with your inner truth and keep it growing stronger day by day
• Level up your self-love and self-trust to get where you want to go
• Embrace the totality of who you are
• Turn the tide on mediocrity
• Break free of the "gravitational pull" of your past
• Get fearless and excited about moving outside of your comfort zone
• Stop living from your "to-do" list and start living from your "bucket" list
• Become the person you want to be

Every day, we make promises to ourselves, and then we break them. But it doesn't have to be that way. If you're ready to stop fighting with yourself, start trusting your deeper wisdom, and return to wholeness, this is the book for you.
Praise For The Integrity Advantage: Step into Your Truth, Love Your Life, and Claim Your Magnificence…
"In The Integrity Advantage, Kelley Kosow's brand of brave insight and authentic wisdom gives you practical tools to reclaim your power, change your life, and be who you want to be. I highly recommend. Read it." —Kute Blackson, author of the national bestselling book You Are The One and world-renowned transformational teacher and speaker

"Kelley has the ability to elevate everyone that she meets into their highest expression. Her work transforms limitation in all forms and introduces people to the limitless power within them. I am honored to know her and to be able to call her my friend." —Panache Desai, author of Discovering Your Soul Signature

"The Integrity Advantage is a powerful book that provides deep insights, invaluable skills, and step-by-step guidance to healing your fear, shame, guilt, anxiety, and pain of the past. Let this transformational book be your inspiration and catalyst to create the future of your dreams." —Arielle Ford, author of Turn Your Mate into Your Soulmate

"This powerful, personal exploration of integrity is a gift to anyone on a path of personal growth. I recommend it for its honesty and vivid examples of the power of living with integrity." —Gay Hendricks, PhD, author of The Big Leap; hendricks.com

"The Integrity Advantage cuts through any confusion you may have about 'what's missing' in your life. This special book will light you up from the inside out, igniting you to find your heart's desire. Pick this up today to discover exactly what you can do to truly improve your life from this moment on." —Jennifer McLean, creator of The Spontaneous Transformation Technique and Healing with the Masters

"An empowering, freeing, heart-opening masterpiece. I loved it." —Dr. Joe Vitale, author of The Awakening Course

"Like Kelley, The Integrity Advantage is funny, searingly honest, and filled with aha moments of wisdom that will surprise, inspire, and empower you." —Mary Morrissey, founder of Life Mastery Institute

"Kelley Kosow has written an extraordinary book for anyone who wants to finally live life on their own terms. It will inspire you and it will empower you to transform integrity from just a word to a way of life." —Jack Canfield, America's #1 success coach and coauthor of The Success Principles

"With The Integrity Advantage, Kelley Kosow has hand-crafted a magnificent map to self-knowledge, truth-telling and wholeness—where all roads lead you right to you. As Kosow says, 'Once you commit to living a life from a place of integrity and self-referral, no other way of being will feel authentic or in alignment.' Using her own life experience and client stories as a through-line, Kosow guides you to find your own catalytic compass of courage and confidence within—to live in your deepest truth and attain your grandest desire. I not only urge you to read this book, but to live it with all your heart." —Nancy Levin, bestselling author of Worthy

"The Integrity Advantage is a breakthrough book. Kelley Kosow makes an enticing invitation to what she describes as a whole new way of being in the world, illuminating the way to living a life of integrity." —Geneen Roth, author of Women Food and God

"If you're ready to love, trust, and honor yourself at a higher level, The Integrity Advantage is for you. In it, Kelley Kosow offers up profound insights and deep wisdom from her heart, serving as a beautiful example of the gifts of living an integrity-guided life." —Marci Shimoff, New York Times bestselling author of Happy for No Reason

"A master is not one with many students. A master is one who creates other masters. Debbie Ford's work and training on the human shadows was masterful. Her faithful student Kelley Kosow now continues Debbie's work in a loving way, and with great mastery. What an honor to Debbie. What a gift to the world." —Iyanla Vanzant, author and host of Iyanla: Fix My Life (Oprah Winfrey Network)
Sounds True, 9781622039463, 224pp.
Publication Date: November 1, 2017
About the Author
KELLEY KOSOW is a Master Integrative Coach, program and workshop leader, and CEO of The Ford Institute, a personal development organization that has helped tens of thousands worldwide. For more, visit kelleykosow.com.
or
Not Currently Available for Direct Purchase