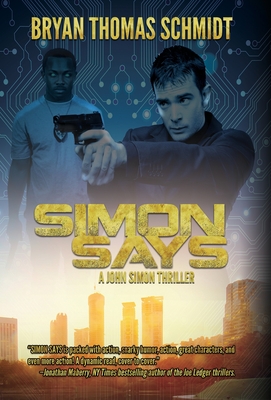 Simon Says (Hardcover)
Boralis Books, 9781622257508, 470pp.
Publication Date: October 15, 2019
Other Editions of This Title:
Paperback (10/15/2019)
* Individual store prices may vary.
Description
Master Detective John Simon is a tough, streetwise fifteen year veteran of the Kansas City Police Department with a healthy disdain for the encroachment of modern technology into his workplace. When his partner is kidnapped after a routine stakeout by thugs with seeming ties to connected, wealthy art dealer Benjamin Ashman, he's determined to find the truth, but the only witness is a humanoid android named Lucas George. Reluctantly, he takes Lucas along as he begins to investigate and soon finds himself depending more and more on the very technology he so distrusts. Meanwhile, Simon's precocious teenage daughter begins to teach Lucas how to sound more like a cop using dialogue from famous cop movies. If only he'd use them in the appropriate context.
As the two men dig in deeper, they find themselves and every witness they touch faced with danger from assassins as they begin to uncover a conspiracy that may stretch from the heights of the KCPD itself to South America and beyond. Can they identify the guilty before it's too late without getting themselves killed in the process?
This exciting new mix of near future science fiction and procedural thriller captures the gritty realism of Michael Connelly's Bosch, the humor and action of Lethal Weapon, and follows the classic science fiction tradition of Isaac Asimov's City of Steel. From the editor of the international bestselling phenomenon The Martian by Andy Weir, and the national bestselling author of tales including official entries in The X-Files, Predator, and the Joe Ledger thrillers, comes this action-packed first entry in an exciting new series.