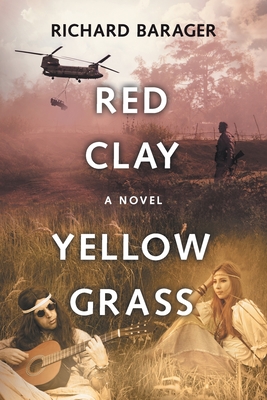 Red Clay, Yellow Grass (Paperback)
A Novel of the 1960s
Evolved Publishing, 9781622530434, 312pp.
Publication Date: April 11, 2018
* Individual store prices may vary.
Description
A battleground and a rock festival... love and war in the age of aquarius.
..".Barager's dynamic, passionate, often moving exploration of the turbulent and politically divided 1960s... is striking. The cast of complicated characters adds arresting human dimensions." Booklist
David Noble is an orphan with a fondness for the novels of Walter Scott; Jackie Lundquist is a child of privilege, partial to J. D. Salinger and the importance of getting real. Their ill-fated college love affair implodes when David enlists to fight a war she opposes.
Angered by his choice--the marines instead of her--Jackie refuses to acknowledge his letters from Vietnam, where David is burrowed into the blood-red clay of Khe Sanh, one of six thousand marines entrapped by an army of North Vietnamese regulars. David survives the brutal siege, but returns home to find Jackie immersed in a counterculture world of drugs and militancy.
The two lovers find themselves fighting on opposite sides of the defining issue of their time, as the New Left and the New Right battle for a generation's political soul. To Jackie, the faltering war in Vietnam is a failure of national conscience; to David, it's a failure of national honor. But neither her rise to fame as the antiwar movement's alluring Radical Queen, nor David's defiant counter-protest activities in support of the war, can extinguish their passion for one another.
Their conflicted affair--and the Age of Aquarius itself--careen toward the mellow-yellow grass of Altamont Speedway, site of the decade's last great rock festival: Altamont, the metaphoric Death of the Sixties, where honor and shame collide and tragedy awaits redemption.
"Barager spins a compelling tale of youthful passion, both personal and political... a rich, satisfying experience. A well-written, gripping novel that expertly blends fact and fiction, love and conviction." Kirkus Indie
Evolved Publishing presents a startlingly vivid portrayal of the 1960s, as seen through the eyes of two ill-fated college lovers. The story of their generation spills across some of the era's most iconic settings: the legendary battleground of Khe Sanh; a Midwestern campus riven by dissent; and Altamont Speedway, scene of the notorious rock festival that ended the Sixties.
Books by Richard Barager:
Red Clay, Yellow Grass: A Novel of the 1960s
The Atheist and the Parrotfish
More Great Historical Fiction from Evolved Publishing:
The "Shining Light's Saga" Series by Ruby Standing Deer
"Galerie" and "Enfold Me" by Steven Greenberg
"Fresh News Straight from Heaven" by Gregg Sapp
"Behind the Open Walls" by Lanette Kauten