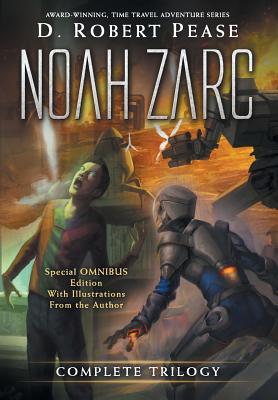 Noah Zarc (Hardcover)
Omnibus
Evolved Publishing, 9781622534210, 624pp.
Publication Date: March 14, 2017
Other Editions of This Title:
Paperback (7/18/2013)
Paperback (7/2/2013)
* Individual store prices may vary.
Description
In a future where Earth has been wiped clean of all life, and humanity has moved on to other worlds, twelve-year-old Noah Zarc and his family have embarked on a quest, in a time-traveling spaceship called the ARC, to retrieve two of every animal and repopulate a dead world.
All 3 Books in One Special Edition:
Book 1 - Noah Zarc: Mammoth Trouble
Book 2 - Noah Zarc: Cataclysm
Book 3 - Noah Zarc: Declaration
Includes 22 fun and fantastic black & white illustrations by author and artist, D. Robert Pease.
Noah Zarc: Omnibus (A Science Fiction Time Travel Adventure Trilogy)
Evolved Publishing presents the Special Omnibus Edition of the Noah Zarc time travel science fiction series--an out-of-this-world, action-packed thrill ride.
NOAH ZARC: MAMMOTH TROUBLE -
Noah Zarc has a life most kids only dream of - traveling through space and time on an immense spaceship and experiencing the vast history of Earth... before it was destroyed. His family's mission is to repopulate Earth with life retrieved from the past. But, when his parents disappear in the Ice Age, Noah discovers life never goes as planned.
NOAH ZARC: CATACLYSM -
Noah becomes embroiled in a mission that could cause the greatest cataclysm in the history of the solar system. Will his name, Noah Zarc, be forever linked to the most devastating crime in humanity's existence, all because he was in the wrong place at the wrong time?
NOAH ZARC: DECLARATION -
As battles rage across the solar system, Noah must work to join together a rag-tag bunch of miners, farmers, and scientists who would rather just live in peace. Will the truth about what really happened a thousand years in the past be enough to stop total war, or will Noah and his friends need to find another way to bring down a dictator?
Praise:
"Pease's strength as a storyteller lies in his ability to connect multiple time periods imaginatively, as well as Noah's excited, fast-paced narration." Publishers Weekly
"Great action, characters and storytelling, Mr. Pease. I would like to see this on the big screen " Melinda Matthews
"D. Robert Pease is the Orson Scott Card of juvenile Sci-Fi and those reader's who fell in love with Ender's Game ... will undeniably be hooked on the many adventures of Noah Zarc." Amazon Reviewer
Awards for Book 1 - Noah Zarc: Mammoth Trouble:
- Gold Medal Winner, Mom's Choice Awards - Juvenile Fiction
- Honorable Mention, Eric Hoffer Award - Young Adult
- Gold Medal Winner, Readers Favorite Awards
- Awesome Indie-Approved, Middle Grade
- Silver Seal Winner, Character Building Counts Awards
BOOKS BY D. ROBERT PEASE:
Noah Zarc: Mammoth Trouble (Book 1)
Noah Zarc: Cataclysm (Book 2)
Noah Zarc: Declaration (Book 3)
Noah Zarc: Omnibus (Special Edition)
Noah Zarc: Roswell Incident (Short Story Prequel)
Dream Warriors (Joey Cola - Book 1)
Shadow Swarm
Enslaved (Exodus Chronicles - Book 1) Coming 2017]
MORE GREAT YA SCI-FI FROM EVOLVED PUBLISHING:
Down to Dirt (Dirt and Stars - Book 1) by Kevin Killiany
Uploaded (Uploaded - Book 1) by James W. Hughes
Red Death (Red Death - Book 1) by Jeff Altabef