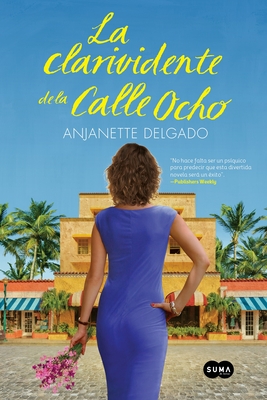 La clarividente de la calle ocho / The Clairvoyant of Calle Ocho
Paperback

* Individual store prices may vary.
Description
En el centro de la Pequeña Habana, poblada de personajes inolvidables, Anjanette Delgado explora el intento apasionado de vivir y amar como se debe

Dos divorcios le han enseñado a Mariela Esteves que la vida es más fácil para las amantes que para las esposas.¿Qué corazón necesita las complicaciones de esa obsesión humana con el dichoso "felices para siempre" ¡El de ella no! Pero complicaciones son lo que resultan de su aventura con el muy casado Héctor Ferro, que para colmo, también es su inquilino. Las cosas en el corazón de la Calle Ocho de la Pequeña Habana, en Miami, se complican aún más cuando encuentran el cadáver de Héctor a pasos del edificio de Mariela. Todo ocurre en la víspera de su cumpleaños 40, obligando a Mariela a replantearse la vida supuestamente libre de problemas que se había forjado.

Para complicar más las cosas, la muerte de Héctor detona el regreso inesperado de un don que Mariela había relegado por años y que jamás pensó volver a enfrentar: la clarividencia. De repente, las visiones llegan rápidas e inesperadas y los secretos de sus demás inquilinos, así como de los amores perdidos y los anhelos inconfesados de la Calle Ocho, serán revelados.¿Logrará su sexto sentido que Mariela abra los ojos a las posibilidades naciendo en su propia vida, a la verdad sobre la muerte de Héctor, y quizás a los misterios de las vidas ajenas que la rodean?

 ENGLISH DESCRIPTION

Two-time International Latino Book Award-winning author Anjanette Delgado transports readers to Little Havana with her contemporary woman's fiction tale about a Cuban woman who has to come to terms with her clairvoyant past so she can clear her name and find love along the way.

Two divorces have taught Mariela Estevez that she's better suited to being a mistress than a wife. Whose heart needs all that "forever after" trouble? Still, her affair with her married lover, Hector, has become problematic--especially because he's also a tenant in her apartment building in the heart of Miami's Calle Ocho in Little Havana. But when Hector is found dead just steps from Mariela's back door, on the eve of her fortieth birthday, she's forced to examine her life--and come up with a plan to save it, fast...

Complicating matters, Hector's passing sparks the unexpected return of a gift Mariela rejected years ago and thought she'd never have to face again: clairvoyance. Suddenly, Mariela's visions come swiftly and unbidden, as do revelations about her other tenants. Lost loves, hidden yearnings, old jealousies--all reside on Calle Ocho. Most of all, Mariela's second sight awakens her not just to the truth about Hector's death and the secrets in others' lives--but to the possibilities blooming within her own. With warmth, wit, and insight, Anjanette Delgado explores one woman's flawed but heartfelt attempt to live and love well, transporting readers to a community of uniquely human, unforgettable characters.
Praise For La clarividente de la calle ocho / The Clairvoyant of Calle Ocho…
Reseñas:

«No hace falta ser un psíquico para predecir que esta divertida novela será un éxito.».- Publishers Weekly

«La clarividente de la Calle Ocho me recordó por qué empecé a leer: para ser hechizado, transportado lejos de mi realidad y arrojado a un mundo más vivo y resplandeciente. Anjanette Delgado ama a todos sus personajes, incluso los sinvergüenzas, y nos hace amarlos también.».- John Dufresne, autor de No Regrets, Coyote

«Es una comedia apasionante, divertida y misteriosa.».- Patricia Engel, autora de It's Not Love, It's Just Paris

«Me perdí en el tejido maravilloso de La clarividente de la Calle Ocho. Por momentos hasta me pareció posible descubrir en ella ¡si yo también puedo ser clarividente! Anjanette Delgado es una genial storyteller.».- Dra. Ana María Polo / Abogada y Árbitro de Televisión y Presentadora de "Caso Cerrado"

«Nunca había leído un libro como La clarividente de la Calle Ocho; su trama fue capaz de absorberme, entretenerme y motivarme desde la primera página hasta la última. Recomiendo este gran libro a quien disfruta de una lectura real, humorística e ingeniosa.».- María Marín / Motivadora internacional, personalidad de radio, y autora de Si soy tan buena,¿por qué estoy soltera?
Suma Internacional, 9781622639090, 272pp.
Publication Date: October 30, 2014
About the Author
Recientemente nombrada por "Yahoo! en español Mujer" como una de las "12 Mujeres que admiramos" en el pasado Mes Internacional de la Mujer, Anjanette Delgado empezó su carrera como periodista para grandes medios de comunicación como NBC, CNN, Univisión y Telemundo; cubriendo las elecciones presidenciales, los juegos Olimpicos, el ataque terrorista del 9/11 y sirviendo como productora ejectutiva para cubrir ambas guerras de Iraq. Anjanette ganó el premio Emmy por su interés humano en las series "Madres en la lejanía", que habla sobre las madres latinas que deben de abandoner a sus hijos para venir a Estados Unidos a trabajar como niñeras indocumentadas. Anjanette ha escrito para NPR, Vogue, NBC y creado y desarrollado una comedia de situación para HBO Latino llamada Great in Bed. Su primera novela, La píldora del mal amor, ganó el primer premio en la categoría de mejor novela romantica en inglés en el Latino International Book Award, el primer lugar dentro de literatura latina #Libros de película# en el 2010 y fué nominada Triple Crown Winner para la mejor novela romantica en español. Anjanette tiene una Maestría en Bellas Artes y escritura creativa de la Universidad Internacional de la Florida (FIU) y enseña escritura en el centro de Artes literarias de Miami. Es madre de dos mujercitas y vive en Miami con su esposo Daniel y su mini-daschund, Chloe.
or
Not Currently Available for Direct Purchase