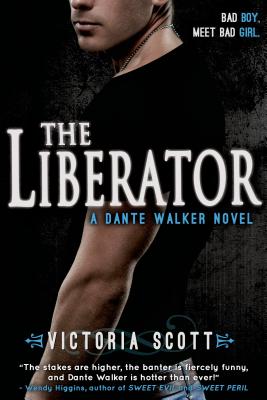 The Liberator (Dante Walker #2) (Paperback)
Entangled: Teen, 9781622660162, 352pp.
Publication Date: August 27, 2013
* Individual store prices may vary.
Description
The Liberator by Victoria Scott
Dante has a shiny new cuff wrapped around his ankle, and he doesn't like that mess one bit. His new accessory comes straight from Big Guy himself and marks the former demon as a liberator. Despite his gritty past and bad boy ways, Dante Walker has been granted a second chance.
When Dante is given his first mission as a liberator to save the soul of seventeen-year-old Aspen, he knows he's got this. But Aspen reminds him of the rebellious life he used to live and is making it difficult to resist sinful temptations. Though Dante is committed to living clean for his girlfriend Charlie, this dude's been a playboy for far too long…and old demons die hard.
With Charlie becoming the girl she was never able to be pre-makeover and Aspen showing him how delicious it feels to embrace his inner beast, Dante will have to go somewhere he never thought he'd return to in order to accomplish the impossible: save the girl he's been assigned to, and keep the girl he loves.
About the Author
Victoria Scott is the author of the DANTE WALKER trilogy (Entangled Teen), and THE BRIMSTONE BLEED trilogy (Scholastic). Victoria has a master's degree in marketing, and lives in Dallas with her husband. When not writing, she can be found munching cotton candy and snuggling obese cats.
Praise For The Liberator (Dante Walker #2)…
"Dante isn't just your run-of-the-mill YA bad boy...he's a villain. [And] you can't take your eyes off him because he's hot, witty, and just fascinating. And all the while you'll be thinking, I can't wait to see this boy's world get rocked." —Wendy Higgins, author of SWEET EVIL on The Collector
"Left me breathless at every turn with its sizzling anti-hero, unlikely heroine, and the epic romance that unfolds between them." —Mindee Arnett, author of THE NIGHTMARE AFFAIR on The Collector
"Victoria Scott is a fabulous new voice in YA." —C.C. Hunter, author of the New York Times bestselling series, SHADOW FALLS on The Collector