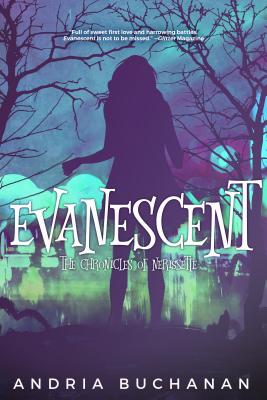 Evanescent
Paperback

* Individual store prices may vary.
Description
Evanescent by Andria Buchanan:
Trapped in the deadly land of Nerissette, Allie has all but given up on any return to the mortal realm. Unless she can find the two elusive artifacts that have the power to get her and her friends back home.
But she's got even bigger problems as the newly crowned queen of Nerissette: she must unite her people in the midst of a civil war and capture the Fate Maker the evil puppet master responsible for the conflict before he can find another army willing to return him to power.
On top of it all, Allie is just a normal teenager. Her feelings are growing for the guy she's certain is her true love, and balancing her personal life while being the queen isn't as easy as it sounds. Allie must learn the true meaning of bravery, love, and kinship, regardless of the world and danger around her.
Entangled Publishing, 9781622660186, 277pp.
Publication Date: October 1, 2013
About the Author
Andria Buchanan currently lives in Pittsburgh with her two wonderful kids and a husband that learned the gourmet art of frozen pizzas to give her more time to write. When she's not writing she can be found fencing and arguing with her dogs about plot points. Most days the Beagle wins but the Dalmatian is in close second. She's a distant third.
or
Not Currently Available for Direct Purchase