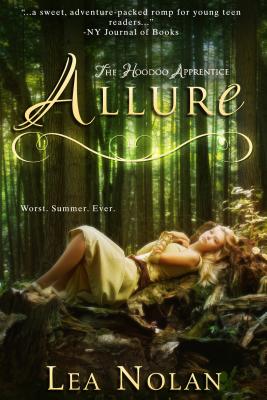 Allure (Hoodoo Apprentice #2)
Paperback

* Individual store prices may vary.
Description
Worst. Summer. Ever.

Emma Guthrie races to learn the hoodoo magic needed to break The Beaumont Curse before her marked boyfriend Cooper's sixteenth birthday. But deep in the South Carolina Lowcountry, dark, mysterious forces encroach, conspiring to separate Emma and Cooper forever. When Cooper starts to change, turning cold and indifferent, Emma discovers that both his heart and body are marked for possession by competing but equally powerful adversaries.

Desperate to save him, Emma and her twin brother, Jack, risk their lives to uncover the source of the black magic that has allured Cooper and holds him in its grip. Faced with the horror of a soul-eating boohag, Emma and Jack must fight to resist its fiendish power to free Cooper long enough to join their strengths and face it together, before it destroys them all.

The Hoodoo Apprentice series is best enjoyed in order.
Reading Order:
Book #1 Conjure
Book #2 Allure
Book #3 Illusion
Praise For Allure (Hoodoo Apprentice #2)…
"A magical adventure where first loves, ancient curses, and magic collide." —Glitter Magazine

"Lea Nolan made sure to top Conjure when it came to drama, magic, and even death. I had a hard time putting this book down..." —Book Lovin Mamas
Entangled: Teen, 9781622660223, 304pp.
Publication Date: October 1, 2013
About the Author
Lea Nolan is a USA Today Bestselling author who writes books for young adults featuring bright heroines, crazy-hot heroes, diabolical plot twists, plus a dose of magic, a draft of romance, and a sprinkle of history. She also pens smart, witty contemporary stories for adults filled with head-swooning, heart-throbbing, sweep-you-off your feet romance.

With a master's degree in women's studies and public policy, and an undergraduate degree in history, she spent twenty years as a health policy analyst and researcher, writing hundreds of fascinating reports and articles tens of people enjoyed. Today, she teaches graduate courses in health policy, law, and financing, and takes on the occasional consulting gig.

Born and raised on Long Island, New York, she loves the water far too much to live inland. With her heroically supportive husband and three clever children, she resides in Maryland where she scarfs down crab cakes whenever she gets the chance. Contact her via her website www.LeaNolan. com, on Facebook www.facebook.com/LeaNolanAuthor or on Twitter @Lea_Nolan.
or
Not Currently Available for Direct Purchase