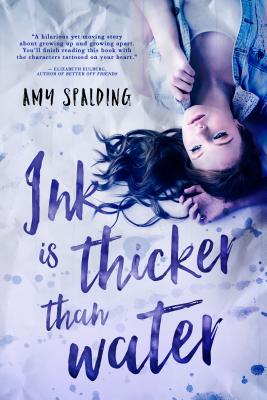 Ink is Thicker Than Water (Entangled Teen) (Paperback)
Entangled: Teen, 9781622660407, 320pp.
Publication Date: December 3, 2013
* Individual store prices may vary.
Description
Intriguing, romantic, and wholly original, Amy Spalding's sophomore novel is the perfect blend of humor and heart. Find out why Trish Doller called it full of "compassion, humor, love, and pitch-perfect authenticity."
For Kellie Brooks, family has always been a tough word to define. Combine her hippie mom and tattooist stepdad, her adopted overachieving sister, her younger half brother, and her tough-love dad, and average Kellie's the one stuck in the middle, overlooked and impermanent. When Kellie's sister finally meets her birth mother and her best friend starts hanging with a cooler crowd, the feeling only grows stronger. But then she reconnects with Oliver, the sweet college guy she had a near hookup with last year. Oliver is intense and attractive, and she's sure he's totally out of her league.
It'll take a new role on the school newspaper and a new job at her mom's tattoo shop for Kellie to realize that defining herself both outside and within her family is what can finally allow her to feel permanent, just like a tattoo.
About the Author
Amy Spalding is also the author of The Reece Malcolm List. She grew up outside of St. Louis and now lives in Los Angeles with two cats and a dog. She works in marketing and does a lot of improv.
Praise For Ink is Thicker Than Water (Entangled Teen)…
"Moving and funny--a terrifically satisfying read." —Sara Zarr, author of How to Save a Life on The Reece Malcolm List
"Funny and poignant, this lively book totally charmed us." —Heather Cocks and Jessica Morgan, authors of Spoiled and Messy on The Reece Malcolm List
"Charming, heart-warming, and thoughtful...The Reece Malcolm List sings!" —Courtney Summers, author of Cracked up to Be and Some Girls Are on The Reece Malcolm List
"Just the right mix of humor and emotion...heartbreaking in the best way, The Reece Malcolm List is excellent YA contemporary." —Miranda Kenneally, author of Catching Jordan and Stealing Parker on The Reece Malcolm List
or
Not Currently Available for Direct Purchase