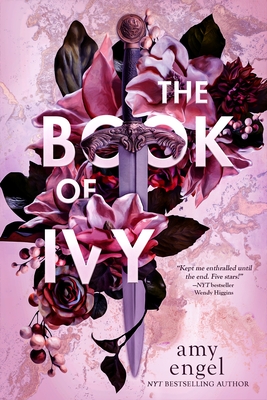 The Book of Ivy (Entangled Teen) (Paperback)
Entangled: Teen, 9781622664658, 304pp.
Publication Date: November 11, 2014
Other Editions of This Title:
Paperback, Chinese (2/1/2016)
Prebound (11/11/2014)
* Individual store prices may vary.
Description
Discover the New York Times bestseller that SLJ called "A fantastic plot that makes readers think about the blurred lines between right and wrong."

What would you kill for?
After a brutal nuclear war, the United States was left decimated. A small group of survivors eventually banded together, but only after more conflict over which family would govern the new nation. The Westfalls lost. Fifty years later, peace and control are maintained by marrying the daughters of the losing side to the sons of the winning group in a yearly ritual.
This year, it is my turn.
My name is Ivy Westfall, and my mission is simple: to kill the president's son—my soon-to-be husband—and return the Westfall family to power.
But Bishop Lattimer is either a very skilled actor or he's not the cruel, heartless boy my family warned me to expect. He might even be the one person in this world who truly understands me. But there is no escape from my fate. I am the only one who can restore the Westfall legacy.
Because Bishop must die. And I must be the one to kill him…
Each book in The Book of Ivy series should be READ IN ORDER:
Book 1: The Book of Ivy
Book 2: The Revolution of Ivy
About the Author
Amy Engel was born in Kansas and after a childhood spent bouncing between countries (Iran, Taiwan) and states (Kansas; California; Missouri; Washington, D.C.), she settled in Kansas City, Missouri, where she lives with her husband and two kids. Before devoting herself full-time to motherhood and writing, she was a criminal defense attorney, which is not quite as exciting as it looks on TV. When she has a free moment, she can usually be found reading, running, or shoe shopping. The Book of Ivy is her debut YA novel. Find her online at http://amyengel.net/ or @aengelwrites.
Praise For The Book of Ivy (Entangled Teen)…
"Together with the emotionally fraught situation--simply having to share a house with a man is unsettling for Ivy--the book has immediacy, and there's justification for plenty of teenage angst. Ivy is forced to question her family's motivations as Bishop keeps surprising her, and she surprises herself with her growing feelings for him. The worldbuilding is mostly well-thought-out, with some complicated issues. . . . An intriguing start with a brave heroine." —Kirkus Reviews on The Book of Ivy
"Thought-provoking, poignant, and sexy! Readers will burn the midnight oil to finish The Book of Ivy and fall asleep with the name Bishop Lattimer on their lips." —Regina at Mel, Erin, and Regina Read-A-Lot
"The Book of Ivy has every ingredient you look for in an epic novel: from the spine-tingling plot and exhilarating characters, to every entrancing word penned by Amy Engel." —Kris at Insightful Minds Reviews
"I enjoyed this novel so much that I polished it off in two sittings. There is no insta-love! There is no love triangle! Best of all, the protagonist actually has common sense, and she uses it! The slow-to-develop relationship is believable, and both Ivy and Bishop are easy to relate to. Waiting anxiously for Book 2!" —Julie at Magna Maniac Café
"With her debut, Amy Engel has pulled off one of the best dystopian romances that I have ever read. It was impossible to put down." —Kayla at Bibliophilia, Please
or
Not Currently Available for Direct Purchase