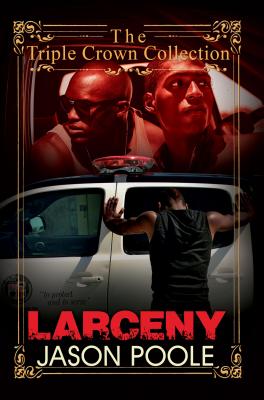 Larceny (Mass Market)
Triple Crown Collection
Urban Books, 9781622865697, 384pp.
Publication Date: July 25, 2017
Other Editions of This Title:
Paperback (8/1/2004)
Paperback (6/30/2015)
* Individual store prices may vary.
Description
In this tale that plucks the innermost chords of emotion, jealousy turns to envy then to backstabbing as we observe two friends who have struggled together, hustled together, and endured separate prison terms.

In the hood, a snitch is the worst thing a person can possibly be. Rolling over on your best friend, who has been with you through thick and thin, hungry and full, freedom and state bids--that's "the cruelest lie told in silence." While Jovan experiences the fruits of the hustle during his partner's first stint, Bilal humbly does his time like a true soldier, taking a manslaughter charge for his one true friend. When these two are finally reunited on the streets, a chain of events lands them both behind bars facing multiple charges. Will their friendship survive the broken bond of brotherhood, or will dishonor come before death?
About the Author
Jason Poole was born and raised in Washington, D.C., and is the proud father of a teenage son. He's also Essence magazine bestselling author of Larceny, and co-author of the ground-breaking book Convict's Candy. He wrote both novels while serving time in prison. In 1996, he was incarcerated on a drug violation charge and served a ten-year illegal sentence, due to an erroneous enhancement. In January 2007, he was released from federal prison, and has regained his freedom.
or
Not Currently Available for Direct Purchase