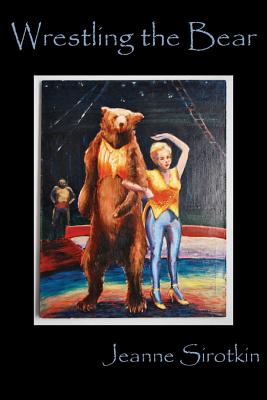 Wrestling the Bear
Paperback

* Individual store prices may vary.
Description
Wrestling the Bear is a first collection of nineteen stories.  Many of the stories deal with synchronicity – the remarkable moments of coincidence when lives collide.  The characters represent a range:  male, female, young, and old, including dead Elvis, Jimmy Hoffa and the Emperor of New York City.  The stories reveal webs of entanglement and often redemption.
The stories are tinged with the surreal.  Their settings work as characters whether it is an unnamed island of Central America, Brooklyn, or the streets of Detroit and its surrounding working class suburbs.
Sirotkin writes with poetic language and rhythm, reflecting her background in poetry and performance.
Stephen F. Austin University Press, 9781622880065, 100pp.
Publication Date: February 27, 2013
About the Author
JEANNE SIROTKIN briefly attened Eastern Michigan, Wayne State, and Wilmington College in Ohio before hopping in a car and moving to San Fransisco, where she received her degree in Creative Writing from San Francisco State. For eight years, she lived a life of poetry. Salons with artists and writers. Good friends. Broken relationships. Her first book "An Unzipped Dress' (poetry) was published in 1975 by Harold Graves' Golden Mountain Press. The same year she met Michael Haynes in Mexico, her partner for life, through a series of unbelievable coincidences.