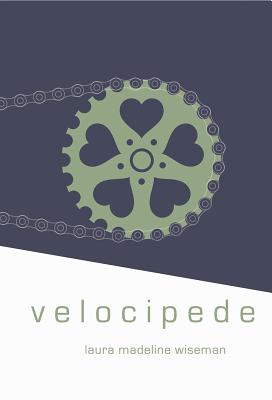 Velocipede (Paperback)
Stephen F. Austin University Press, 9781622881314, 100pp.
Publication Date: January 4, 2017
* Individual store prices may vary.
Description
New from Laura Madeline Wiseman is this stunningly crafted collection of poetry about a ride, with a magical, imaginative opening sequence "Your first bike was a hot pink Schwinn with a banana seat, a basket with flowers, yellow tassels fluttering...." If you follow Wiseman on social media, you surely know that she is a long-distance cyclist and participate in multi-day bike rides such as RAGBRAI, the long bike ride all the way across the state of Iowa that attracts nearly 20,0000 cyclists annually. Velocipede is inspired by the story of her first long-distance ride, including the award winning "Roadside Kiddie Pool," which won the 2015 Beecher's Award in Poetry.



Roadside Kiddie Pools
 
Not toddlers in plastic pants snug above their fat thighs. Not girls in pink gingham two pieces and broad hats held in place by string and knot. Not bucket and shovel. Not starfish-shaped sifter or naked baby doll that pees. Not pale, mottled ankles or the aluminum of chair legs. Not wine bottles. No Bud Light, Busch, or Miller. Not PBR in cans. Not baseball bat or beach ball. Not blue waves that catch and cup, ripple and splash afternoon sun. Not a scrim of dirt under a sheen of tannin. Not snowdrift melt, flecked with leaves. Not cracked. Not covered in aliens, rocket ships, or moons. Not yard sale. Not trash treasure. But full of water bottles, sports drinks, ice glittering and not free, but almost--donation is all.
About the Author
LAURA MADELINE WISEMAN has a PhD from the University of Nebraska-Lincoln in English and a MA from the University of Arizona in women's studies. Currently, she teaches Women's and Gender Studies at the University of Nebraska-Lincoln and poetry at 24PearlStreet, the Fine Arts Work Center's online writing program. Her recent books are An Apparently Impossible Adventure published by BlazeVOX [books], Wake published by Aldrich Press, and the collaborative book with artist Sally Deskins Leaves of Absence: An Illustrated Guide to Common Garden Affection published by Red Dashboard.