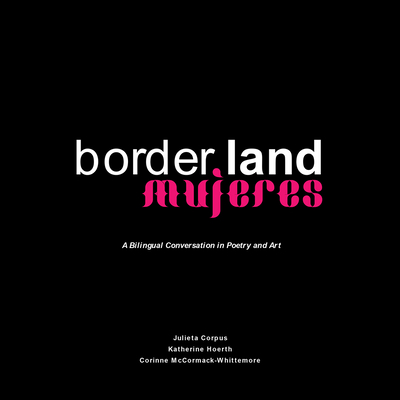 Borderland Mujeres
Paperback

* Individual store prices may vary.
Description
Borderland Mujeres, a collaborative, bilingual conversation in poetry and art, depicts the multifaceted experiences of women living in the borderlands of deep south Texas. In this fraught political climate, much has been written about the  U.S/Mexico border, but what about the people who call this place home? Three women, each with a different relationship to the borderlands offer their vision of the cultural, linguistic, and ecological landscape of a complex region that is full of both majestic beauty and stark reality. The resulting poems and images explore what it means to be a woman in this contested space and hopes to spark questions and conversation about identity, feminisms, and the idea of cross-cultural and cross-genre collaboration.
Borderland Mujeres was created through a feminist collaborative process. In some instances, the images inspired the poems. In others, the poems inspired the images. Many pieces were born from conversations between the three women about everyday life. The process illustrates the complex relationship between languages, translation, and transference. This project is an example of how permeable borders can be, even in our fraught political landscape that seeks to reinforce the rigid boundaries that separate us. These images and poems exist as the bougainvillea in barbed wire-a declaration of beauty and empowerment amidst the rugged landscape. Borderlands Mujeres offers a counter-narrative about the border to the dominant, masculinized and militarized narrative purported by politicians, the media, and literature written about the region and culture by outsiders.
Taking inspiration from Gloria Anzaldua's Borderlands La Frontera, this approach uses a variety of styles-from montage, to imagaic, to narrative, and lyric to depict the experience of hybridity and diversity in the lives of women on the border. The images are layered, juxtaposed, and blended to document and visually express the vibrant, living experiences of womanhood in this space. Borderland Mujeres is a celebration of the beauty and strength of the diverse women who straddle different cultures, languages, and worlds.
Stephen F. Austin University Press, 9781622889068, 88pp.
Publication Date: November 30, 2021
About the Author
JULIETA CORPUS works as a bilingual translator from EM Editorial in Brownsville, Texas. KATHERINE HOERTH is an award-winning poet from Beaumont, Texas. CORINNE McCORMACK-WHITTEMORE is a visual artist living in McAllen, Texas.