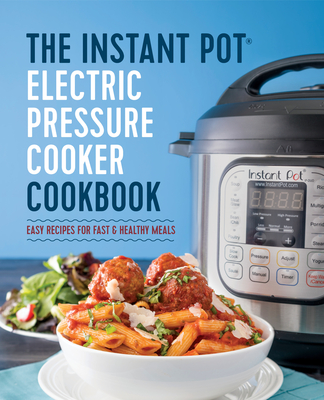 The Instant Pot Electric Pressure Cooker Cookbook (Paperback)
Easy Recipes for Fast & Healthy Meals
Rockridge Press, 9781623156121, 176pp.
Publication Date: April 6, 2016
* Individual store prices may vary.
Description
With over 500,000 copies sold-enjoy 100+ easy, wholesome, customizable recipes offered in the #1 bestselling official Instant Pot(R) cookbook.
There's nothing the Instant Pot(R) can't do-and with the right cookbook in hand, there's nothing you can't cook. The Instant Pot(R) Electric Pressure Cooker Cookbook will teach you to create a variety of healthy, easy-to-make recipes with confidence. From savory breakfasts and hearty stews to decadent desserts and more, this Instant Pot(R) cookbook is sure to satisfy everyone at the table.
In the pages of this bestselling Instant Pot(R) cookbook you'll find:
100+ no-fuss meals with options for vegetarian, gluten-free, and Paleo-friendly diets
Low-maintenance recipe guidelines including pressure levels and cooking times
Handy prep-time labels that specify meals that cook in 20 minutes or longer (45+ minutes), as well as kid-friendly dishes
Perfect for beginners or long-time enthusiasts, this Instant Pot(R) cookbook is your A-Z guide for all things Instant Pot(R).
"For this busy mom, the Instant Pot] was like learning to cook all over again...until I got this Instant Pot cookbook. Whether you are new to the Instant Pot or you are a pressure-cooker pro, this Instant Pot cookbook needs to be in your kitchen " -Julie Clark, Tastes of Lizzy T blog
"This Instant Pot cookbook has everything you need to know to use your Instant Pot...I highly recommend it], It has been the best purchase I made since getting my Instant Pot." ―LMFerron, Amazon Top 500 Reviewer
About the Author
Laurel Randolph is a Los Angeles-based food writer and recipe developer who has contributed food articles to Paste Magazine, Wise Bread, and Serious Eats. In her free time, you can usually find her browsing a farmers' market, eating tacos or Vietnamese food, or cooking up a storm at home.