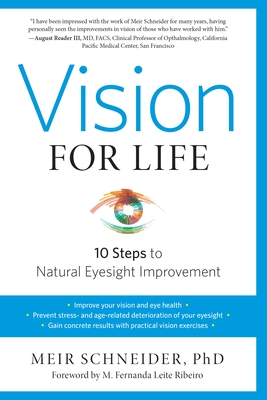 Vision for Life, Revised Edition
Ten Steps to Natural Eyesight Improvement
Paperback

* Individual store prices may vary.
Description
All parts of the body need exercise for optimal health, and the eyes are no different. Vision for Life presents an approach to eye health for people with 20/20 vision who wish to maintain their perfect vision as well as people who see poorly and would like to improve their eyesight. 
 
Clients of the Meir Schneider Self-Healing Method experience their own capacity to bring about recovery, reversing the progress of a wide range of degenerative conditions including eye disease. Based in part on the established Bates Method of eyesight improvement and in part on his own professional and personal discoveries, Meir Schneider's pioneering approach has helped thousands of people successfully treat a host of eye problems, including near- and farsightedness, astigmatism, lazy eye, double vision, glaucoma, cataracts, macular degeneration, retinal detachment, retinitis pigmentosa, and nystagmus. This revised edition includes a new chapter on children's eye health and new research and exercises for specific conditions, i.e., glaucoma and nystagmus, near- and farsightedness.
 
Born blind to deaf parents, Schneider underwent a series of painful operations as a young child and was left with 99 percent scar tissue on the lenses of his eyes, resulting in his being declared incurably blind. At the age of seventeen, he discovered how to improve his vision from less than 1 percent to 55 percent of normal vision with the eye exercises presented in this book. Today Schneider drives a car, reads, and enjoys the benefits of full natural vision. He and his clients prove time and time again how much vision can improve with exercise. His contributions to the field of self-healing are recognized by alternative health practitioners and medical doctors alike.
 
In Vision for Life, Schneider shares forty years of discoveries made on his personal and professional journey. The book details simple but effective techniques to gain great vision such as sunning and palming. Such exercises are not only strengthening but also restorative and deeply relaxing. The reader learns how to reverse developing issues before they cause damage or to remedy existing problems, including pathologies such as glaucoma, cataracts, macular degeneration, retinal detachment, and optic nerve neuropathy.
Praise For Vision for Life, Revised Edition: Ten Steps to Natural Eyesight Improvement…
"In this generous book, Meir Schneider shares the secrets—won through his own movingly documented triumph over near-blindness—of strengthening, rejuvenating, and healing the eyes by activating the body's own intelligence. A man of vision in every sense, he offers a program of exercises that is both inspiring and eminently practicable."―Timothy Crouse, author of The Boys on the Bus
 
"I have been impressed with the work of Meir Schneider for many years, having personally seen improvements in patients' vision of those who have worked with him. The ability of the visual system to adapt and regain function is still full of mysteries. Through Meir's work, we are finding some of those mysteries to be realities."―August L. Reader III, MD, FACS, clinical professor of ophthalmology, California Pacific Medical Center

"This book isn't just another useful handbook for those who want to prevent vision problems or already have a condition; it is also an injection of hope."―Sônia Cristina Tinós Carrocine, instructor of Meir Schneider's Self-Healing Method

"As an ophthalmologist, I always search for the best way to treat my patients. Based on the Bates Method, self-healing has complemented my practice in those cases where our traditional medicine has its limitations. The best treatment is the one that is directed to the patient's needs, and the best medicine is the one that uses all knowledge and not only a part of it. Traditional science and complementary medicine are tools that should be used together, focusing on a more holistic health concept."―Leonardo Verri Paulino, MD, ophthalmologist and anterior segment surgeon at ABC Medical School, Brazil

"Meir's method is effective as a complementary physical therapy for the eyes."―Emília Ritsuko Yasuoka Assad, ophthalmologist and acupuncturist

"Working with my patients has verified that many sight problems get better and heal by taking up the right habits. Meir presents us with a complete guide to do so. He helps us to regain our trust in the power we have over our vision and our lives. As he says in the book, 'We all can take the time. We just have to decide that we are worth the time and that the process is worth our while.'"
―Amelia Salvador, ophthalmologist, Spain

"It is wonderful how each new book by Meir Schneider provokes us to incorporate more and more of the self-healing principles into our lives."—Laercio Motoryn, MD, ophthalmologist and homeopath

"I had the pleasure to meet Meir Schneider and use his method when I was finishing my apprenticeship to become a Bachelor of Optometry in 2005. His holistic approach toward visual dysfunctions changed me forever as a professional. His concepts remain present in my appointments, therapies, and lens prescriptions. Meir's work invites us to naturally preserve our organism and to practice healthier visual habits in this very technological world."—Fernando Nassif, optometrist with specialization in orthoptics and visual therapy

"The knowledge and application of the Self-Healing Method was very important to improve my practice as an ophthalmologist. The results attained by my patients and with my own vision are proof of the importance of the union of traditional medicine with complementary therapies. I thank Meir for being such a marvelous instrument for my personal and professional improvement."—Ana Cecilia Gois Franco, ophthalmologist and anterior segment surgeon and naturopath, São Paulo, Brazil
North Atlantic Books, 9781623170080, 264pp.
Publication Date: May 3, 2016
About the Author
Named one of the ten most inspirational people of Israel by a top national Israeli news program, Meir Schneider is the founder and head teacher of the School for Self-Healing in San Francisco, which offers programs that satisfy the continuing education requirements of the American Massage Therapy Association (AMTA) and the National Certification Board for Therapeutic Massage and Bodywork (NCBTMB). The School for Self-Healing has helped hundreds of thousands of people seeking solutions to chronic health conditions, including many people with vision problems. Born blind, Schneider taught himself to see and over 40 years developed a pioneering program of healing and recovery for the sighted and the blind, sharing his remarkable results not only at the School for Self-Healing, but also in popular books, CDs, and DVDs.