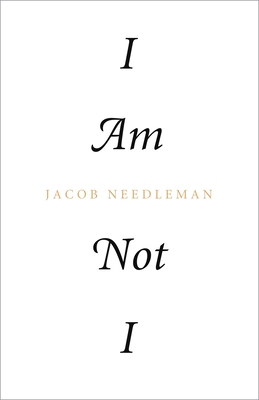 I Am Not I
Paperback

* Individual store prices may vary.
Description
Seeking to reconcile the split between our inner child and our adult self, eminent philosopher and religious scholar Jacob Needleman evokes the ancient spiritual tradition of a deep dialogue between a guiding wisdom figure and a seeker. The elder offers an initiation to a younger self, an initiation the author feels is missing from our culture. Rendered as a stage play, the conversation between the 80-year-old author and his younger selves unfolds, and an ambiguity emerges as to whether this is strictly the author's internal dialogue or whether the younger self may be nurturing a rebirth of the author. 

On one level, I Am Not I brings younger readers (teenagers and young adults) face to face with powerful spiritual and philosophical ideas. But as the book progresses, the dialogue delves into questions and insights that carry astonishing new hope and vision for every man and woman, challenging our culture's accepted—and often toxic—ideas about humanity's place in a living universe.
Praise For I Am Not I…
Praise for Jacob Needleman
 
 "His lively prose, storytelling skills, and lucid insights draw us into an animated conversation with a brilliant teacher."
—Publishers Weekly
 
"Striking … takes some really original positions on topics that have become run into the ground by the same discussions and same assumptions."
—Ken Wilber
 
"An immensely learned man who is unembarrassed by the big questions that many of his fellow philosophers prefer to dodge."
—Chicago Tribune
 
"For nearly four decades Jacob Needleman has confronted the central questions of our era in light of the vision that lies at the root of the world's great spiritual traditions.  Needleman's work clarifies: it takes topics that exist in disparate threads throughout our culture—new religions, esoteric Christianity, the founding mythos of America—and frames them in a manner both sensible and deeply questioning."
—Parabola
North Atlantic Books, 9781623170141, 136pp.
Publication Date: April 19, 2016
About the Author
Jacob Needleman is a philosopher, author, and religious scholar. Educated at Harvard University, Yale University, and the University of Freiburg, he teaches philosophy at San Francisco State University. He is the author of The New Religions, a pioneering study of the new American spirituality, The Wisdom of Love, Money and the Meaning of Life, A Sense of the Cosmos, Lost Christianity, The Heart of Philosophy, The Way of the Physician, Time and the Soul, Sorcerers: A Novel, The American Soul, Why Can't We Be Good? , and The Essential Marcus Aurelius. 
or
Not Currently Available for Direct Purchase