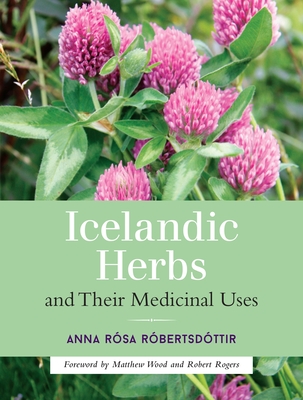 Icelandic Herbs and Their Medicinal Uses
Paperback

* Individual store prices may vary.
Description
This beautifully illustrated, full-color guide provides everything readers need to know about the medicinal powers of 90 native herbs of Iceland--85 of which also grow in North America. Anna Rosa Robertsdottir describes the history, uses, harvesting, drying, and storage of the plants, and includes a wealth of detailed instructions for their preparation--including infusions, decoctions, tinctures, and syrups. Generous color photographs of both the leaves and flowers facilitate plant identification, allowing both amateur and professional herbalists to use the guide to full advantage. User-friendly layout, meticulous research, a wealth of detailed information, and an extensive bibliography make this an essential, one-of-a-kind reference for anyone interested in the subject.
 
For each herb, sidebars describe:
Habitat
Parts used
Harvesting
Constituents
History
Action
Uses
Research
Dosage
Praise For Icelandic Herbs and Their Medicinal Uses…
"Anna Rósa has not only written one of Iceland's most comprehensive herb books, but has also added to our American herbal resources with this beautifully designed and well laid out book. I was delighted to find that though this book was written with Icelandic plants in mind, every one of the 85 plants mentioned is found growing in abundance in North America."
—Rosemary Gladstar, herbalist and author of Rosemary Gladstar's Medicine Herbs
 
"Most of us do not live in Iceland. Many of us will never visit there. Why would we want a book on the medicinal plants of this northern island? There are several very good answers to this question.… This book is a superb example of making the most of a limited variety of plants that can survive colder climates. Anna Rósa Róbertsdóttir is a skilled herbalist who makes plants come alive with vivid color photographs and well-researched monographs for more than 80 common and less well-known herbs. Any book where I can read about an herb I know well and come away learning something new deserves a place on my book shelf and I would suggest yours as well."
—David Winston, RH (AHG), author of Adaptogens: Herbs for Strength, Stamina, and Stress Relief
 
"This is one of the most all-around useful herb books I have seen in a long time. Aside from the gorgeous full-page photos that truly capture the beauty of each plant, Anna Rósa has given a wealth of practical information and tried and tested recipes presented in a user-friendly format for the herbal beginner but with enough references to satisfy health care professionals as well. Some species are unusual to readers from warmer climates but the author gives alternative herbs and discusses substitutions so the book can be helpful to anyone in the northern zones. Written in plain English but not dumbed down at all, and filled with useful information, this is a book to treasure and to reference again and again."
—Chanchal Cabrera, MSc, FNIMH, RH (AHG), medical herbalist
North Atlantic Books, 9781623170226, 300pp.
Publication Date: March 1, 2016
About the Author
Anna Rosa Robertsdottir studied medical herbalism at the College of Phytotherapy in the UK and is a member of the National Institute of Medical Herbalists. She has a ITEC Diploma in massage and a B.Sc. degree in business from the University of Reykjavik. For the past two decades she has run her own herbal practice and has taught many courses on medicinal herbs and their uses. She produces her own creams, ointments, and tinctures, which are sold in most pharmacies and health shops in Iceland.
or
Not Currently Available for Direct Purchase