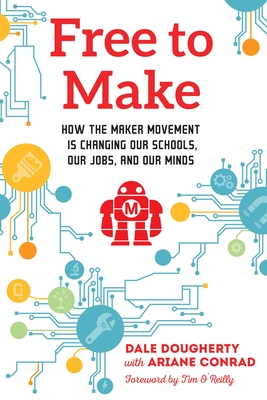 Free to Make
How the Maker Movement is Changing Our Schools, Our Jobs, and Our Minds
Paperback

* Individual store prices may vary.
Description
A fascinating study of the global Maker Movement that explores how 'making' impacts our personal and social development—perfect for enthusiastic DIY-ers
 
Dale Dougherty, creator of MAKE: magazine and the Maker Faire, provides a guided tour of the international phenomenon known as the Maker Movement, a social revolution that is changing what gets made, how it's made, where it's made, and who makes it. Free to Make is a call to join what Dougherty calls the "renaissance of making," an invitation to see ourselves as creators and shapers of the world around us.
 
As the internet thrives and world-changing technologies—like 3D printers and tiny microcontrollers—become increasingly affordable, people around the world are moving away from the passivity of one-size-fits-all consumption and command-and-control models of education and business. Free to Make explores how making revives abandoned and neglected urban areas, reinvigorates community spaces like libraries and museums, and even impacts our personal and social development—fostering a mindset that is engaged, playful, and resourceful. Free to Make asks us to imagine a world where making is an everyday occurrence in our schools, workplaces, and local communities, grounding us in the physical world and empowering us to solve the challenges we face.
Praise For Free to Make: How the Maker Movement is Changing Our Schools, Our Jobs, and Our Minds…
"Making is a new word for perhaps the oldest human endeavor—and there has never been a better time in history to be a maker than right now. Dale Dougherty is largely responsible for that. He proselytizes, he gathers makers together, and he shows us new roads, new landscapes, new philosophies of making. He prods us to new heights, and when all else fails, he keeps writing the best books on the subject. Dale is a maker's maker."—Adam Savage, cohost of Mythbusters

"Part manifesto, part guidebook, the book is a good primer for beginners and interested DIY types and might offer some new ideas for those already involved in the current boom of makerspaces in libraries, schools, and other community centers."—Booklist 
 
"A wonderful analysis and celebration of what it means to be a maker and how important it is for our future."—Carl Bass, maker and CEO of Autodesk 
 
"Every movement needs its founders and its storytellers. In Dale Dougherty, the Maker Movement has both. In Free to Make, Dougherty tells us about the history, people, and projects that animate this movement. Importantly, he shows us how making can change the education of our youth and even lead them to make a better world."—Milton Chen, author of Education Nation; Senior Fellow, George Lucas Educational Foundation
 
"This deeply insightful book highlights the profound role that the Maker Movement is playing in catalyzing and shaping a new Big Shift that will transform our economy and society.  We are transitioning from passive consumers to active makers, driven by a desire to learn and achieve greater impact, and in the process rediscovering our humanity. If you want to understand where we are headed as a global society and why this is such a promising direction, this compelling and exciting book is a must-read."—John Hagel, founder and cochairman, Deloitte Center for the Edge
 
"Free to Make captures what it means to be human: to imagine, question, create, reflect, and try again. It's about making your own experiences matter and sharing them in ways that help make the world a changed place over time."—Mike Petrich and Karen Wilkinson, authors of The Art of Tinkering
 
"Free to Make is a comprehensive treatise on everything Maker. A leader of the Maker Movement since its inception, Dale Dougherty describes the roots of the movement and gives great examples of how it is changing lives and changing society. Free to Make answers the very important question: In today's society, where we can buy anything, why make? A must-read for any maker or anyone interested in becoming one."—Brian Krzanich, CEO of Intel
 
This is a truly inspiring book by one of the great progenitors of the Maker Movement both here in USA and the world at large. Said most simply, we think with our hands as well as our heads—something we have forgotten in most of our current schooling. Free to Make provides a way to reach the many of us that find learning by sitting in a school room so boring. A sense of agency is the key to learning, and making things is a route to agency.—John Seely Brown, former chief scientist, Xerox Corp and former director of Xerox PARC; coauthor of A New Culture of Learning and The Power of Pull
 
"Free to Make is a profound and joyful journey through a movement that is at once historical and profoundly contemporary.  Imbued with sixties' sensibilities that give rise to creative acts of genius, whimsy, and passion, this book explores the ways in which the Maker Movement nurtures that irrepressible human desire to create and inspire others."—Margaret Honey, president and CEO of New York Hall of Science
 
 
 
 
 
North Atlantic Books, 9781623170745, 336pp.
Publication Date: September 27, 2016
About the Author
Dale Dougherty is the founder and CEO of Maker Media Inc., which produces Make: magazine and the Maker Faire. He is also a cofounder of O'Reilly Media, where he was the first editor of their computing trade books, and developed GNN, the first commercial website, in 1993. He coined "Web 2.0" in 2003. In 2011, Dougherty was honored at the White House as a Champion of Change through an initiative that honors Americans who are making significant contributions to the fields of education and business. He lives in Sebastopol, California, with his wife, Nancy.

Since 2007, Ariane Conrad, a freelance writer, editor, and coach known as the Book Doula, has collaboratively authored seven nonfiction books, including three New York Times bestsellers.
or
Not Currently Available for Direct Purchase