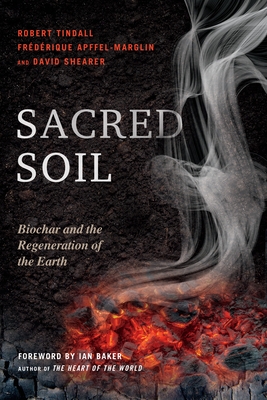 Sacred Soil
Biochar and the Regeneration of the Earth
Paperback

* Individual store prices may vary.
Description
A fascinating description of how utilizing the biochar embedded in terra preta, the recently rediscovered sacred soil of the pre-Columbian peoples of the Amazon rainforest, can cut our dependency on petrochemicals, restore the health of our soils, remove carbon from our overheating atmosphere, and restore the planet to pre-industrial levels of atmospheric carbon by 2050. The authors show that the rediscovery of terra preta is an opportunity to move beyond the West's tradition of plunder and genocide of the native civilizations of the Americas by offering an invitation to embrace the deeper mystery of the indigenous methods of inquiry and to participate in an animate cosmos that gave rise to such a powerful soil technology. Sacred Soil, in recognizing the need for biocultural regeneration, takes a multi-disciplinary approach to the phenomenon of biochar soils, utilizing mythopoeic, historical, anthropological, and scientific perspectives to embrace the deep past, the vexed present, and the prospectus for our future. Coming at this crucial juncture in human history, the potential resting in biochar is also an open doorway into the indigenous ways of knowing that enabled the pre-Columbian Amazonian high civilizations to support a population of millions while leaving their lands more fertile than when they arose.
Praise For Sacred Soil: Biochar and the Regeneration of the Earth…
"The highly qualified authors of Sacred Soil show us a way forward toward restoring our garden planet, shifting the Earth's carbon balance from the oceans and the sky to the soil and living vegetation, where it can nourish our hearts, blood, and bones and ensure our collective thriving. It is up to all of us to act on this knowledge."
—Ian Baker, author of The Heart of the World
 
"A visionary manifesto and a pragmatic, solutions-oriented approach to how we can heal our connection with the Earth as well as our kin in the bacterial world, Sacred Soil offers a path for modern people to understand the world, as many indigenous cultures do, as a vast sentient organism." 
—Daniel Pinchbeck, author of Breaking Open the Head: A Psychedelic Journey into the Heart of Contemporary Shamanism
 
"Tindall, Apffel-Marglin, and Shearer have taken a seemingly arcane topic and turned it into a compellingly readable book on ecology, indigenous wisdom, sustainable development and our relationship with nature. Highly recommended!"
—Mark Plotkin, PhD, Amazon Conservation Team

"Sacred Soil is a major contribution to healing the septic split dividing spirit from matter, and culture from nature, that is poisoning all life. With soil as its exemplar—at once material, biological, and sacred—this book reminds us that we are part of a greater world that is alive, intelligent, and whole."
—Patrick Curry, author of Ecological Ethics
 
"Magic flows in Sacred Soil, and realism beckons throughout the mythopoeic, historical, anthropological, and scientific perspectives on times, characters, and the fecundities of life. These authors join imaginative writing, distinctive research, and interdisciplinary engagement with environmental concern in this magnificent account of how ceramic shards, burials, and the processes of life-death make biochar soil."
—John A. Grim, Forum on Religion and Ecology at Yale
 
"Over the last decades botanists and ecologists working in the forests of the Amazon have found large but isolated expanses of terra preta—black soil, clearly of human origins—showing that indigenous peoples did not simply slash and burn and move on, but chose instead to stay put, actively enhancing the agricultural potential of the land, with charcoal for nutrient retention, and organic waste as compost. A book examining the significance of these new revelations, and indeed celebrating the potential of such indigenous technologies, has been long overdue."
—Wade Davis, professor of anthropology, University of British Columbia


"A superb historical, ethnographic, fictional, scientific, and applicable account of one of the wonders of humanity—the anthropogenic black earth of the Amazon—this changes our perception of pre-Columbian Amazonian societies, their knowledge, complexity, and the extent of their spiritually-imbued contribution to biodiversity. Most importantly, this work clearly indicates possible contemporary applications of Amerindian concepts and techniques to most needed environmental regeneration."
—Luis Eduardo Luna, director of Wasiwaska Research Center
 
"This groundbreaking book reveals the hidden story of the astonishing and profoundly ethical civilization of the Amazonian Indians. For millennia the indigenous peoples of the Amazon rain forest constructed a civilization of harmonious coexistence of humans, plants, animals, physical entities, and the intangible spiritual beings that inhabit the quantum world. And they did it by creating and recreating their own healthy environment. This jewel of a book is a breath of pure utopian air."
Stefano Varese, PhD, professor emeritus, University of California, Davis
North Atlantic Books, 9781623171186, 256pp.
Publication Date: July 18, 2017
About the Author
ROBERT TINDALL, MA, is a classical guitarist, a long-time student of Zen Buddhism, an inveterate traveler, and the author of The Jaguar that Roams the Mind and The
Shamanic Odyssey: Homer, Tolkien, and the Visionary Experience. Tindall works as a professor of literature, and divides his time between the San Francisco Bay Area and Peru. He leads journeys into the Amazon rainforest and to the Andean archaeological site of Chavín de Huántar to encounter the healing traditions there.
 
FRÉDÉRIQUE APFFEL-MARGLIN, PhD, is emerita professor of anthropology at Smith College and director and founder of the Sachamama Center for Biocultural Regeneration in the Peruvian Upper Amazon. She was a research associate at the World Institute for Development Economics Research. She has authored and edited thirteen books and published some sixty articles and book chapters, including The Spirit of Regeneration: Andean Culture Confronting Western Notions of Development and Subversive Spiritualities: How Rituals Enact the World.
 
DAVID SHEARER, PhD, is co-founder and CEO of Full Circle Biochar, a clean technology company developing biochar products for global agricultural and carbon sequestration applications. He was chief scientist at California Environmental Associates and principal environmental scientist at AeroVironment Inc., where he worked in next-generation transportation, energy, carbon mitigation, and information technology. Dr. Shearer has a PhD in environmental epidemiology and a MS in environmental microbiology from the University of California.
or
Not Currently Available for Direct Purchase